Efeitos de um programa educacional de autocuidado de coluna em idosos com dor lombar crônica: um estudo quasi-experimental
Abstract
O estudo teve por objetivo verificar os efeitos de um programa educacional de autocuidado de coluna, no controle da dor e na incapacidade em idosos ativos com dor lombar crônica (DL) não específica. Os idosos foram divididos em grupo experimental (GE n = 17) e controle (GC n = 13). A intervenção consistiu na entrega de uma cartilha educativa e um workshop. Foram variáveis dependentes: 1. intensidade da dor (EVN), 2. capacidade funcional relacionada à DL (RMQ), 3. quantidade de pontos de dor, 4. uso de medicação para DL e 5. frequência de uso de medicação para DL. Houve avaliação pré e após 1 mês da primeira avaliação. Na avaliação intragrupo foi observada no GE diminuição significativa de todos os parâmetros avaliados (todos p < 0,05) fato não observado no GC. Quanto à análise entre os grupos houve melhora significativa com tamanhos de efeitos moderados a grandes no GE para EVN (p=0.003, TE=0.53), no RMQ (p=0.037, TE=0.38) e nos pontos de dor (p=0.006, TE=0.49). Os resultados demonstraram que a cartilha pode ser uma ferramenta útil, capaz de gerar independência no cuidado e tratamento da DL crônica em idosos ativos.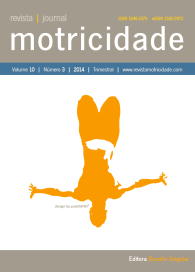 Downloads
License
The authors of submitted manuscripts must transfer the full copyright to Journal Motricidade / Desafio Singular Editions. Granting copyright permission allows the publication and dissemination of the article in printed or electronic formats and copyrights start at the moment the manuscript is accepted for publication. It also allows Journal Motricidade to use and commercialize the article in terms of licensing, lending or selling its content to indexation/abstracts databases and other entities.
According to the terms of the Creative Commons licence, authors may reproduce a reasonable number of copies for personal or professional purpose but without any economic gains. SHERPA/RoMEO allows authors to post a final digital copy (post-printing version) of the article in their websites or on their institutions' scientific repository.