Sport, Culture and Communication: a Möbius strip?
Keywords:
physical education and sports, cultural diversity, media, Lusophone world
Abstract
Tomando como princípios orientadores que os atos comunicativos e as expressões/práticas culturais têm uma dimensão operatória na vida do indivíduo enquanto ferramentas de intervenção social, considerando que a cultura é sempre uma herança transmitida e que os meios utilizados para o fazer integram essa mesma cultura e que, finalmente, cultura e comunicação desempenham um papel essencial na realidade social pois se instituem como fundamentais na difusão do saber, entretenimentos e modelos comportamentais, nomeadamente no que concerne a(s) prática(s) desportiva(s), este suplemento pretende refletir sobre a relação entre cultura, comunicação e desporto no mundo de língua portuguesa. Esta tríade, considerada essencial à sociedade nas suas atividades intelectuais e físicas, é posta à prova quando confrontada com casos como os de desportistas de diferentes modalidades vítimas de racismo que, não raras vezes, abandonam as competições em que estão envolvidos. Aspetos socioculturais e históricos emaranham-se entre regras e ética desportivas, entrelaçando-se num processo comunicativo acelerado (e descontrolado), como é hoje o das redes sociais e dos influencers ou "autorizados fazedores" de opinião nos mais variados meios de comunicação, originando conflitos e uma discussão pública que ultrapassa fronteiras e que põe em causa o caráter educativo e cultural do desporto, reclamado pela Unesco na sua Carta Internacional da educação física e do desporto (1991), no artigo 2: "A educação física e o desporto, elementos essenciais da educação e da cultura, devem desenvolver as aptidões, a vontade e o autocontrolo das pessoas humanas e contribuir para a sua inserção social". Como este, muitos outros exemplos poderiam ser apontados com o objetivo de estudar a diversidade cultural, as relações sociais e culturais no campo desportivo, de forma a reeducar e sensibilizar os públicos ou adeptos para uma cultura sempre dinâmica e, sobretudo, uma cultura de paz.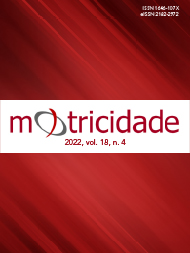 Downloads
License
The authors of submitted manuscripts must transfer the full copyright to Journal Motricidade / Desafio Singular Editions. Granting copyright permission allows the publication and dissemination of the article in printed or electronic formats and copyrights start at the moment the manuscript is accepted for publication. It also allows Journal Motricidade to use and commercialize the article in terms of licensing, lending or selling its content to indexation/abstracts databases and other entities.
According to the terms of the Creative Commons licence, authors may reproduce a reasonable number of copies for personal or professional purpose but without any economic gains. SHERPA/RoMEO allows authors to post a final digital copy (post-printing version) of the article in their websites or on their institutions' scientific repository.