Walking speed as indicator for functional disability in the elderly
Abstract
The aim of this study was to analyze the walking speed as a discriminator of functional disability. This was an epidemiological cross-sectional study with a random sample of 622 individuals, in the age group 60-96 years, mean 71.6 years (SD= 7.39) for men and 70.78 years (SD= 7.96) for women. Receiver operating characteristic (ROC) curves were designed and the criterion discriminator of 2.44 meters walking speed (in seconds) were determined in order to predict the absence of functional disability in basic activities of daily living (BADL) and instrumental activities of daily living (IADL). The areas under the ROC curve for the analyzes were higher 0.60 suggesting that the walk test has the potential to discriminate functional impairment, in BADL and IADL in both sexes. Walking time to discriminate functional disability was higher than 3.53 seconds for BADL and 2.47 seconds in IADL for men. For women, it was higher than 3.41 seconds for BADL and 3.19 seconds in IADL. The time of walking speed can be monitored in surveys and interventions population as indicator of functional disability in the elderly.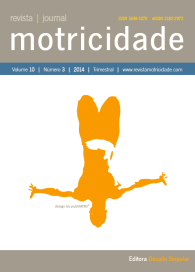 Downloads
License
The authors of submitted manuscripts must transfer the full copyright to Journal Motricidade / Desafio Singular Editions. Granting copyright permission allows the publication and dissemination of the article in printed or electronic formats and copyrights start at the moment the manuscript is accepted for publication. It also allows Journal Motricidade to use and commercialize the article in terms of licensing, lending or selling its content to indexation/abstracts databases and other entities.
According to the terms of the Creative Commons licence, authors may reproduce a reasonable number of copies for personal or professional purpose but without any economic gains. SHERPA/RoMEO allows authors to post a final digital copy (post-printing version) of the article in their websites or on their institutions' scientific repository.