Visual conditions and postural directions affect postural sway variability in patients with Parkinson's disease
Abstract
Postural sway variability was evaluated in Parkinson's disease (PD) patients at different stages of disease. Twenty PD patients were grouped into two groups (unilateral, 14; bilateral, 6) according to disease severity. The results showed no significant differences in postural sway variability between the groups (p ≥ 0.05). Postural sway variability was higher in the antero-posterior direction and with the eyes closed. Significant differences between the unilateral and bilateral groups were observed in clinical tests (UPDRS, Berg Balance Scale, and retropulsion test; p ≤ 0.05, all). Postural sway variability was unaffected by disease severity, indicating that neurological mechanisms for postural control still function at advanced stages of disease. Postural sway instability appears to occur in the antero-posterior direction to compensate for the stooped posture. The eyes-closed condition during upright stance appears to be challenging for PD patients because of the associated sensory integration deficit. Finally, objective measures such as postural sway variability may be more reliable than clinical tests to evaluate changes in balance control in PD patients.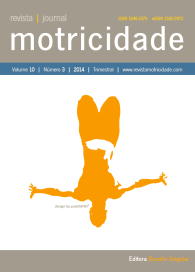 Downloads
License
The authors of submitted manuscripts must transfer the full copyright to Journal Motricidade / Desafio Singular Editions. Granting copyright permission allows the publication and dissemination of the article in printed or electronic formats and copyrights start at the moment the manuscript is accepted for publication. It also allows Journal Motricidade to use and commercialize the article in terms of licensing, lending or selling its content to indexation/abstracts databases and other entities.
According to the terms of the Creative Commons licence, authors may reproduce a reasonable number of copies for personal or professional purpose but without any economic gains. SHERPA/RoMEO allows authors to post a final digital copy (post-printing version) of the article in their websites or on their institutions' scientific repository.