Contribution of different body segments in Sit and Reach Test
Abstract
This research aims to determine the contributions of the hip joint, lumbar and thoracic spine in the execution of Sit and Reach (SR) in young Brazilians. Subjects were 195 boys from 18 to 19 years., Sit and Reach  was evaluated with angular kinematic analysis through of Photogrammetry to identify the contribution of body segments in trunk flexion.  A protocol was developed for evaluating reference angles that were transformed into percentage contribution of the segments. Based on the results, it was possible to create a table of classification of angles and percentages, which allowed the identification of compensation movement. It was possible to conclude that the contributions of the thoracic spine, lumbar spine and hip in performing the SR are 46.01±7.32%, 12.68±5.12% and 41.31±7.19% respectively. It is recommended that evaluations of flexion of the hip joint, thoracic and lumbar spine are performed separately by photogrammetry.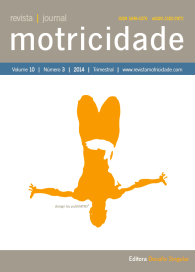 Downloads
Additional Files
License
The authors of submitted manuscripts must transfer the full copyright to Journal Motricidade / Desafio Singular Editions. Granting copyright permission allows the publication and dissemination of the article in printed or electronic formats and copyrights start at the moment the manuscript is accepted for publication. It also allows Journal Motricidade to use and commercialize the article in terms of licensing, lending or selling its content to indexation/abstracts databases and other entities.
According to the terms of the Creative Commons licence, authors may reproduce a reasonable number of copies for personal or professional purpose but without any economic gains. SHERPA/RoMEO allows authors to post a final digital copy (post-printing version) of the article in their websites or on their institutions' scientific repository.