Type 1 Diabetes Mellitus presenting as neurodevelopmental impairment
Keywords:
Child neurodevelopment, Hyperglycaemia, Type 1 Diabetes Mellitus
Abstract
Introduction: Type 1 Diabetes Mellitus is one of the most prevalent chronic diseases in childhood and adolescence. Disease presentation is diverse, depending on the duration of symptoms and the age of onset.
Case report: A 30-month-old child was referred to the Paediatric Outpatient Clinic for loss of cognitive and behavioural skills and stagnation of motor abilities occurring in the last six months, weight loss and polydipsia during the previous month. The child was diagnosed with inaugural type 1 Diabetes Mellitus without acidosis. Management of the disease, through glycaemic control with insulin therapy was associated with progressive improvement of the child's neurodevelopment.
Discussion/Conclusion: This case illustrates an unusual presentation of type 1 Diabetes. The mechanisms underlying acute neurological changes associated with type 1 Diabetes are not yet completely clarified. An efficient glycaemic control benefits an adequate neurodevelopment of children with Diabetes.
Downloads
Download data is not yet available.
References
Ó Rubio Cabezas, J Argente, et al. Diabetes mellitus: formas de presentación clínica y diagnóstico diferencial de la hiperglucemia en la infancia y adolescencia. An Pediatr (Barc) 2012; 77 (5): 344.e1-344.e16.
Yu J. Endocrine disorders and the neurologic manifestations. Ann Pediatr Endocrinol Metab 2014;19:184-190.
Aquino JH, Spitz M, Pereira JS. Hemichorea-hemiballismus as the first sign of type 1b diabetes during adolescence and its recurrence in the setting of infection. J Child Neurol 2015; 30(10):1362-5.
Alves C, Sampaio S, Barbosa V, Machado M. Acute chorea and type 1 diabetes mellitus: clinical and neuroimaging findings. Eletromyogr Clin Neurophysiol 2006; 46(3): 131-7.
Hashimoto K, Ito Y, Tanashi H, Hayashy M. Hyperglycemic chorea-ballism or acute exacerbation of huntington´s chorea? Huntington´s Disease unmasked by diaetic ketoacidosis in type 1 diabetes mellitus. J Clin Endocrnol Metab 2012; 97(9): 3016-3020.
Patching S. Glucose Transporters at the Blood-Brain Barrier: Function, Regulation and Gateways for Drug Delivery. Mol Neurobiol 2016; Epub ahead of print.
De Giorgis V, Vegotti P. GLUT1 deficiency syndrome 2013: current state of the art. Seizure 2013; 22(10): 803-11.
Arbelaez AM, Semenkovich K, Hershey T. Glycemic extremes in youth with T1DM: the structural and functional integrity of the developing brain. Pediatr Diabetes 2013;14(8):541-53.
Silva NR, Costa CEM. A hiperglicemia e os mecanismos envolvidos nas disfunções vasculares do diabetes mellitus. Arq Cienc Saude Unipar 2008; 12: 265-270.
Russo VC, Higgins S, Werther GA, Cameron FJ. Effects of fluctuating glucose levels on neuronal cells in vitro. Neurochem Res 2012; 37: 1768-82.
Mello AS, Quincozes-Santos A, Funchal C. Correlação entre hiperglicemia e células do SNC, com enfoque na atividade glial. Ver Neurocienc 2012; 20(2): 294-301.
Northam E, Anderson P, Jacobs R, Hughes M, Warne G, Werther G. Neuropsychological Profiles of Children With Type 1 Diabetes 6 Years After Disease Onset. Diabetes Care 2001; 24: 1541–1546.
Lin A, Northam EA, Rankins D, Werther GA, Cameron F. Neuropsychological profiles of young people with type 1 diabetes 12 yr after disease onset. Pediatr Diabetes 2010; 11(4): 235-43.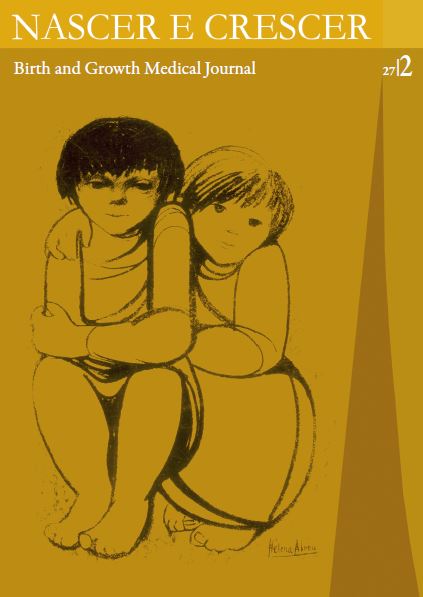 Downloads
How to Cite
1.
Alves MF, Costeira M, Ferreira J da S, Soares S, Magalhães C, Meireles C. Type 1 Diabetes Mellitus presenting as neurodevelopmental impairment. REVNEC [Internet]. 2018Jul.13 [cited 2023May29];27(2):112-5. Available from: https://revistas.rcaap.pt/nascercrescer/article/view/10719
License
Copyright and access
This journal offers immediate free access to its content, following the principle that providing free scientific knowledge to the public provides greater global democratization of knowledge.
The works are licensed under a Creative Commons Attribution Non-commercial 4.0 International license.
Nascer e Crescer – Birth and Growth Medical Journal do not charge any submission or processing fee to the articles submitted.