Protruding ears. evaluation of outcomes and patient satisfaction. The portuguese reality in a retrospective analysis of 209 otoplasties
Keywords:
Children, protruding ear, quality of life, otoplasty
Abstract
Introduction: Protruding ears are a very common esthetical problem, with 5% prevalence. Otoplasty is a universally accepted surgical procedure, taking into account the psychological issues related to this deformity.
Materials and methods: A retrospective study of 111 children, who underwent otoplasty to correct protruding ears in a Portuguese Hospital Center, for the last 4 years, was performed. A telephonic questionnaire to assess patients satisfaction related to the procedure and its impact in quality of life was applied to the parents.
Results: A population of 75 (68%) male and 36 (32%) female children was analyzed. The procedure was performed, in average, between seven and eight years of age, and 36% were operated in pre-school age. The type of otoplasty was a combined technique, with 98 bilateral cases and 13 unilateral, making a total of 209 corrective otoplasties. Complication rate was low (3.8%). The questionnaire was performed in 98 patients, with a median of 4-5 (scale 1-5) in all items evaluated, reporting an overall satisfaction and positive influence of the procedure in quality of life.
Discussion and conclusion: Corrective otoplasty of protruding ears had a direct positive impact in quality of life and self-esteem in patients; this underlies the relevance of referring these children to a specialized surgical center.
Downloads
Download data is not yet available.
References
Braun T, Hempel JM, Berghaus A. Developmental disorders of the ear in children and adolescents: conservative and surgical treatment options. Deutsches Arzteblatt international. 2014;111:92-8.
Handler EB, Song T, Shih C. Complications of otoplasty. Facial plastic surgery clinics of North America. 2013; 21:653-62.
Hao W, Chorney JM, Bezuhly M, Wilson K, Hong P. Analysis of health-related quality-of-life outcomes and their predictive factors in pediatric patients who undergo otoplasty. Plastic and reconstructive surgery. 2013; 132:811-7e.
Naumann A. Otoplasty - techniques, characteristics and risks. GMS current topics in otorhinolaryngology, head and neck surgery. 2007; 6:Doc04.
Songu M, Kutlu A. Long-term psychosocial impact of otoplasty performed on children with prominent ears. The Journal of laryngology and otology. 2014;128:768-71.
Sands NB, Adamson PA. Pediatric esthetic otoplasty. Facial plastic surgery clinics of North America. 2014; 22:611-21.
Graham ME, Bezuhly M, Hong P. A long-term morphometric analysis of auricular position post-otoplasty. Journal of plastic, reconstructive & aesthetic surgery : JPRAS. 2013; 66:1482-6.
Driessen JP, Borgstein JA, Vuyk HD. Defining the protruding ear. The Journal of craniofacial surgery. 2011; 22:2102-8.
AKI F, SAKAE E, Cruz DP, KAMAKURA L, Ferreira MC. Complicações em otoplastia: revisão de 508 casos. Rev Soc Bras Cir Plást. 2006; 21:140-4.
Niemela BJ, Hedlund A, Andersson G, Wahlsten VS. Prominent ears: the effect of reconstructive surgery on selfesteem and social interaction in children with a minor defect compared to children with a major orthopedic defect. Plastic and reconstructive surgery. 2008; 122:1390-8.
Songu M, Kutlu A. Health-related quality of life outcome of children with prominent ears after otoplasty. European archives of oto-rhino-laryngology : official journal of the European Federation of Oto-Rhino-Laryngological Societies (EUFOS) : affiliated with the German Society for Oto-Rhino-Laryngology - Head and Neck Surgery. 2014; 271:1829-32.
Fioramonti P, Serratore F, Tarallo M, Ruggieri M, Ribuffo D. Otoplasty for prominent ears deformity. European review for medical and pharmacological sciences. 2014; 18:3156-65.
Limandjaja G, Breugem C, van der Molen AM, Kon M. Complications of otoplasty: a literature review. Journal of Plastic, Reconstructive & Aesthetic Surgery. 2009; 62:19-27.
Scharer SA, Farrior EH, Farrior RT. Retrospective analysis of the Farrior technique for otoplasty. Archives of facial plastic surgery. 2007; 9:167-73.
Garcia M, Rohlfs I, Vila J, Sala J, Pena A, Masia R, et al. Comparison between telephone and self-administration of Short Form Health Survey Questionnaire (SF-36). Gaceta sanitaria / SESPAS. 2005; 19:433-9.
Gasques JA, Pereira de Godoy JM, Cruz EM. Psychosocial effects of otoplasty in children with prominent ears. Aesthetic plastic surgery. 2008;32:910-4.
Braun T, Hainzinger T, Stelter K, Krause E, Berghaus A, Hempel JM. Health-related quality of life, patient benefit, and clinical outcome after otoplasty using suture techniques in 62 children and adults. Plastic and reconstructive surgery. 2010;126:2115-24.
Meningaud JP, Benadiba L, Servant JM, Herve C, Bertrand JC, Pelicier Y. Depression, anxiety and quality of life: outcome 9 months after facial cosmetic surgery. Journal of cranio-maxillo-facial surgery : official publication of the European Association for Cranio-Maxillo-Facial Surgery. 2003;31:46-50.
Rankin M, Borah GL, Perry AW, Wey PD. Quality-of-life outcomes after cosmetic surgery. Plastic and reconstructive surgery. 1998;102:2139-45; discussion 46-7.
Likert R. A technique for the measurement of attitudes. Archives of psychology. 1932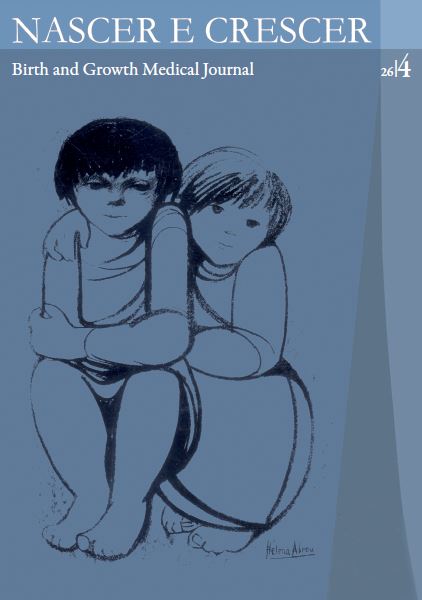 Downloads
How to Cite
1.
Correia-Oliveira A, Peixoto MJ, Sousa C, Coelho A, Marinho S, dos Santos JL, Carvalho F. Protruding ears. evaluation of outcomes and patient satisfaction. The portuguese reality in a retrospective analysis of 209 otoplasties. REVNEC [Internet]. 2017Dec.27 [cited 2023Sep.21];26(4):227-33. Available from: https://revistas.rcaap.pt/nascercrescer/article/view/13682
Section
Original Articles
License
Copyright and access
This journal offers immediate free access to its content, following the principle that providing free scientific knowledge to the public provides greater global democratization of knowledge.
The works are licensed under a Creative Commons Attribution Non-commercial 4.0 International license.
Nascer e Crescer – Birth and Growth Medical Journal do not charge any submission or processing fee to the articles submitted.