Kawasaki disease in a five-month-old infant
Keywords:
coronary artery ectasia, sudden infant death syndrome, Kawasaki Disease, Coronary artery ectasia, Infant
Abstract
Introduction:  Kawasaki disease, an acute self-limited vasculitis of small and medium arteries of unknown etiology, is the leading cause of heart disease in children in most developed countries. If untreated, it can lead to coronary artery dilatation and aneurysm, placing patients at risk for coronary thrombosis, myocardial infarction, or sudden death.
Case Report: A previously healthy five-month-old boy presented with a history of respiratory symptoms and fever, being admitted for respiratory syncytial virus bronchiolitis. He maintained fever for five days associated with progressive clinical worsening and sequential development of conjunctival injection, cracked lips, swelling of hands and feet, and polymorphous rash of the limbs. Diagnostic procedures showed increased levels of inflammatory markers, hyponatremia, hypoalbuminemia, sterile pyuria, and aseptic meningitis. Despite an initial normal echocardiogram, Kawasaki disease was suspected and the boy started intravenous immunoglobulin on the fifth day. On the seventh day, echocardiogram showed signs of pancarditis and mild coronary artery ectasia and acetylsalicylic acid was started. The boy was discharged, but eight days later echocardiogram revealed major and diffuse coronary artery ectasia in a follow-up consultation and he was readmitted to start corticosteroid therapy. After five months, the boy displayed normalization of cardiac changes, without further complications.
Comments: Kawasaki disease below six months of age is rare and associated with a high risk of coronary artery aneurysm. It is important to recognize the clinical and laboratory criteria associated with this entity and start early treatment, avoiding cardiac complications.
Downloads
Download data is not yet available.
References
Dionne A, Burns JC, Dahdah N, Tremoulet AH, Gauvreau K, de Ferranti SD, et al. Treatment Intensification in Patients with Kawasaki Disease and Coronary Aneurysm at Diagnosis. Pediatrics. 2019; 143:e20183341.
Toole K, Frank C. Atypical or Incomplete Kawasaki Disease in a Young Child: A Case Report. J Pediatr Health Care. 2019; 33:485-488.
Morrison JM, Inkisar M, Grageda M, Graziano J, Belnekar R. Acute Immune Hemolytic Anemia after administration of high dose IVIG in a child with Kawasaki disease. 2018; 142: 474.
Dallaire F, Fortier-Morissette Z, Blais S, Dhanrajani A, Basodan D, Renaud C , et al. Aspirin Dose and Prevention of Coronary Abnormalities in Kawasaki Disease. Pediatrics. 2017; 139:e20170098.
Petrarca L, Nenna R, Versacci P, Frassanito A, Cangiano G, Nicolai A, et al. Difficult diagnosis of atypical Kawasaki disease in an infant younger than six months: a case report. Italian Journal of Pediatrics. 2017; 43:30.
Yu J. Diagnosis of incomplete Kawasaki disease. Korean J Pediatr. 2012; 55:83-87.
Pinches H, Dobbins K, Cantrell S, May J, Lopreiato J. Asymptomatic Kawasaki Disease in a 3-Month-Old Infant. Pediatrics.2016; 138:e20153936.
Shulman S, Rowley A. Kawasaki Disease. Unclassified Infectious Diseases. Section 15; 77:759-72.
Thors VS, Vastert SJ, Wulffraat N, van Royen A, Frenkel J, de Sain-van der Velden M, et al. Periodic fever in MVK Deficiency: A Patient Initially Diagnosed with Incomplete Kawasaki Disease. Pediatrics. 2014; 133:e461-5.
Burgner DP and Newburger JW. Etanercept as Adjunctive Primary Therapy in Kawasaki Disease. Pediatrics. 2019; 143:e20190912.
Sundel R. Incomplete (atypical) Kawasaki Disease. UpToDate, Dec 2018.
Elsevier BV. Clinical Overview on Kawasaki disease. Elsevier. Nov 2018.
Jordan-Villegas A, Chang M, Ramillo O, Mejias A. Concomitant Respiratory Viral Infections in Children with Kawasaki Disease. Pediatr Infect Dis J. 2010 August; 29: 770-2.
Sundel R. Kawasaki Disease: clinical features and diagnosis. UpToDate, Dec 2018.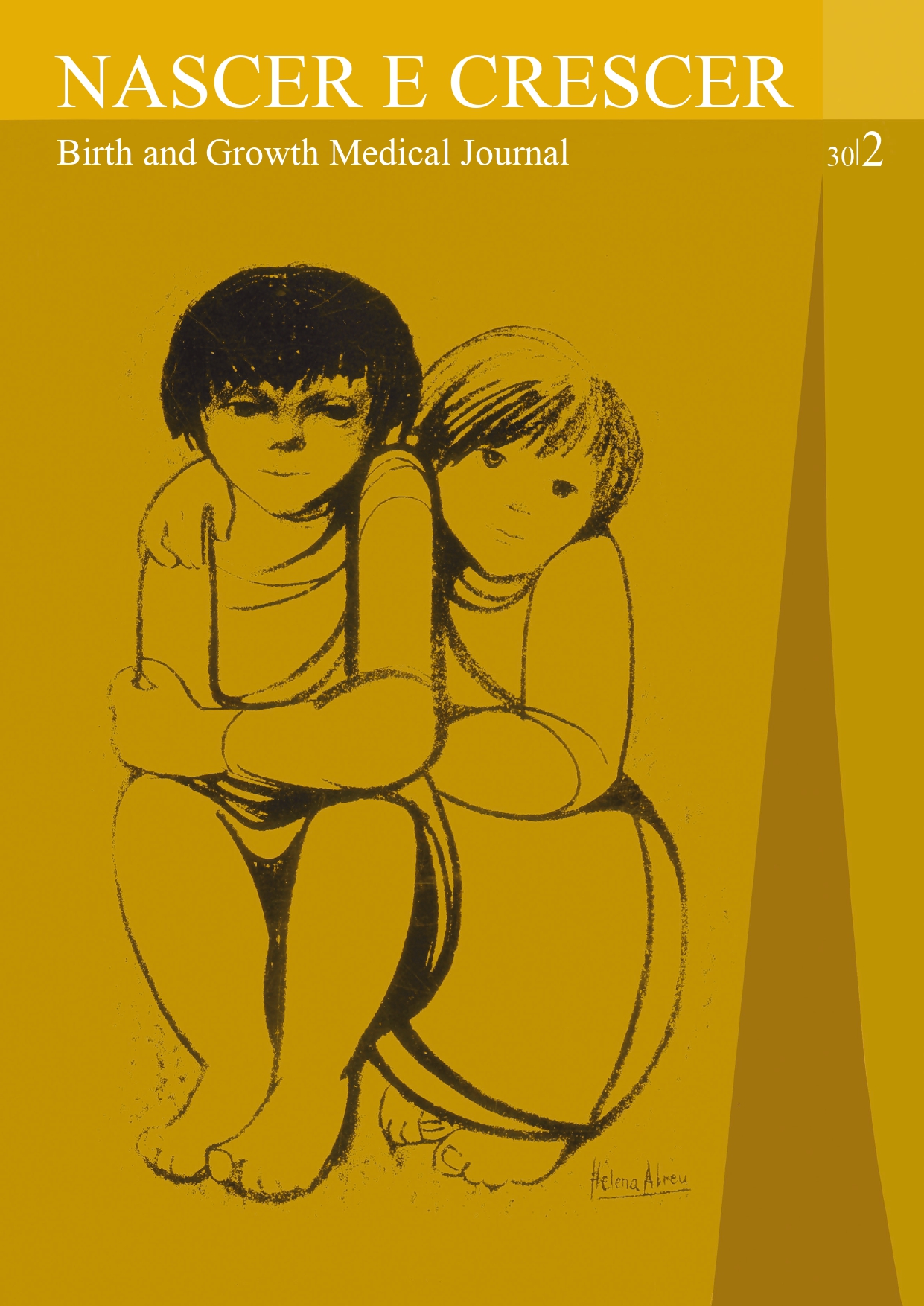 Downloads
How to Cite
1.
Maciel J, Meireles D, Magalhães M, Gonçalves S, Fernandes SR, Fernandes PC. Kawasaki disease in a five-month-old infant. REVNEC [Internet]. 2021Jun.30 [cited 2023Sep.21];30(2):109-13. Available from: https://revistas.rcaap.pt/nascercrescer/article/view/19077
License
Copyright (c) 2021 Juliana Raquel da costa Maciel, Daniel Meireles, Mariana Magalhães, Sara Gonçalves, Sofia Ribeiro Fernandes, Paula Cristina Fernandes
This work is licensed under a Creative Commons Attribution-NonCommercial 4.0 International License.
Copyright and access
This journal offers immediate free access to its content, following the principle that providing free scientific knowledge to the public provides greater global democratization of knowledge.
The works are licensed under a Creative Commons Attribution Non-commercial 4.0 International license.
Nascer e Crescer – Birth and Growth Medical Journal do not charge any submission or processing fee to the articles submitted.