Recurrent parotitis in children- case series and literature review
Keywords:
etiology, follow-up, recurrent parotitis
Abstract
Introduction: Recurrent parotitis is defined as the occurrence of two or more episodes of the parotid gland. Several etiologies should be addressed in the approach to these patients. The aim of this study was to investigate the clinical, laboratory, and imaging profile of children with recurrent parotitis.
Material and Methods: Retrospective review of the medical records of patients referred to a Pediatric Outpatient Clinic between January 2013 and June 2018. 
Results: The medical records of 24 patients with recurrent parotitis (66.7% male) and a mean age of seven years and five months were reviewed. The median age of onset of episodes was five years and three months. Unilateral and non-febrile episodes prevailed. Non-steroidal anti-inflammatory drugs were universally used to treat symptoms. Non-acute parotid and neck ultrasound predominantly showed the presence of a heterogeneous gland (57.1%). Sialography performed in five patients suggested chronic parotitis in two and Sjögren syndrome/ sarcoidosis in one. No significant immunologic defects were found beside a mild C3 reduction in one patient and C4 reduction in another patient, apparently without clinical relevance. A single patient tested positive for antinuclear antibodies. Immunoglobulin A deficit was found in one case. The most common final diagnosis was juvenile recurrent parotitis (37.5%).
Conclusions: Most cases of recurrent parotitis in pediatric age have benign etiology. A more judicious request of complementary exams in the acute and non-acute phases could be time- and cost-effective.
Downloads
Download data is not yet available.
References
Chitre VV, Premchandra DJ. Recurrent parotitis. Archives of Disease in Childhood 1997; 77:359-363.
Nahlieli O, Shacham R, Shlesinger M. Eliav E. Juvenile Recurrent Parotitis: A New Method of Diagnosis and Treatment. Pediatrics Vol. 114 No. 1 July 2004.
Papadopoulou-Alataki E, Chatziavramidis A, Vampertzi O, Alataki S, Konstantinidis I. Evaluation and management of juvenile recurrent parotitis in children from northern Greece. Hippokratia 2015, 19, 4:356-359.
Vicente NI, Oliva M. Parotidite recorrente idiopática na criança. Nascer e Crescer 2014; 23 (1): 17-20.
Kliegman RM, Stanton BF, St Geme JW, Schor NF. Nelson Textbook of Pediatrics. 20th edition. Canada: Elsevier; 2016.
Miziara ID, Campelo VES. Infantile recurrent parotitis: follow-up study of five cases and literature review. Rev Bras Otorrinolaringol. V71, n.5, 570-5, sept./oct. 2005
Ericson S, Zetterlund B, Ohman J. Recurrent parotitis and sialectasis in childhood. Clinical, radiologic, immunologic, bacteriologic, and histologic study. Ann Otol Rhinol Laryngol 1991; 100: 527-35.
Mandel L, Kaynar A. Recurrent parotitis in children. NY State Dent J 1995; 61:22-5.
Henriques R, Salgado M, Moura L. Parotidite recorrente. Casuística da consulta externa de Medicina. Saúde Infantil 2000; 22:17-24.
Shimizu M, Ussmüller J, Donath K, Yoshiura K, Ban S, Kanda S, et al. Sonographic analysis of recurrent parotitis in children. Oral Surg Oral Med Oral Pathol Oral Radiol Endod 1998; 86: 606-15.
Rubaltelli L, Sponga T, Candiani F, Pittarello F, Andretta M. Infantile recurrent sialectatic parotitis: the role of sonography and sialography in diagnosis and follow-up. The British J of Radiology 1987; 60:1211-4.
Rao VVN, Buddi, JSHP, Kurthukoti AJ. Juvenile recurrent parotitis in children: Diagnosis and treatment using sialography. Journal of Indian Society of Pedodontics and Preventive Dentistry. 2014;32:262-5.
Gadodia A, Seith A, Sharma R, Thakar A. MRI and MR sialography of juvenile recurrent parotitis. Pediatr Radiol 2010; 40:1405-10.
Zenk J, Schneider H, Koch M et al. Current Management of Juvenile Recurrent Parotitis. Curr Otorhinolaryngol Rep (2014) 2:64.
Tomar RPS, Vasudevan R, Kumar M, Gupta DK. Juvenile recurrent parotitis. Med J Armed Forces India. 2014 Jan; 70(1): 82-84.
Landaeta M, Giglio MS, Ulloa MT, Martínez MJ, Pinto ME. Aspectos clínicos, etiología microbiana y manejo terapéutico de la parotiditis crónica recurrente infantil (PCRI). Rev Chil Pediatr 2003; 74:269-76.
Canzi P, Occhini A, Pagella F, Marchal F, Benazzo M. Sialendoscopy in juvenile recurrent parotitis: a review of the literature. Acta Otorhinolarngol Ital. 2013 Dec; 33(6): 367-373.
Roby BB, Mattingly J, Jensen EL, Gao D, Chan KH. Treatment of juvenile recurrent parotitis of childhood: an analysis of effectiveness. JAMA Otolaryngol Head Neck Surg. 2015 Feb; 141(2): 126-9.
Cohen HA, Gross S, Nussinovitch M, Frydman M, Varsano I. Recurrent parotitis. Arch Dis Child 1992; 67:1036-7.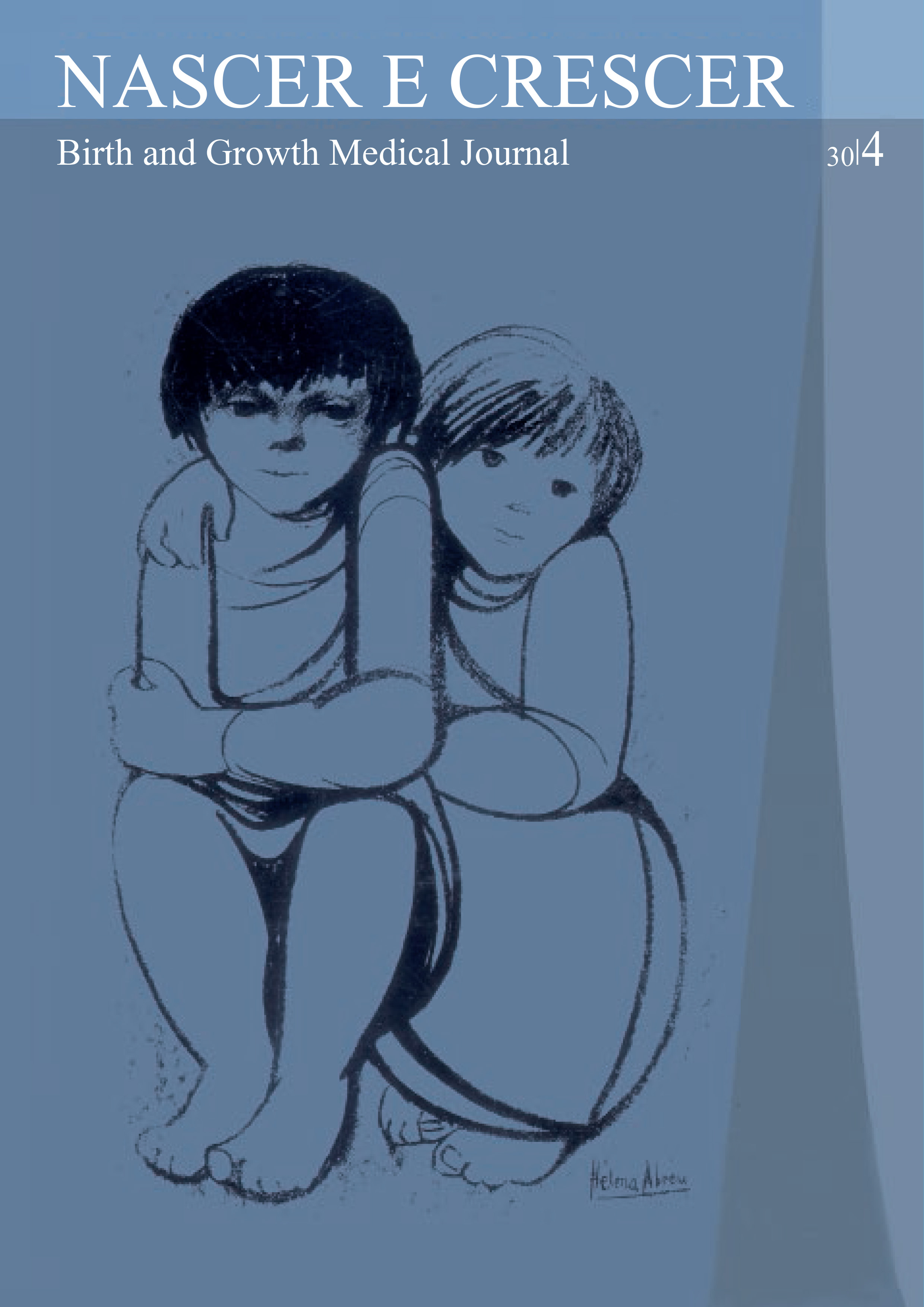 Downloads
How to Cite
1.
Mendes AR, Moreira L, Dias Ângela, Lopes A, Lobo AL, Simão TS. Recurrent parotitis in children- case series and literature review. REVNEC [Internet]. 2021Dec.27 [cited 2023Sep.30];30(4):219-25. Available from: https://revistas.rcaap.pt/nascercrescer/article/view/20543
Section
Original Articles
License
Copyright (c) 2021 Ana Raquel Mendes, Liane Moreira, Ângela Dias, Andreia Lopes, Ana Luísa Lobo, Teresa São Simão
This work is licensed under a Creative Commons Attribution-NonCommercial 4.0 International License.
Copyright and access
This journal offers immediate free access to its content, following the principle that providing free scientific knowledge to the public provides greater global democratization of knowledge.
The works are licensed under a Creative Commons Attribution Non-commercial 4.0 International license.
Nascer e Crescer – Birth and Growth Medical Journal do not charge any submission or processing fee to the articles submitted.