FONTANELA ANTERIOR PERSISTENTE – PATOLÓGICO OU VARIANTE DO NORMAL?
Abstract
Introdução: A avaliação do tamanho e configuração da fontanela anterior (FA) integra o exame objetivo completo em Pediatria. O seu encerramento ocorre por um processo lento de ossificação, entre os 4 e os 26 meses. A sua persistência deve alertar para patologias intracranianas, esqueléticas,  endócrino-metabólicas ou exposição a drogas/toxinas. Há no entanto casos raros de crianças que apresentam desenvolvimento estaturo-ponderal e psicomotor normais e em que, uma vez excluídas estas hipóteses, a persistência da FA deve ser considerada uma variante do normal.
Caso Clínico: Criança de 29 meses orientada para consulta de Pediatria por FA persistente. O rastreio precoce endocrino-metabólico fora normal, apresentava desenvolvimento estaturo-ponderal e psicomotor adequados à idade, com perímetro cefálico a evoluir no P90. Tinha apenas antecedentes de episódio de convulsão febril simples aos 22 meses. Sem antecedentes familiares de relevo. À exceção de fontanela anterior com 1.5X1.5cm de diâmetro, normotensa e normopulsátil, o exame objetivo não evidenciou qualquer alteração, nomeadamente sinais de dismorfia ou malformação. Apresentava exame neurológico normal. O estudo da função tiroideia e metabolismo ósseo (cálcio, fósforo, fosfatase alcalina e paratormona) foi normal. Realizou radiografia simples do crânio que confirmou a presença de fontanela anterior aberta, com suturas sagital e coronal normais.
Comentários: Oencerramentoda FAfoidefinidoporAisenson, na população americana, até aos 26 meses em 100% dos casos e em 90% entre os 7 e os 19 meses. Outros autores (Acheson e Jefferson) referem que a idade média clínica de encerramento da FA é 16,3 meses no sexo masculino e 18,8 meses no sexo feminino. No caso apresentado a FA persistente e isolada numa criança sem outros achados patológicos, aspeto reiterado pela anamnese e exame objetivo detalhados, bem como pelos exames subsidiários realizados, permitiram concluir estarmos perante uma variante do normal preconizando-se apenas vigilância clínica. Para o atraso fisiológico do seu encerramento parece contribuir uma alteração das características da camada mesenquimatosa entre a dura mater e o periósteo. Apesar de estarem descritos casos com necessidade de plastia da FA, esta reserva-se a casos de maior dimensão. Os pais devem ser tranquilizados e informados acerca deste encerramento tardio e da inexistência de patologia subjacente.
Downloads
Download data is not yet available.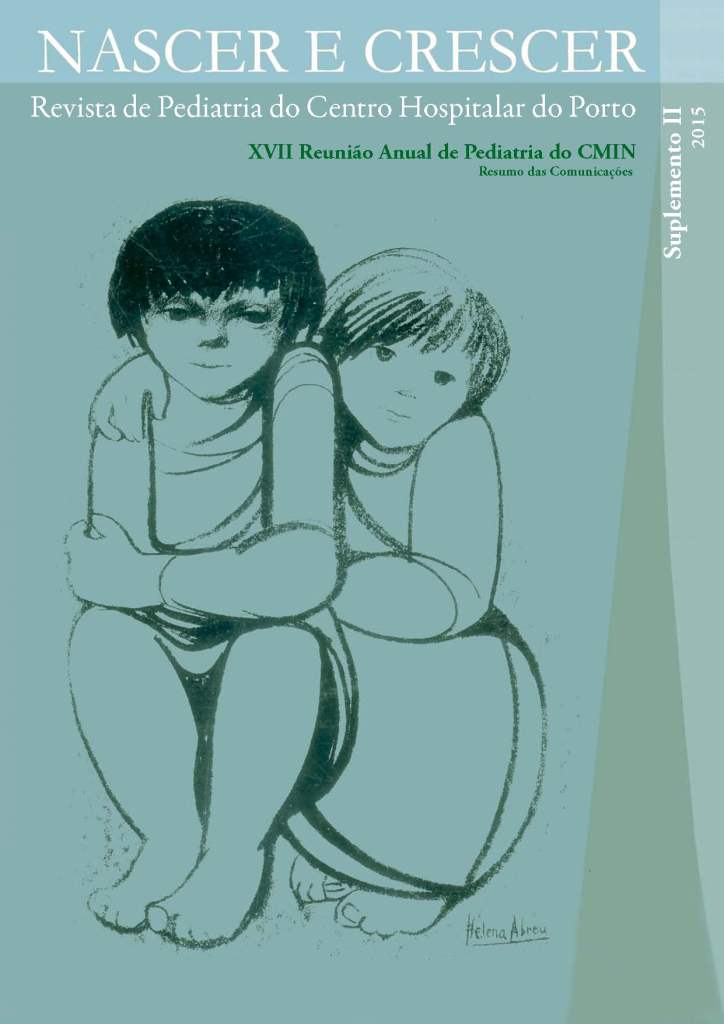 Downloads
How to Cite
1.
Ribeiro A, Ferreira J, Dias Ângela. FONTANELA ANTERIOR PERSISTENTE – PATOLÓGICO OU VARIANTE DO NORMAL?. REVNEC [Internet]. 2016Jul.7 [cited 2023Sep.26];24:S22. Available from: https://revistas.rcaap.pt/nascercrescer/article/view/9457
Section
Resumo dos posters
License
Copyright and access
This journal offers immediate free access to its content, following the principle that providing free scientific knowledge to the public provides greater global democratization of knowledge.
The works are licensed under a Creative Commons Attribution Non-commercial 4.0 International license.
Nascer e Crescer – Birth and Growth Medical Journal do not charge any submission or processing fee to the articles submitted.