Dermatology clinical case
Abstract
Multiple lentigines (LEOPARD) syndrome is an inherited autosomal dominant disorder. LEOPARD is an acronym for the most important features of the disease: multiple lentiginous lesions, abnormal electrocardiogram, ocular hypertelorism, pulmonary stenosis, genital and reproductive abnormalities, growth retardation, and sensorineural deafness. Herein is reported the case of a 14-year-old male who presented with short stature and alopecia. The mother, maternal grandmother, and aunts had multiple lentigines all over the body and hypoacusia. Systemic examination revealed short stature, alopecia reaching over 90% of the scalp, trachyonychia, multiple lentigines mostly scattered over the trunk, four café-au-lait spots, pectus excavatum, grade II/VI systolic heart murmur, and Tanner stage G2P1A1. The genetic study confirmed LEOPARD syndrome diagnosis. Early diagnosis is useful for prospective management of associated medical conditions and genetic counseling.
Downloads
Download data is not yet available.
References
Jopling C, Geemen D van, Hertog J den. Shp2 knockdown and Noonan/LEOPARD mutant Shp2-induced gastrulation defects. PLoS Genet. 2007; 3(12): e225. https://doi.org/ 10.1371/journal.pgen.0030225.
Kim J, Kim MR, Kim HJ, Lee KA, Lee MG. LEOPARD syndrome with PTPN11 gene mutation showing six cardinal symptoms of LEOPARD. Ann Dermatol. 2011; 23(2): 232–5. https://doi.org/10.5021/ad.2011.23.2.232.
Gorlin RJ, Anderson RC, Moller JH. The Leopard (multiple lentigines) syndrome revisited. Birth Defects Orig Artic Ser. 1971; 7(4):110-5.
Sarkozy A, Digilio MC, Dallapiccola B. Leopard syndrome. Orphanet. J Rare Dis. 2008; 3:13. https://doi.org/10.1186/1750-1172-3-13.
Nordlund JJ, Lerner AB, Braverman IM, McGuire JS. The multiple lentigines syndrome. Arch Dermatol. 1973; 107:259-61. https://doi.org/10.1001/archderm.1973.01620170067018.
Stewart RA, Sanda T, Widlund HR, Zhu S, Swanson KD, Hurley AD, et al. Phosphatase-dependent and -independent functions of Shp2 in neural crest cells underlie LEOPARD syndrome pathogenesis. Dev Cell. 2010; 18(5):750-62. https://doi.org/10.1016/j.devcel.2010.03.009.
Burgt I van der. Noonan syndrome. Orphanet J Rare Dis. 2007; 2:4. https://doi.org/10.1186/1750-1172-2-4.
Limongelli G, Pacileo G, Marino B, Digilio MC, Sarkozy A, Elliott P, et al. Prevalence and clinical significance of cardiovascular abnormalities in patients with the LEOPARD syndrome. Am J Cardiol. 2007; 100(4):736-41. https://doi.org/10.1016/j.amjcard.2007.03.093.
Digilio MC, Sarkozy A, Pacileo G, Limongelli G, Marino B, Dallapiccola B. PTPN11 gene mutations: linking the Gln510Glu mutation to the "LEOPARD syndrome phenotype". Eur J Pediatr. 2006; 165(11):803-5. https://doi.org/10.1007/s00431-006-0163-7.
Opitz JM, Weaver DD. The neurofibromatosis-Noonan syndrome. Am J Med Genet. 1985; 21(3):477-90. https://doi.org/0.1002/ajmg.1320210310.
Kristensen M, Thestrup-Pedersen K. [The leopard syndrome]. Ugeskr Laeger. 1989; 3;151(27):1760.
Shamsadini S, Abazardi H, Shamsadini F. Leopard syndrome. Lancet. 1999; 30;354(9189):1530. https://doi.org/10.1016/S0140-6736(99)03794-0.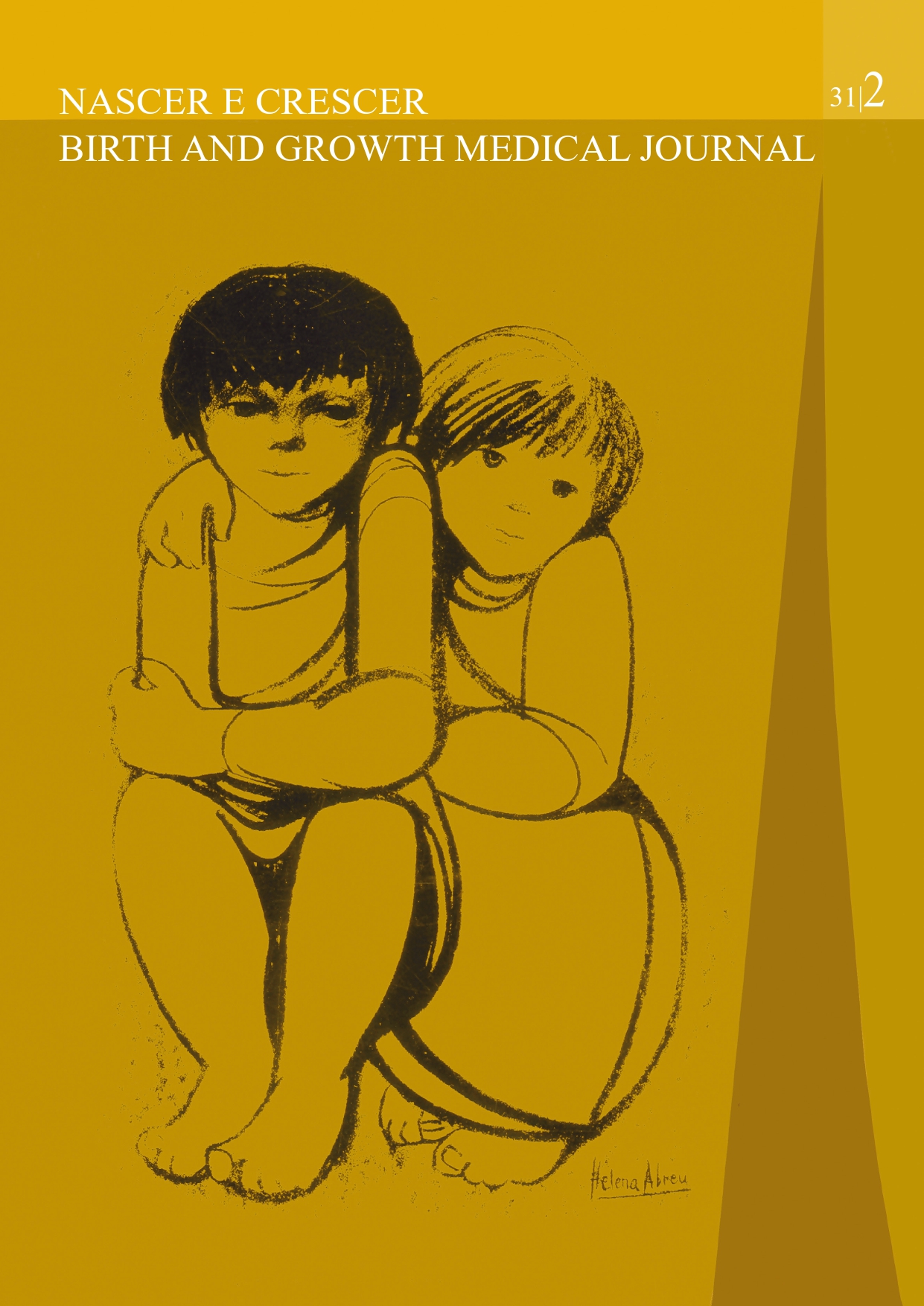 Downloads
How to Cite
1.
Sá L, Pena T, Almeida S, Rangel MA, Campos RA, Leite AL. Dermatology clinical case. REVNEC [Internet]. 2022Jun.30 [cited 2023Jun.4];31(2):178-80. Available from: https://revistas.rcaap.pt/nascercrescer/article/view/23217
License
Copyright (c) 2022 Liliana Sá, Teresa Pena, Sónia Almeida, Maria Adriana Rangel, Rosa Arménia Campos, Ana Luísa Leite
This work is licensed under a Creative Commons Attribution-NonCommercial 4.0 International License.
Copyright and access
This journal offers immediate free access to its content, following the principle that providing free scientific knowledge to the public provides greater global democratization of knowledge.
The works are licensed under a Creative Commons Attribution Non-commercial 4.0 International license.
Nascer e Crescer – Birth and Growth Medical Journal do not charge any submission or processing fee to the articles submitted.