DISPNEIA DE INICIO SÚBITO E CIANOSE: DA CLÍNICA AO DIAGNÓSTICO
Alexandra Martins

Isabel Nunes

Mariana Pinto

João Nascimento

Nuno Pacheco Pereira

Sandra Rocha

Lúcia Gomes
Abstract
Introdução: Na idade pediátrica os acidentes são uma importante causa de morbimortalidade. Uma anamnese detalhada e um exame físico completos são fundamentais no diagnóstico diferencial, contribuindo para um tratamento que, caso seja de- sadequado ou adiado, pode trazer consequências fatais.
Caso Clínico: Criança de 15 meses, sexo masculino. Antecedentes de bronquiolite. Observado por início súbito de dificuldade respiratória e cianose. Referia um possível engasgamento com feijão, ocorrido cerca de 6 horas antes, com rubor facial, sem cianose e que resolveu espontaneamente. Terá estado assintomático após o episódio. À admissão apresentava cianose perioral, tiragem global e hipóxia. Na auscultação pulmonar constatado inicialmente murmúrio vesicular (MV) bilateral com si- bilos e prolongamento do tempo expiratório tendo evoluído para diminuição do MV à direita. Realizou nebulização com salbutamol e corticóide i.m., com melhoria transitória do SDR e reversão da cianose mantendo, porém, hipóxia importante. A radiografia de tórax apresentava hipotransparência de todo o campo pulmonar direito, compatível com atelectasia. Entubado eletivamente e orientado para realização de broncoscopia rígida que confirmou o diagnóstico de aspiração de corpo estranho. Verificada oclusão completa do brônquio pulmonar direito e fragmentos do corpo vegetal com migração para a árvore brônquica esquerda que dificultaram a extração do mesmo. Por esse motivo decidido internamento na UCIP, tendo iniciado antibioterapia endovenosa e mantido sob ventilação invasiva até D4.
Comentários: A aspiração de corpo estranho é um evento frequente em idade pediátrica, potencialmente ameaçador da vida. A clínica é variável podendo manter-se assintomático várias horas e iniciar queixas de forma súbita. A anamnese detalhada pode ser a chave do diagnóstico, possibilitando o tratamento precoce e diminuindo a comorbilidade associada.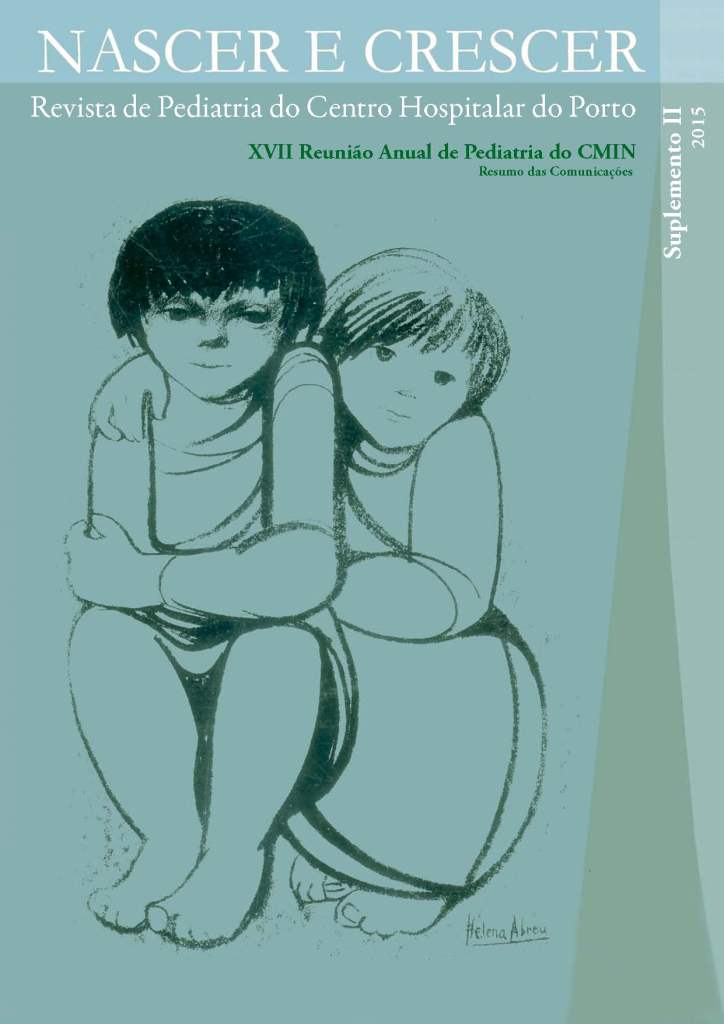 How to Cite
Martins, A., Nunes, I., Pinto, M., Nascimento, J., Pereira, N. P., Rocha, S., & Gomes, L. (2016). DISPNEIA DE INICIO SÚBITO E CIANOSE: DA CLÍNICA AO DIAGNÓSTICO. NASCER E CRESCER - BIRTH AND GROWTH MEDICAL JOURNAL, 24, S29. https://doi.org/10.25753/BirthGrowthMJ.v24.i0.9639
Section
Resumo dos posters
Copyright (c) 2015 NASCER E CRESCER
This work is licensed under a Creative Commons Attribution-NonCommercial 4.0 International License.
Copyright and access
This journal offers immediate free access to its content, following the principle that providing free scientific knowledge to the public provides greater global democratization of knowledge.
The works are licensed under a Creative Commons Attribution Non-commercial 4.0 International license.
Nascer e Crescer – Birth and Growth Medical Journal do not charge any submission or processing fee to the articles submitted.