Evaluating habit in exercisers: Testing the Self-Report Behavioral Automaticity Index
Keywords:
habits, exercise, invariance, predictive validity
Abstract
Habitual behaviors are repeated unconsciously, without intention. Accurate measurement of habit is crucial to help researchers develop and apply a theoretical habit model with an empirically valid measure. Thus, the aim of the present study was to test the validity and reliability of the Self-Report Behavior Automaticity Index in a Portuguese sample of exercisers. Data were collected from two independent samples, with 590 adults (women = 311; men = 279). A confirmatory factor analysis of the four-item measure model of the Self-Report Behavior Automaticity Index and analysis of invariance between two independent samples were performed. Additionally, a mediation model was tested in order to analyze the mediating role of the weekly frequency of physical exercise between past experience and habit. The measurement model of the Self-Report Behavior Automaticity Index demonstrated an acceptable fit in each of the samples, and the composite reliability coefficients were adequate. The measurement model proved to be invariant between samples, thus adding greater support to its validity to assess usual behavior. Exercise frequency mediates the relationship between experience and habit development, adding evidence to the habit theory.
KEYWORDS: habits; exercise; invariance; predictive validity.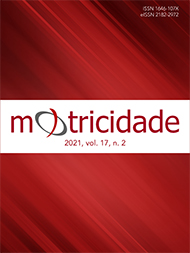 Downloads
License
The authors of submitted manuscripts must transfer the full copyright to Journal Motricidade / Desafio Singular Editions. Granting copyright permission allows the publication and dissemination of the article in printed or electronic formats and copyrights start at the moment the manuscript is accepted for publication. It also allows Journal Motricidade to use and commercialize the article in terms of licensing, lending or selling its content to indexation/abstracts databases and other entities.
According to the terms of the Creative Commons licence, authors may reproduce a reasonable number of copies for personal or professional purpose but without any economic gains. SHERPA/RoMEO allows authors to post a final digital copy (post-printing version) of the article in their websites or on their institutions' scientific repository.