Adolescent obesity facts
Abstract
Obesity prevalence through childhood and adolescence has been classified as a serious public health problem noting a worldwide increase in the prevalence of overweight/obesity and therefore different etiologically related diseases. In developed countries, current prevalence levels reach 23.8% in boys and 22.6% in girls, with Portugal showing high prevalence values like other southern European and the Mediterranean countries (WHO, 2017).
Not only for the health of the present generation of young adolescents but also for future adult's populations, the need to find better multi-sectoral strategies for current public policies appears to be fundamental. Although it is not the main scope of this text, it will be important, in due course, to analyse the effectiveness of the current inter-sectoral health policies applied in some countries, although it is clear that no country until now has been able to definitively reverse this phenomenon.
Our main purpose of this research note is to present the preliminary results of the Causes4adolescentObsesity (C4AO) project, which included a sample of 603 students from the northern and central interior region of Portugal.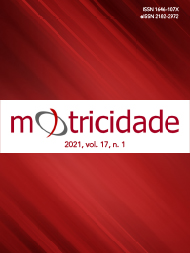 Downloads
License
The authors of submitted manuscripts must transfer the full copyright to Journal Motricidade / Desafio Singular Editions. Granting copyright permission allows the publication and dissemination of the article in printed or electronic formats and copyrights start at the moment the manuscript is accepted for publication. It also allows Journal Motricidade to use and commercialize the article in terms of licensing, lending or selling its content to indexation/abstracts databases and other entities.
According to the terms of the Creative Commons licence, authors may reproduce a reasonable number of copies for personal or professional purpose but without any economic gains. SHERPA/RoMEO allows authors to post a final digital copy (post-printing version) of the article in their websites or on their institutions' scientific repository.