Influence of acute static stretching on the behavior of maximum muscle strength
Abstract
The aim of this study was to compare the influence of acute static stretching on maximal muscle strength (1RM). The non-probabilistic sample consisted of 30 subjects split into two groups: static stretching (SS= 15) and without stretching group (WS= 15). Muscle strength evaluation (1RM) was conducted with a Dynamometer model 32527pp400 Pound push / pull devices coupled in knee extension (KE) and bench press (BP). The Wilcoxon test for intragroup comparisons and the Kruskal-Wallis test for comparisons between groups (p< 0.05) were selected. There were no significant differences (p> 0.05) between the SS and WS in exercise KE and BP. Therefore, it can be concluded that there was no reduction in the performance of 1RM performing the exercises KE and BP when preceded by static stretching.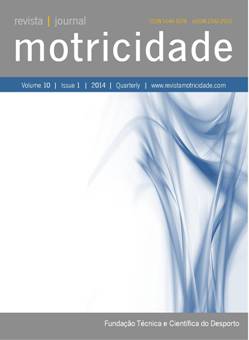 Downloads
License
The authors of submitted manuscripts must transfer the full copyright to Journal Motricidade / Desafio Singular Editions. Granting copyright permission allows the publication and dissemination of the article in printed or electronic formats and copyrights start at the moment the manuscript is accepted for publication. It also allows Journal Motricidade to use and commercialize the article in terms of licensing, lending or selling its content to indexation/abstracts databases and other entities.
According to the terms of the Creative Commons licence, authors may reproduce a reasonable number of copies for personal or professional purpose but without any economic gains. SHERPA/RoMEO allows authors to post a final digital copy (post-printing version) of the article in their websites or on their institutions' scientific repository.