Association between the training loads imposed to amateur rugby sevens players and burnout syndrome
Abstract
Burnout syndrome has been shown to be increasingly prevalent in athletes, since it is related to factors that influence levels of stress during the preparation of sports. Therefore, it has been studied in several sports, but not in Rugby Seven. The aim of this study was to correlate the effects of training loads imposed on amateur Rugby Sevens players with the burnout questionnaire. Nine players (25 ± 5 years-old) were evaluated before the preparatory period. Assessment included the measurement of the % fat percentage; nutritional status, stress, and aerobic power. During the preparatory period, once again, it was assessed the state of stress, aerobic power, and intensity of the training program. It was observed that there is no significant correlation between the intensity of the workout and Burnout scores (p> 0.05), nor between Burnout scores and aerobic capacity. However, there was significant a correlation between the intensity of training performed with aerobic power (p< 0.01). Therefore, it is concluded that a training program prescribed properly, prevents the onset of burnout syndrome in Rugby Sevens players.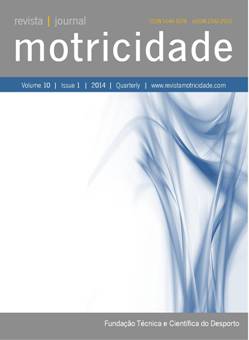 Downloads
Additional Files
License
The authors of submitted manuscripts must transfer the full copyright to Journal Motricidade / Desafio Singular Editions. Granting copyright permission allows the publication and dissemination of the article in printed or electronic formats and copyrights start at the moment the manuscript is accepted for publication. It also allows Journal Motricidade to use and commercialize the article in terms of licensing, lending or selling its content to indexation/abstracts databases and other entities.
According to the terms of the Creative Commons licence, authors may reproduce a reasonable number of copies for personal or professional purpose but without any economic gains. SHERPA/RoMEO allows authors to post a final digital copy (post-printing version) of the article in their websites or on their institutions' scientific repository.