Velocidade crítica em natação: uma revisão da literatura
Abstract
De entre as técnicas não invasivas de determinação do limiar anaeróbio, o método da determinação da velocidade crítica tem merecido grande atenção, nomeadamente no âmbito da avaliação e controlo do treino em natação. Neste sentido, o objetivo do presente artigo foi efetuar uma revisão da literatura do tipo qualitativa acerca do significado do parâmetro velocidade crítica e sua aplicação à natação. Foram abordadas questões relativas à origem e definição do conceito de velocidade crítica, às metodologias de determinação mais comuns, bem como uma breve referência ao conceito de velocidade crítica anaeróbia. A velocidade crítica é sugerida como um parâmetro não invasivo de avaliação do desempenho aeróbio e de predição do limiar anaeróbio de nadadores, independentemente do nível desportivo. As principais vantagens deste indicador resultam da facilidade de aplicação e análise num elevado número de nadadores, sem a necessidade da utilização de equipamentos dispendiosos ou de recolha de sangue. Aponta-se como uma ferramenta útil no mecanismo de prescrição e controlo de cargas de treino por meio de resultados em condições experimentais ou recorrendo a tempos obtidos durante as competições. A descriminação dos valores de velocidade crítica entre nadadores com diferentes perfis metabólicos (velocistas versus fundistas) e ainda a sua aplicabilidade em regime anaeróbio são aspetos que ainda carecem de um maior entendimento.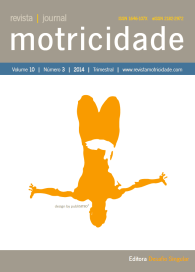 Downloads
License
The authors of submitted manuscripts must transfer the full copyright to Journal Motricidade / Desafio Singular Editions. Granting copyright permission allows the publication and dissemination of the article in printed or electronic formats and copyrights start at the moment the manuscript is accepted for publication. It also allows Journal Motricidade to use and commercialize the article in terms of licensing, lending or selling its content to indexation/abstracts databases and other entities.
According to the terms of the Creative Commons licence, authors may reproduce a reasonable number of copies for personal or professional purpose but without any economic gains. SHERPA/RoMEO allows authors to post a final digital copy (post-printing version) of the article in their websites or on their institutions' scientific repository.