Propriedades psicométricas da versão brasileira do Physical Education Teaching Processes Questionnaire
Abstract
O presente estudo teve como objetivos: i) traduzir e adaptar para o contexto brasileiro (equivalência semântica/conceitual e validade de conteúdo) o Physical Education Teaching Processes Questionnaire; e  ii) verificar as suas propriedades psicométricas (confiabilidade e validade fatorial). A amostra foi composta por 301 alunos (140 do sexo masculino e 161 do sexo feminino) de dua escolas públicas da Bahia, com idades compreendidas entre 12 e 18 anos (M = 16.35; DP = 1.73). A consistência interna e validade fatorial do instrumento foram analisadas através do alpha de Cronbach e análise fatorial confirmatória (AFC), respectivamente. A confiabilidade dos fatores variou entre .54 e .78. Os resultados da AFC indicaram que a versão original (20 itens e 6 fatores) do Physical Education Teaching Processes Questionnaire revelou uma boa adequação estrutural. Estes resultados sugerem que a versão brasileira deste instrumento possui propriedades psicométricas adequadas para ser utilizado no contexto escolar brasileiro.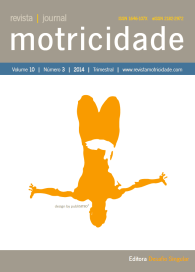 Downloads
Additional Files
License
The authors of submitted manuscripts must transfer the full copyright to Journal Motricidade / Desafio Singular Editions. Granting copyright permission allows the publication and dissemination of the article in printed or electronic formats and copyrights start at the moment the manuscript is accepted for publication. It also allows Journal Motricidade to use and commercialize the article in terms of licensing, lending or selling its content to indexation/abstracts databases and other entities.
According to the terms of the Creative Commons licence, authors may reproduce a reasonable number of copies for personal or professional purpose but without any economic gains. SHERPA/RoMEO allows authors to post a final digital copy (post-printing version) of the article in their websites or on their institutions' scientific repository.