INFANT HEMANGIOMA AND ORAL PROPRANOLOL - CURRENT RECOMMENDATIONS
Keywords:
infantile hemangioma, propranolol, infant, children
Abstract
Infantile hemangioma is a benign endothelial tumor characterized by rapid growth in the first months of life and spontaneous regression in subsequent years. Since 2008, the use of oral propranolol has been growing with superior efficacy compared to systemic corticosteroids and good safety profile, assuming a frontline position in the treatment of infantile hemangioma. In this paper, the authors propose an update on the latest recommendations for the management of patients with infantile hemangiomas and indication for treatment with oral propranolol.
Downloads
Download data is not yet available.
References
Kilcline C, Frieden IJ. Infantile hemangiomas: how common are they? A systemic review of the medical literature. Pediatr Dermatol. 2008; 25: 168.
Chiller KG, Passaro D, Frieden IJ. Hemangiomas of infancy: clinical characteristics, morphologic subtypes, and their relationship to race, ethnicity, and sex. Arch Dermatol. 2002; 138: 1567.
Barnes CM, Huang S, Kaipainen A. Evidence by molecular profiling for a placental origin of infantile hemangioma. Proc Natl Acad Sci USA. 2005; 102: 19097.
Bruckner AL, Frieden IJ. Hemangiomas of infancy. J Am Acad Dermatol. 2003; 48: 477.
Drolet BA, Esterly NB, Frieden IJ. Hemangiomas in children. N Engl J Med 1999; 341: 173.
Haggstrom AN, Drolet BA, Baselga E, Chamlin SL, Garzon MC, Horii KA, et al. Prospective study of infantile hemangioma: clinical characteristics predicting complications and treatment. Pediatrics. 2006; 118: 882-7.
Chang LC, Haggstrom AN, Drolet BA. Growth characteristics of infantile hemangiomas: implications for management. Paediatrics. 2008; 122: 360.
Chan YC, Giam YC. Guidelines of care for cutaneous hemangiomas. Ann Acad Med Singapore. 2005; 34: 117-23.
Bennett ML, Fleischer AB, Chamlin SL, Frieden IJ. Oral corticosteroid use is effective for cutaneous hemangiomas. Arch Dermatol 2001; 137: 1208-13.
Pandey A, Gangopadhyay AN, Sharma SP, Kumar V, Gupta DK, Gopal SC. Evaluation of topical steroids in the treatment of superficial hemangioma. Skinmed. 2010;8: 9-11.
Moehrle M, Léauté-Labrèze C, Schmidt V, Rocken M, Poets CF, Goelz R. Topical timolol for small hemangiomas of infancy. Pediatr Dermatol. 2013; 30: 245-9.
Bruscino N, Bonan P, Cannarozzo G, Moretti S, Lotti T, Campolmi P. Laser use in infantile hemangiomas, when and how. Dermatol Ther. 2012; 25: 314-21.
Melo IS, Gonçalves V, Anjos R. Propranolol nos hemangiomas infantis: casuística nacional com 30 doentes. Acta Pediatr Port. 2012; 43: 190-4.
Léauté-Labrèze C, de la Roque ED, Hubiche T, Boralevi F, Thambo JB, Thaieb A. Propranolol for severe hemangiomas of infancy. N Engl J MeF. 2008; 358: 2649-51.
Sanchez-Carpintero I, Ruiz-Rodriguez R, Lopez-Gutierrez. Propranolol in the Treatment of infantile hemangioma: clinical effectiveness, risks and recommendations. Actas Dermosifiliogr. 2011;102: 766-79.
Greenberg S, Bischoff J. Infantile haemangioma – mechanisms of drug action on a vascular tumor. Cold Spring Harb Perspect Med. 2011; 1: a006460.
Pereira J, Banquart-Leitão J. Propranolol como tratamento de primeira linha dos hemangiomas da infância. SPDV. 2014; 72: 101-8.
Drolet BA, Frommelt PC, Chamlin SL, Haggstrom A, Bauman NM, Chiu YE, et al. Initiation and use of propranolol for infantile hemangioma: report of a consensus conference. Pediatrics. 2013; 131: 128-40.
Raphael MF, Breugem CC, Vlasveld FAE, de Graaf M, Slieker MG, Pasmans SGMA, et al. Is cardiovascular evaluation necessary prior to and during beta-blocker therapy for infantile hemangiomas? A cohort study. J Am Acad Dermatol. 2014; 72: 465-72.
Lee KC, Bercovitch L. Update on infantile hemangiomas. Semin Perinatol. 2013; 37: 49-58.
Li YC, McCahon E, Rowe NA, Martin PA, Wilcsek GA, Martin FJ. Sucessful Treatment of infantile haemangiomas of the orbit with propranolol. Clin Experiment Ophthalmol. 2010;38: 554-9.
Manunza F, Syed S, Laguda B, Linward J, Kennedy H, Gholam K, et al. Propranolol for complicated infantile haemangiomas: a case series of 30 infants. Br J Dermatol. 2010;162: 466-8.
Caussé S, Aubert H, Saint-Jean M, Puzenat E, Bursztejn AC, Eschard C, et al. Propranolol-resistant infantile haemangiomas. Br J Dermatol. 2013; 169: 125-9.
Shehata N, Powell J, Dubois J, Hatami A, Rousseau E, Ondrejchak S, et al. Late rebound of infantile hemangioma after cessation of oral propranolol. Pediatr Dermatol. 2013. 30: 587-91.
NG SY, Kader Ibrahim SB. A case of PHACES syndrome with successful treatment of facial haemangioma with propranolol. Med J Malaysia. 2013; 4: 364-5.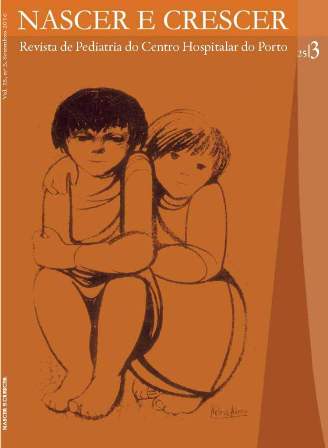 Downloads
How to Cite
1.
Carvalho S, Machado S, Selores M. INFANT HEMANGIOMA AND ORAL PROPRANOLOL - CURRENT RECOMMENDATIONS. REVNEC [Internet]. 2016Sep.30 [cited 2023Sep.30];25(3):154-8. Available from: https://revistas.rcaap.pt/nascercrescer/article/view/10078
License
Copyright and access
This journal offers immediate free access to its content, following the principle that providing free scientific knowledge to the public provides greater global democratization of knowledge.
The works are licensed under a Creative Commons Attribution Non-commercial 4.0 International license.
Nascer e Crescer – Birth and Growth Medical Journal do not charge any submission or processing fee to the articles submitted.