Recusa à Judicialização e ao Projeto de Lei "Escola Sem Partido": Análises a Partir das Ocupações Estudantis
Keywords:
Ocupações, Escola, Projeto Escola sem partido, Judicialização / Occupations, Schools, School without Political Party Bill, Judicialization
Abstract
Este artigo realiza descrição analítica de ocupações estudantis no Brasil, marcadamente nos meses finais de 2016. Trata-se de um processo de ocupação variada entre escolas de ensino médio e unidades de ensino superior, em universidades e institutos federais. Discute, por meio das ocupações, o Projeto de Lei (PL) direcionado à escola básica brasileira, intitulado PL Escola Sem Partido e, para tanto, atem-se à experiência de ocupação de uma das unidades do complexo escolar Colégio Pedro II, no Rio de Janeiro. E, ao acompanhá-la, mostra o que estudantes secundaristas têm reivindicado e como o tem feito - o que organizaram e como se organizaram na ocupação. Nessa esteira, emerge a recusa estudantil ao PL Escola Sem Partido, a partir da qual, com o aporte de Michel Foucault, são problematizados aspectos desse projeto permeados por processos de judicialização da vida e as implicações para as lógicas escolares.
This article looks into the analytical description of student occupations in Brazil, markedly in the final months of 2016.  This is a varied occupation process in High School Education schools and Higher Education Institutions, Universities and Federal Institutes. The occupations are discussed by means of the Bill (PL) which focuses on the Brazilian basic school, named PL Escola Sem Partido (School without Political Party Bill), which aims at the Brazilian basic educational system; for such, the occupation experience of one of the units of the Colegio Pedro II, in Rio de Janeiro, is taken into consideration.  By doing so, it shows what the High School students are claiming and how they do that – what they have organized and how they have organized the occupation.  It is on this ground that the students' refusal to the School without Political Party Bill emerges and drawing on Michel Foucault's theoretical framework, various aspects of this project are discussed, under the light of the judicialization of life processes and its implications for the school logics.
Downloads
Download data is not yet available.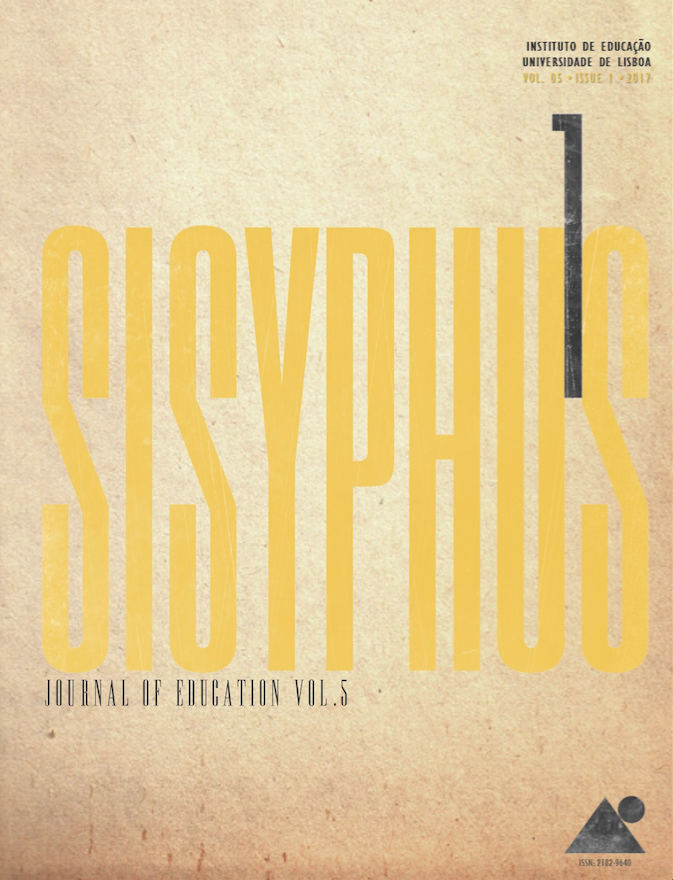 Downloads
License
Copyright (c) belongs to Sisyphus - Journal of Education. However, we encourage issued articles to be published elsewhere, provided that Sisyphus authorization is asked for and that authors integrate our original source citation and a link to our website.
Author Self-Archiving Policy
Author(s) are permitted to self-archive the final published version in institutional or thematic repositories, and in their personal or institutional websites.
DORA Signer
The Instituto de Educação da Universidade de Lisboa, Sisyphus' Publisher, is a San Francisco Declaration on Research Assessment signer.