Assessing Attitudes about Responsible Research and Innovation (RRI): The Development and Use of a Questionnaire
Ron Blonder

Department of Science Teaching, Weizmann Institute of Science

http://orcid.org/0000-0003-4796-4678

Shelley Rap

Department of Science Teaching, Weizmann Institute of Science

Esty Zemler

Department of Science Teaching, Weizmann Institute of Science

Sherman Rosenfeld

Department of Science Teaching, Weizmann Institute of Science
Keywords:
Responsible Research and Innovation (RRI), Socioscientific issues (SSI), Science Education, Questionnaire, High school, Teachers' Attitudes / Investigação e inovação responsáveis (IIR), Questões sociocientíficas (QSC), Educação em ciências
Abstract
Abstract
The purpose of this article is to trace the development, validation and use of a questionnaire for evaluating teacher and student attitudes regarding Responsible Research and Innovation (RRI).  RRI is a framework, developed by the European Union, which provides general standards to guide the development of trust and confidence of the public regarding advances in science and technology, and the development of their participation in these advances.  The article traces the development of the RRI framework and focuses on its educational component, whose goal is to sensitize teachers and students into "RRI-based thinking" about past and current scenarios regarding the development of science and technology advances. The use of the RRI questionnaire is demonstrated through the presentation of teacher and student data taken before and after the implementation of RRI-based modules, developed in the EU-funded Irresistible Project. Based on this work, we suggest that the RRI questionnaire can be used to assess the development of attitudes regarding RRI across diverse populations of teachers, students, scientists, consumers and other members of the general public.

Resumo
O objetivo deste artigo é delinear o desenvolvimento, validação e uso de um questionário de avaliação de atitudes de professores e alunos, relativas à Inovação e Investigação Responsáveis (IIR). O artigo descreve o enquadramento do desenvolvimento da IIR e foca-se na componente educacional, cujo objetivo é sensibilizar os professores para um "pensamento fundamentado na IIR", sobre cenários passados e presentes relativos ao desenvolvimento da ciência e aos avanços da tecnologia. O uso do questionário sobre IIR é demonstrado através da apresentação de dados sobre estudantes e professores, recolhidos antes e depois da implementação dos modelos fundamentados sobre IIR, desenvolvidos no âmbito do projeto IRRESISTIBLE, financiado pela EU. Baseados neste trabalho, sugerimos que o questionário sobre IIR pode ser usado para avaliar o desenvolvimento das atitudes face à IIR em diferentes populações de professores, estudantes, cientistas, consumidores e outros membros do público em geral.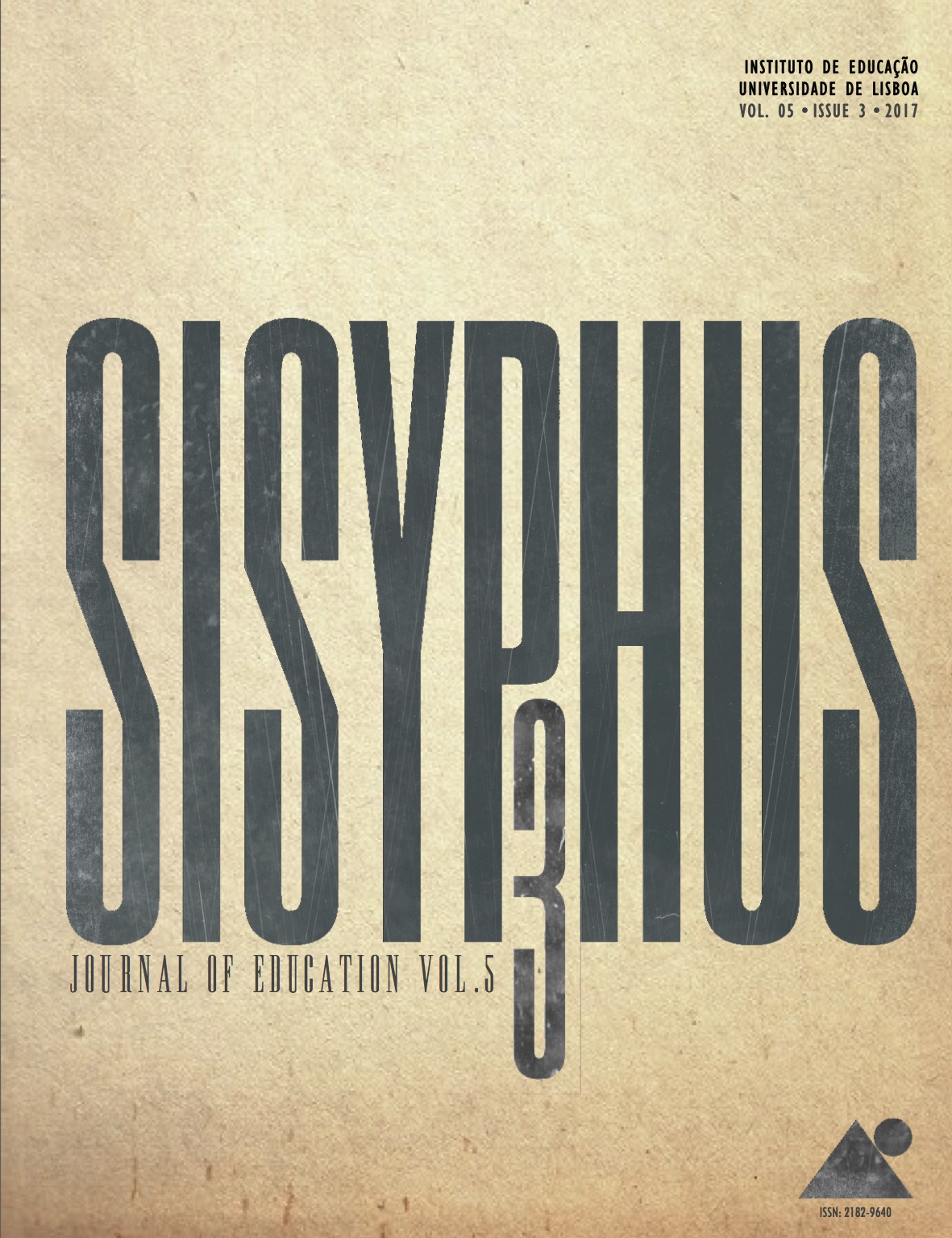 Copyright (c) belongs to Sisyphus - Journal of Education
However, we encourage issued articles to be published elsewhere, provided that Sisyphus authorization is asked for and that authors integrate our original source citation and a link to our website.