Research scenarios in special and inclusive education
Keywords:
special education, inclusive education, technology, disability, teacher training
Abstract
For some time, Special Education and Inclusive Education policies have been debated in congresses, conferences and journals, in several countries. However, when considering the inclusion of people with disabilities in mainstream education, there are still barriers that prevent this action to be fully implemented. The inclusion of people with disabilities is preferentially carried out in mainstream schools, a space where students appropriate knowledge aiming to provide them with a more autonomous social life. One form of access to this is through the use of technology as a pedagogic mediation tool to support the teaching-learning process, especially in the case of students with disabilities. This special edition, made up of nine articles, presents research on challenges regarding the dissemination and implementation of public policies, continued training for teachers' action in an inclusive perspective, and the contributions of using educational technological resources as a possibility for pedagogic innovation. These studies heighten reflections on research scenarios in Special and Inclusive Education for the teaching-learning process of people with disabilities.
Downloads
Download data is not yet available.
References
Da Silva, S. de C. R., Mamcasz-Viginheski, L. V., & Shimazaki, E. M. (2018b). La inclusión en la formación inicial de profesores de matemáticas. Acta Scientirum, 40(3), e32210. doi: 10.4025/actascieduc.v40i3.32210
Da Silva, S. de C. R., Shimazaki, E. M., & Da Silva Dessbesel, R. (2018a). O uso de Tecnologias na Educação Especial: contribuições a partir do mapeamento de pesquisas. Tecné, Episteme y Didaxis, Extraordin, 1-8. Retirado de: https://revistas.pedagogica.edu.co/index.php/TED/article/view/9071
Instituto Nacional de Estudos e Pesquisas Educacionais Anísio Teixeira. (2022, setembro 16). Resultados. Retirado de: https://www.gov.br/inep/pt-br/areas-de-atuacao/pesquisas-estatisticas-e-indicadores/censo-escolar/resultados
Instituto Rodrigo Mendes. (2020). Protocolos sobre Educação Inclusiva durante a pandemia da covid-19: Um sobrevoo por 23 países e organismos internacionais. Retirado de: https://fundacaogrupovw.org.br/wp-content/uploads/2020/07/protocolos-educacao-inclusiva-durante-pandemia.pdf
Noronha, A. M., da Silva, S. de C. R., & Shimazaki, E. M. (2021). Instrumentos mediadores da aprendizagem conceitual matemática para alunos com deficiência intelectual: uma revisão integrativa. Revista Paranaense De Educação Matemática, 10(22), 149-173. doi: 10.33871/22385800.2021.10.22.149-173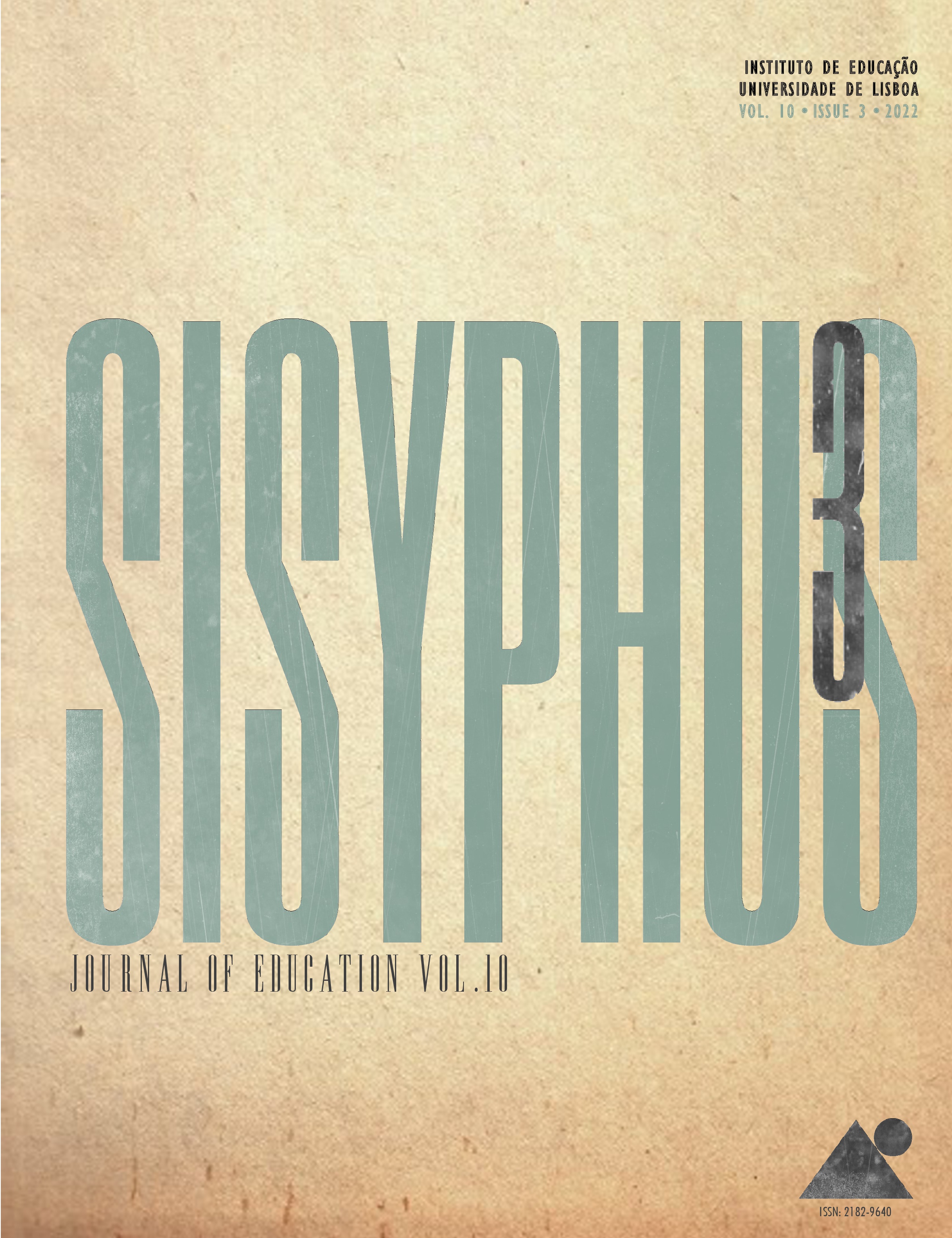 Downloads
License
Copyright (c) 2022 Sisyphus — Journal of Education
This work is licensed under a Creative Commons Attribution-NonCommercial 4.0 International License.
Copyright (c) belongs to Sisyphus - Journal of Education. However, we encourage issued articles to be published elsewhere, provided that Sisyphus authorization is asked for and that authors integrate our original source citation and a link to our website.
Author Self-Archiving Policy
Author(s) are permitted to self-archive the final published version in institutional or thematic repositories, and in their personal or institutional websites.
DORA Signer
The Instituto de Educação da Universidade de Lisboa, Sisyphus' Publisher, is a San Francisco Declaration on Research Assessment signer.