The contribution of human sciences to educational processes associated with COVID-19
Abstract
The COVID-19, an infectious disease caused by a newly discovered biological agent, has turned into a devastating pandemic (Wu; Zhao; Yu et al., 2020). Social and behavioral factors have played a fundamental role in the incredibly rapid spread of the disease: a) poor hygiene habits; b) business traveling/commuting and tourism; c) training and discipline to prevent similar cases; d) uncontrolled economy and overconsumption; e) governmental extremism (The Lancet, 2019; The Lancet 2020); f) disbelief of scientific findings, negationist or antiscientific views; g) individualism, lack of community spirit; h) anti ecological behaviors, environmental devastation.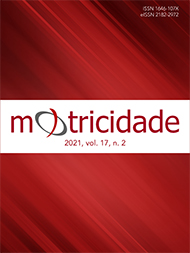 Downloads
License
The authors of submitted manuscripts must transfer the full copyright to Journal Motricidade / Desafio Singular Editions. Granting copyright permission allows the publication and dissemination of the article in printed or electronic formats and copyrights start at the moment the manuscript is accepted for publication. It also allows Journal Motricidade to use and commercialize the article in terms of licensing, lending or selling its content to indexation/abstracts databases and other entities.
According to the terms of the Creative Commons licence, authors may reproduce a reasonable number of copies for personal or professional purpose but without any economic gains. SHERPA/RoMEO allows authors to post a final digital copy (post-printing version) of the article in their websites or on their institutions' scientific repository.