Lifestyle and functional fitness of elderly men and women attending a community centre
Keywords:
elderly, functional aptitude, lifestyle, ageing
Abstract
Identifying indicators that contribute to a favourable living condition becomes of great value for the diagnosis, as well as implementing preventive and health-promoting actions. The present work objective was to evaluate and compare the lifestyle, depressive symptoms and functional aptitude of elderly men and women attending a community centre. The sample consisted of 277 elderly people, 197 (71%) women and 80 (29%) men aged above 60 years. The elderly were evaluated using a questionnaire to assess lifestyle and depressive symptoms, and their functional fitness was assessed by functional autonomy tests. The differences between the parameters were analysed by the student's t-test and χ2 whenever appropriate. Depressive symptoms were present in 35% of the elderly; however, the lifestyle analysis showed that 57.40% of the elderly had a very good classification, followed by 24.55% as good, 17.33% as excellent and 0.72% as regular. Regarding functional fitness, 19.39% of the elderly had a score related to a very good level, 15.97% good, 16.35% fair and 45.29% weak. The results found in this study suggest that the elderly attending the community centre presented low depressive symptoms with a lifestyle classification considered very good, however, with poor functional fitness with differences in some parameters between men and women.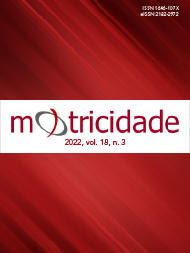 Downloads
License
The authors of submitted manuscripts must transfer the full copyright to Journal Motricidade / Desafio Singular Editions. Granting copyright permission allows the publication and dissemination of the article in printed or electronic formats and copyrights start at the moment the manuscript is accepted for publication. It also allows Journal Motricidade to use and commercialize the article in terms of licensing, lending or selling its content to indexation/abstracts databases and other entities.
According to the terms of the Creative Commons licence, authors may reproduce a reasonable number of copies for personal or professional purpose but without any economic gains. SHERPA/RoMEO allows authors to post a final digital copy (post-printing version) of the article in their websites or on their institutions' scientific repository.