Evidências de validade da versão brasileira do Exercise Motivation Inventory-2 em contexto de academia e personal training
Abstract
Este estudo teve como objetivos verificar a validade fatorial e a validade interna da versão brasileira do Exercise Motivation Inventory-2 (EMI-2) e comparar os principais motivos para prática de exercício tendo em conta os contextos de academia e personal training. Um total de 588 praticantes de exercício da cidade de Pelotas/RS/Brasil (405 de academia e 183 de personal training) preencheram o EMI-2, o qual é constituído por 51 itens, agrupados em 14 motivos (fatores) para prática de exercício físico. A validade fatorial do EMI-2 foi testada através da realização de análises fatoriais confirmatórias e a validade interna através do alfa de Cronbach. Para a verificar o efeito do contexto nos motivos foi utilizada a MANOVA e calculado o tamanho do efeito. Os resultados obtidos dão suporte à estrutura original do EMI-2 com 14 fatores, nesta amostra. Verificou-se um efeito multivariado significativo do contexto sobre os motivos de prática [Wilks' λ = 0.912, F (14, 573.000) = 3.9, p < 0.001,  η² = 0.088]. Os motivos de "Prazer", "Força e resistência", "Desafio", "Socialização", "Competição" e "Reconhecimento Social" foram significativamente superiores no contexto de academia e os motivos de "Agilidade" e "Prevenção de Doenças" foram significativamente superiores no contexto de personal training.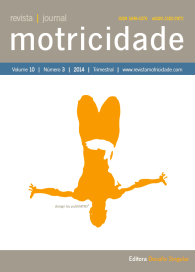 Downloads
License
The authors of submitted manuscripts must transfer the full copyright to Journal Motricidade / Desafio Singular Editions. Granting copyright permission allows the publication and dissemination of the article in printed or electronic formats and copyrights start at the moment the manuscript is accepted for publication. It also allows Journal Motricidade to use and commercialize the article in terms of licensing, lending or selling its content to indexation/abstracts databases and other entities.
According to the terms of the Creative Commons licence, authors may reproduce a reasonable number of copies for personal or professional purpose but without any economic gains. SHERPA/RoMEO allows authors to post a final digital copy (post-printing version) of the article in their websites or on their institutions' scientific repository.