Personal training: recommendations to raise the quality of the service provided
Keywords:
gymnasiums, health clubs, personal training, individual training, physical exercise
Abstract
Individualized intervention structured through personalized training is an important tool for exercise professionals and a service of potential importance for the health and well-being of exercisers. Personalized training is a practice developed nationally by thousands of professionals and relatively common in various contexts, where gyms and health clubs stand out in particular. Considering the reduced national production of literature on this topic and assuming the importance and relevance of issuing updated recommendations that derive from concrete limitations observed in the context of practice, this article has the main objective of issuing guidelines and operational recommendations that allow for admeasurement and regulation of the work implemented in this context, aiming at a critical reflection and improvement of the service provided. The recommendations issued also seek, in addition to the support associated with the performance of the professional practice, to help to clarify what should constitute and delimit the provision of this service in the eyes of a practitioner, pointing out a path that aims to standardize behaviors and actions ethically and professionally recommended, which can and should be assumed in the provision of personalized training, and allow to create a clearer, more objective, and delimited social image of this individualized service.
KEYWORDS: gymnasiums; health clubs; personal training; individual training; physical exercise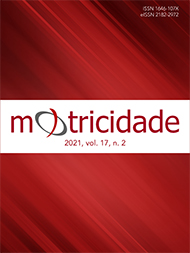 Downloads
License
The authors of submitted manuscripts must transfer the full copyright to Journal Motricidade / Desafio Singular Editions. Granting copyright permission allows the publication and dissemination of the article in printed or electronic formats and copyrights start at the moment the manuscript is accepted for publication. It also allows Journal Motricidade to use and commercialize the article in terms of licensing, lending or selling its content to indexation/abstracts databases and other entities.
According to the terms of the Creative Commons licence, authors may reproduce a reasonable number of copies for personal or professional purpose but without any economic gains. SHERPA/RoMEO allows authors to post a final digital copy (post-printing version) of the article in their websites or on their institutions' scientific repository.