A Comparative Consideration of Innovative Digital Teaching/Learning Methods Pre-and Post-Pandemic in Two Universities in Italy and Nigeria
Keywords:
digital learning, adult education, COVID-19 pandemic, innovative methods
Abstract
This paper presents a descriptive analysis and comparison of higher education policies at the State and organisational levels, methods and effectiveness of digital learning in Italy and Nigeria due to the changes occasioned by the COVID-19 pandemic. It is a reflection of the Adult Education Academy (AEA) 2021 experience that was focused on the consideration of the status pre-and post-pandemic along the mega, meso and micro dimensions in a bid to create an optimal learning environment, encourage innovative teaching methods in both countries and learn lessons. From a comparative perspective, the purpose of this paper is to explore the practices and strategies implemented by the two universities in Italy and Nigeria to address the challenges caused by the pandemic. Some practical teaching/learning methods will be proposed to prepare institutions for the new normal.
Downloads
Download data is not yet available.
References
Agbele, A. T., & Oyelade, E. A. (2020). Impact of COVID-19 on the Nigerian Educational System: Strengths and Challenges of Online/Virtual Education. Asian Journal of Education and Social Studies (AJESS), 13(1), 26-35. doi: 10.9734/ajess/2020/v13i130322
Arduini, G., & Chiusaroli, D. (2020). University teaching during Covid-19. Italian Journal of Health Education, Sports and Inclusive Didactic, 4(4), 94-102. doi: 10.32043/gsd.v4i4_si.300
Arora, A. K., & Srinivasan, R. (2020). Impact of pandemic COVID‐19 on the teaching‐learning process: A Study of Higher Education Teachers. Prabandhan: Indian Journal of Management, 13(4), 43-56. doi: 10.17010/pijom%2F2020%2Fv13i4%2F151825
Bildfell, A. (2015, September 1st). What is innovative teaching and how can we implement it into our classrooms at the post-secondary level. Teaching and Learning Services TA Blog. Retrieved from: https://carleton.ca/tasupport/2015/what-is-innovative-teaching-and-how-can-we-implement-it-into-our-classrooms-at-the-post-secondary-level/
Cuban, L. (2004). The Blackboard and the Bottomline. Why schools can't be businesses. Cambridge, MA: Harvard University Press.
Decree Legislative (5 June 1998). n. 204. Provisions for the coordination, planning and evaluation of the national policy relating to scientific and technological research, (pursuant to article 11, paragraph 1, letter d, of law n. 59). Retrieved from: https://www.gazzettaufficiale.it/eli/id/1998/07/01/098G0257/sg.
Decree-Law (2 March 2020, n. 9). Urgent support measures for families, workers and businesses connected to the epidemiological emergency from COVID-19. Retrieved from https://www.gazzettaufficiale.it/eli/id/2020/03/02/20G00026/sg
Dewey, J. (1938). Experience and education. New York: Simon and Schuster.
Egetenmeyer, R. (2017). What to compare? Comparative Issues in Adult education. In M. Slowey (Ed.), New Perspectives on Comparative Adult Education (pp. 89-126). Florence: Firenze University Press.
EC. European Commission (2011). Supporting growth and jobs for the agenda for the modernisation of Europe 's higher education systems. http://ec.europa.eu/assets/eac/education/library/policy/modernisation_en.pdf (ver. 17.05.2022).
EC. European Commission. (2013). Report to European on improving the quality of teaching and learning in Europes's higher education institutions. Luxembourg: Publications Office of the European Union.
EC. European Council (2018). Council Recommendation on key competences for lifelong learning. (2018/C 189/01). Retrieved from: https://eur-lex.europa.eu/legal-content/EN/TXT/PDF/?uri=CELEX:32018H0604(01)&rid=7
EU. The European Parliament & Council of European Union (2006). Recommendation of The European Parliament and of The Council. Key competences for lifelong learning. A European reference framework. Official Journal of the European Union
Retrieved from: https://eur-lex.europa.eu/legal-content/EN/TXT/?uri=celex%3A32006H0962.
Garrison, D. R., & Anderson, T. (2003). E-learning in the 21st century: A framework for research and practice. New York: RoutledgeFalmer.
Harasim, L. (2012). Learning theory and online technologies. New York: Routledge/Taylor & Francis.
Haythornthwaite, C., Andrews, R., Kazmer, M. M., Bruce, B. C., Montague, R.-A., & Preston, C. (2017). Theories and models of and for online learning. First Monday, 12(8). doi: 10.5210/fm.v12i8.1976
ISTAT. (2019). Cittadini, imprese e ICT. Report 201.8. Retrieved from: https://www.istat.it/it/files//2019/01/Re-port-ICT-cittadini-e-imprese_2018_PC.pdf
ISTAT. (2020). Spazi in casa e disponibilità di computer per bambini e ragazzi. Retrieved from: https://www.istat.it/it/files//2020/04/Spazi-casa-disponibilita-computer-ragazzi.pdf
Kentiba, E. (2020, June 15th). Covid-19 pandemic and teaching learning process, what teaching methods are recommended? Researchgate [question]. Retrieved from: https://www.researchgate.net/post/COVID-19-pandemic-and-teaching-learning-process-what-teaching-methods-are-recommended
Knowles, M. (1984). Andragogy in action. San Francisco: Jossey-Bass.
Lall, S., & Singh, N. (2020). Covid‐19: Unmasking the new face of Education. International Journal of Research in Pharmaceutical Sciences, 11(SPL1), 48-53. Retrieved from: https://pesquisa.bvsalud.org/global-literature-on-novel-coronavirus-2019-ncov/resource/pt/covidwho-154282
Maity, S., Sahu, T. N., & Sen, N. (2020). Panoramic view of digital education in COVID‐19: A new explored avenue. BERA Review of Education. doi: 10.1002/rev3.3250
Marcelo, C., & Yot-Domínguez, C. (2019). From chalk to keyboard in higher education classrooms: changes and coherence when integrating technological knowledge into pedagogical content knowledge. Journal of Further and Higher Education, 43(7), 975-988. doi: 10.1080/0309877X.2018.1429584
Mishra, L., Gupta, T., & Shree, A. (2020). Online teaching-learning in higher education during lockdown period of COVID-19 pandemic. International Journal of Educational Research Open, 1, 100012. doi: 10.1016/j.ijedro.2020.100012
Mynbayeva, A., Sadvakassova, Z., & Akshalova, B. (2017). Pedagogy of the Twenty-First Century: Innovative Teaching Methods. In Olga Bernad-Cavero & N. Llevot-Calvet (Eds.), New Pedagogical Challenges in the 21st Century - Contributions of Research in Education. Intech Open. doi: 10.5772/intechopen.72341
Nlebem, A. (2020, March 19). FG orders closure of all schools in Nigeria as Coronavirus spreads. Business Day. Retrieved from: https://businessday.ng/coronavirus/article/fg-orders-closure-of-all-schools-in-nigeria-as-coronavirus-spreads/ :
NPE. (2013). National Policy on Education. (6th edition). Lagos: Federal Government of Nigeria, NERDC.
OECD (2016). Innovating Education and Educating for Innovation: The power of digital technologies and skills. [Education Innovation and Research]. Paris: OECD Publishing. doi: http://dx.doi.org/10.1787/9789264265097-en
Papert, S. (1993). The Children's Machine. New York: Basic Books.
Picciano, A. G. (2017). Theories and frameworks for online education: Seeking an integrated model. Online Learning Journal, 21(3), 166-190. doi: http://dx.doi.org/10.24059/olj.v21i3.1225
Podlasy, I. P. (1996). Pedagogy: Textbook for Students of Pedagogic Universities. Moscow: Vlados.
Pokhrel, S., & Chhetri, R. (2021). A literature review on impact of COVID-19 pandemic on teaching and learning. Higher Education for the Future, 8(1), 133-141. doi: 10.1177%2F2347631120983481
Ranieri, M., Raffaghelli, J., & Pezzati, F. (2018). Digital resources for faculty development in e-learning: a self-paced approach for professional learning. Italian Journal of Educational Technology, 26(1), 104-118. doi: 10.17471/2499-4324/961
Sachou, M.-E. (2013, June). Innovative methods of teaching. International Conference: The future of education. Florence, Italy.
Selwyn, N. (2010). Looking beyond learning: Notes towards the critical study of educational technology. Journal of Computer Assisted Learning, 26(1), 65-73. doi: 10.1111/j.1365-2729.2009.00338.x
Siemens, G. (2005). Connectivism: a theory for the digital age. International Journal of Instructional Technology and Distance Learning, 2(1), 3-10. Retrieved from: http://www.itdl.org/Journal/Jan_05/article01.htm
Swan, K. (2006). A constructivist model for thinking about learning online. In J. Bourne & J. C. Moore (Eds), Elements of quality online education: Engaging Communities (pp. 1-19). Needham, Massachussetts: Sloan Consortium.
TEP-NESG (2020). Learning in pandemic: Nigeria's response to teaching and learning during the COVID-19 pandemic. The educational partnership centre (TEP), in collaboration with the Nigerian Economic Summit Group (NESG). Retrieved from: https://education.gov.ng/wp-content/uploads/2020/08/Learning-in-a-Pandemic-Report_TEP-NESG_2020.pdf
Teräs, M., Suoranta, J., Teräs, H., & Curcher, M. (2020). Post-Covid-19 Education and Education Technology 'Solutionism': a Seller's Market. Post-digital Science and Education, 2, 863-878. doi: 10.1007/s42438-020-00164-x
Thomas, C. J. (2020). Coronavirus and Challenging times for Education in Developing Countries. Washington DC: The Brookings Institution.
Thompson, A. D., & Mishra, P. (2007). Editors' remarks: Breaking news: TPCK becomes TPACK!. Journal of Computing in Teacher Education, 24(2), 38-64. doi: 10.1080/10402454.2007.10784583
UNESCO. (2020). COVID-19 Educational Disruption and Response. Retrieved from: https://en.unesco.org/covid19/educationresponse
Vygotsky, L. S. (1978). Mind and society: The development of higher mental processes. Cambridge: Harvard University Press.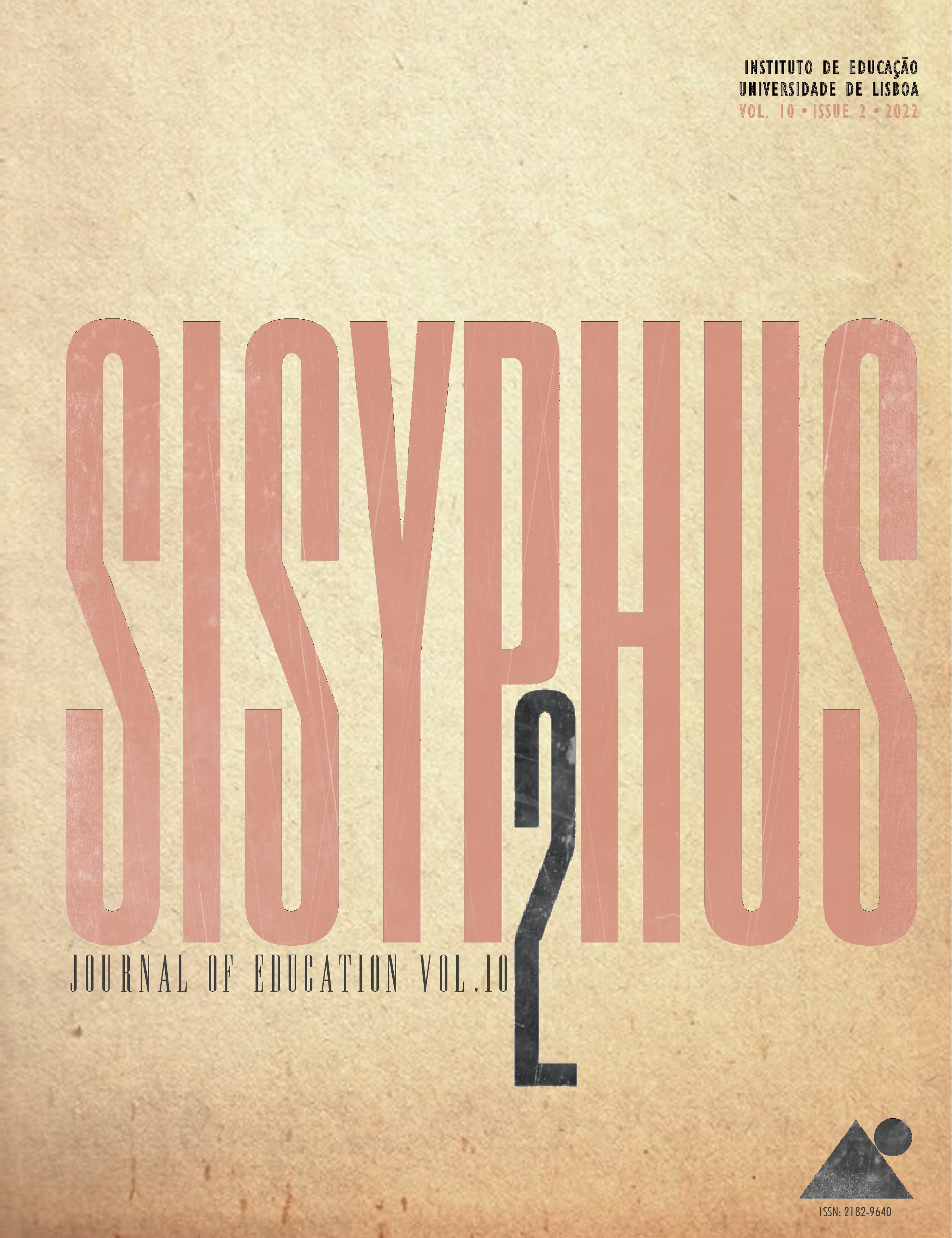 Downloads
License
Copyright (c) 2022 Sisyphus — Journal of Education
This work is licensed under a Creative Commons Attribution-NonCommercial 4.0 International License.
Copyright (c) belongs to Sisyphus - Journal of Education. However, we encourage issued articles to be published elsewhere, provided that Sisyphus authorization is asked for and that authors integrate our original source citation and a link to our website.
Author Self-Archiving Policy
Author(s) are permitted to self-archive the final published version in institutional or thematic repositories, and in their personal or institutional websites.
DORA Signer
The Instituto de Educação da Universidade de Lisboa, Sisyphus' Publisher, is a San Francisco Declaration on Research Assessment signer.