Dietary intake of young Portuguese handball players
Keywords:
Nutrition, food intake, handball, adolescents
Abstract
The aim of this study was to analyse dietary intake (macronutrients and micronutrients) in young female and male handball athletes. A transversal study was performed with young handball players from sub 16 and 18 Portuguese Handball Federation, who volunteered to participate in this study. Anthropometric (weight and height measure), nutritional intake (using food frequency questionnaire) and position in the game were evaluated. The final sample comprised 64 athletes (48.4% female and 51.6% male). The mean age was 16± 1 years, average body mass index was higher in females (24.1± 3.5kg/m2) than males (23.8± 3.0 kg/m2). Mean energy intake per day was significantly lower in females than males 2167.4± 1185.0 and 2952.9± 1315.8 kcal/day (p= 0.015, 95CI), respectively. According to the recommendations from food, most of the young handball athletes reported a generally higher dietary intake (protein intake was near to the upper recommendation limit; the carbohydrate intake was below and the fat intake higher) and a lower for some micronutrients. A process to identify the athletes that need nutritional support should be considered by handball coaches to optimise their performance and safeguard their health.
 Keywords: nutrition; food intake; handball; adolescents.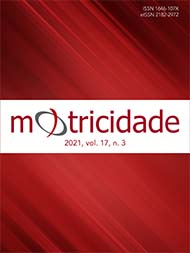 Downloads
License
The authors of submitted manuscripts must transfer the full copyright to Journal Motricidade / Desafio Singular Editions. Granting copyright permission allows the publication and dissemination of the article in printed or electronic formats and copyrights start at the moment the manuscript is accepted for publication. It also allows Journal Motricidade to use and commercialize the article in terms of licensing, lending or selling its content to indexation/abstracts databases and other entities.
According to the terms of the Creative Commons licence, authors may reproduce a reasonable number of copies for personal or professional purpose but without any economic gains. SHERPA/RoMEO allows authors to post a final digital copy (post-printing version) of the article in their websites or on their institutions' scientific repository.