School-based swimming lessons enhance specific skills and motor coordination in children: the comparison between two interventions
Keywords:
motor development, aquatic skills, swimming, child
Abstract
This study aimed to verify the impact of two learn-to-swim programs, implemented for 12 weeks, in age school Brazilian children's aquatic readiness and motor coordination. Thirty-one children aged 7-9 years old (mean ± SD 8.00 ± 0.86 years) were randomly divided into two different experimental groups. One was submitted to lessons mainly focused on basic skills development (BS), and the other was mainly focused on the formal skills of swimming techniques (FS). The aquatic readiness (17 skills) and the motor coordination (Körperkoordinationstest Für Kinder test) were evaluated before and after the interventions. After 12 weeks, the total score of the swimming skills was different between groups (F= 24.19, p< 0.01, ηp2= 0.46), changing from 34.35 ± 9.22 to 50.18 ± 8.49 points (p< 0.01, d= 2.60) in the BS and from 36.00 ± 5.86 to 42.64 ± 7.46 points in the FS (p< 0.01, d= 1.88). Leg kicking with breath control at ventral and dorsal body position, feet-first entry and deep-water immersion were significantly higher after the training in the BS. The motor coordination scores increased in both the BS (135.57 ± 37.45 to 172.64 ± 33.17, p< 0.01, d= 2.11) and FS (130.18 ± 37.71 to 162.71 ± 40.40, p< 0.01, d= 1.41). These results showed that both swimming practices improved aquatic readiness and motor coordination, with higher aquatic competence after the lessons that mainly focused on basic skills development.
Keywords: motor development, aquatic skills, swimming, child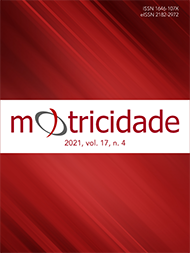 Downloads
License
The authors of submitted manuscripts must transfer the full copyright to Journal Motricidade / Desafio Singular Editions. Granting copyright permission allows the publication and dissemination of the article in printed or electronic formats and copyrights start at the moment the manuscript is accepted for publication. It also allows Journal Motricidade to use and commercialize the article in terms of licensing, lending or selling its content to indexation/abstracts databases and other entities.
According to the terms of the Creative Commons licence, authors may reproduce a reasonable number of copies for personal or professional purpose but without any economic gains. SHERPA/RoMEO allows authors to post a final digital copy (post-printing version) of the article in their websites or on their institutions' scientific repository.