The spatiotemporal constraint on the swimmer's decision-making of turning
Abstract
This study investigated the swimmer's decision-making process for turning, based on spatiotemporal informational variables. The men and women 50-metre front crawl and backstroke events were selected and analyzed using TACTO software. Participants included 120 adults of both genders aged between 20 and 70 years. The distance to the pool wall at which the swimmers initiated the turn was analyzed with regards to velocity and variability of previous displacement. These factors were split into four groups adopting, quartiles as the cut-off points. Results showed that for all conditions, the swimmers who showed a higher velocity and a lower variability of displacement decided to initiate the turn at a greater distance to the pool wall. Furthermore, the greater distance seemed to be associated with a more successful performance. These results suggest that swimmers should be attuned to spatiotemporal and spatial information in order to maximize their performance.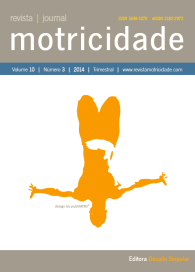 Downloads
License
The authors of submitted manuscripts must transfer the full copyright to Journal Motricidade / Desafio Singular Editions. Granting copyright permission allows the publication and dissemination of the article in printed or electronic formats and copyrights start at the moment the manuscript is accepted for publication. It also allows Journal Motricidade to use and commercialize the article in terms of licensing, lending or selling its content to indexation/abstracts databases and other entities.
According to the terms of the Creative Commons licence, authors may reproduce a reasonable number of copies for personal or professional purpose but without any economic gains. SHERPA/RoMEO allows authors to post a final digital copy (post-printing version) of the article in their websites or on their institutions' scientific repository.