End of life in neonatology: experiences of health professionals in neonatal palliative care
Maribel Carvalhais

Escola Superior de Saúde do Norte Cruz Vermelha Portuguesa, Oliveira de Azeméis, Portugal

Ana Cristina Pereira

Centro Hospitalar Entre Douro e Vouga, Santa Maria da Feira, Portugal

Ana Pinho

Centro Hospitalar Entre Douro e Vouga, EPE, Santa Maria da Feira, Portugal

Andreia Gonçalves

Centro Hospitalar Entre Douro e Vouga, EPE, Santa Maria da Feira, Portugal

Ângela Caldeira

Centro Médico de Estarreja, Estarreja, Portugal

Cláudia Silva

Centro Hospitalar Entre Douro e Vouga, EPE, Santa Maria da Feira, Portugal

Lisete Soares

Centro Hospitalar Entre Douro e Vouga, EPE, Santa Maria da Feira, Portugal
Keywords:
Palliative care, neonatology, infant, newborn, attitude to death, health personnel
Abstract
Introduction: It has recently been shown that professionals working in the Neonatal Intensive Care Units show an increasing interest in decisions made at the end of life and in the quality of care provided to newborns and their families.
Objetives: To understand the experiences of health professionals regarding neonatal palliative care.
Methods: The research methodology was qualitative, exploratory-descriptive and phenomenological.
Results: Questionnaires were applied and analyzed to 15 professionals working at a NICU in central Portugal. The data obtained show lack of teaching and lack of protocols/guidelines, as well as the need of psychological support to professionals and family of the NB.
Conclusion: Continuous and specific training, support and psychological counseling of professionals and families should be the pillar of neonatal palliative care.
References
Amado, J. S. (2000). A técnica de análise de conteúdo. Revista Referência, 5, 53-63.
Bardin, L. (2009). Análise de conteúdo. Lisboa, Portugal: Edições 70
Battikha, E. C., Carvalho, M. T. D. M., & Kopelman, B. I. (2014). The training of neonatologists and the paradigms implied in their relationship with the parents of babies in the Neonatal Intensive Care Unit. Revista Paulista de Pediatria, 32(1), 11-16.
Catlin, A., & Carter, B. (2002). Creation of a neonatal end-of-life palliative care protocol. Journal Of Perinatology: Official Journal Of The California Perinatal Association, 22(3), 184-195.
Chen, C., Huang, L., Liu, H., Lee, H., Wu, S., Chang, Y., & Peng, N. (2013). To Explore the Neonatal Nurses Beliefs and Attitudes Towards Caring for Dying Neonates in Taiwan. Maternal & Child Health Journal, 17(10), 1793-1801.
Fortin, M. F., Côte, J., & Filion, F. (2009). Fundamentos e etapas do processo de investigação. Loures: Lusodidacta, 193-199.
Huang, L., Chen, C., Liu, H., Lee, H., Peng, N., Wang, T., & Chang, Y. (2013). The attitudes of neonatal professionals towards end-of-life decision-making for dying infants in Taiwan. Journal Of Medical Ethics, 39(6), 382-386.
Mendes, J., Silva, L. J. (2013). Consenso em Cuidados Neonatais e em Fim de Vida. Sociedade Portuguesa de Neonatologia. Retirado de http://www.lusoneonatologia.com/site/upload/consensos/2013-Cuidados_paliativos.pdf p. 1 a 10.
Ministério da Saúde (2014). Cuidados Paliativos Pediátricos: Relatório do Grupo de Trabalho do Gabinete do Secretário de Estado Adjunto do Ministro da Saúde. Despachos 8286-A/2014 e 8956/2014.
Organização Mundial de Saúde (1998): WHO definition of palliative care in 2004. Retrieved from http://www.who.int/cancer/palliative/definition/en. Acedido em Março de 2017.
Peng, N. H., Chen, C. H., Huang, L. C., Liu, H. L., Lee, M. C., & Sheng, C. C. (2013). The educational needs of neonatal nurses regarding neonatal palliative care. Nurse education today, 33 (12), 1506-1510.
Pordata (2017). Taxa de mortalidade perinatal e neonatal em portugal Retirado de http://www.pordata.pt/Portugal/Taxa+de+mortalidade+perinatal+e+neonatal-529
Soares, C., Rodrigues, M., Rocha, G., Martins, A., & Guimarães, H. (2013). End of life in neonatology: palliative care integration. Acta Médica Portuguesa, 26(4), 318-326.
Streubert, H. J., Carpenter, D. R., & Santos, A. P. S. (2002). Investigação qualitativa em enfermagem: avançando o imperativo humanista. Lusociência. Loures, Portugal
Tejedor Torres, J. C., López de Heredia Goya, J., Herranz Rubia, N., Nicolás Jimenez, P., García Munóz, F., & Pérez Rodríguez, J. (2013). Recommendations on making decisions and end of life care in neonatology. Anales De Pediatría, 78 (3), 190.e1-190.e14.
Yang, S. W., Liu, C. Y., & Liau, S. Y. (2008). Intensive care unit nurse care for dying patients and their attitude to explore factors that influence. Fu-Jen journal of Medicine, 6(4), 163–173.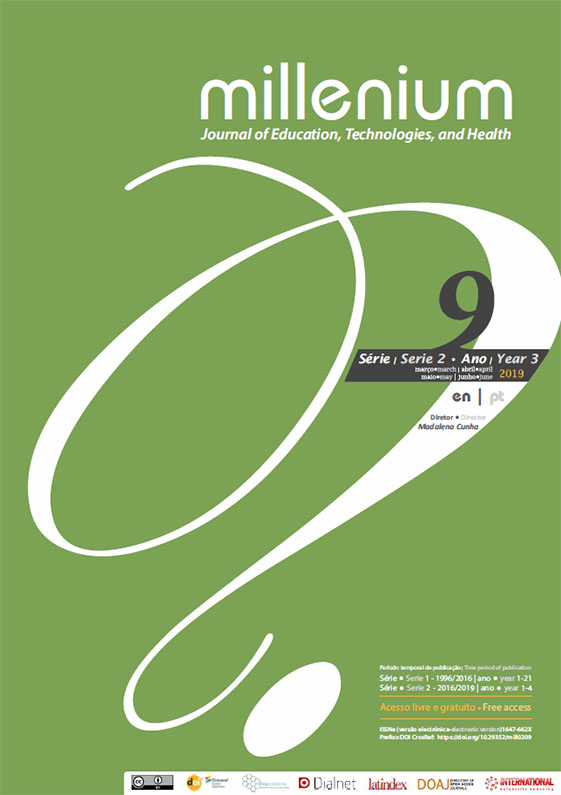 Section
Life and Healthcare Sciences
Copyright (c) 2019 Millenium - Journal of Education, Technologies, and Health
This work is licensed under a Creative Commons Attribution 4.0 International License.
Authors who submit proposals for this journal agree to the following terms:
a) Articles are published under the License Creative Commons, in full open-access, without any cost or fees of any kind to the author or the reader;

b) The authors retain copyright and grant the journal right of first publication, allowing the free sharing of work, provided it is correctly attributed the authorship and initial publication in this journal;

c) The authors are permitted to take on additional contracts separately for non-exclusive distribution of the version of the work published in this journal (eg, post it to an institutional repository or as a book), with an acknowledgment of its initial publication in this journal;
d) Authors are permitted and encouraged to publish and distribute their work online (eg, in institutional repositories or on their website) as it can lead to productive exchanges, as well as increase the impact and citation of published work
Documents required for submission
Article template (Editable format)