Administration of intravenous medication in hospitals
contributions to safe evidence-based practice
Celeste Bastos

Escuela de enfermería de Porto, Porto, Portugal

Maria do Céu Barbieri

Porto School of Nursing, UNIESEP / CINTESIS, Porto, Portugal
Keywords:
Patient safety, Evidence-based nursing, Intravenous administration, Medication errors
Abstract
Introduction: Health safety has gained special prominence due to the worrying data that have been revealed. High safety standards are not achieved without the involvement of nurse managers.  
Objectives: Know the strategies of nurse managers to ensure the safety of clients and nurses in a hospital service.
Methods: Qualitative interpretative study using semi-structured interviews with 14 nurse managers of a hospital in central Portugal, with convenience sampling. The content analysis was performed using Bardin's methodology and Atlas.ti® software.
Results: Twenty categories were identified, such as Team Discussion, Team Reinforcement, Work Plan Distribution, Training, Awareness Raising, Supervision. Of the total of categories, ten relate to client and nurse safety, nine exclusively to client safety and one to nurse safety.
Conclusions: Safety management strategies are predominantly global, evident in the coincidence of categories between strategies for the safety of users and professionals. The strategies for client safety outnumber the strategies for nurse safety. Participants demonstrated knowledge of some of the World Health Organization's key strategic recommendations.
References
Agnew, C., & Flin, R. (2014). Senior charge nurses' leadership behaviours in relation to hospital ward safety: a mixed method study. International Journal of Nursing, 51(5), 768-780. doi:10.1016/j.ijnurstu.2013.10.001
Bardin, L. (2000). Análise de conteúdo. Lisboa: Edições 70.
Carvalho, E., & Bachion, M. (2009). Processo de enfermagem e sistematização da assistência de enfermagem - intenção de uso por profissionais de enfermagem. Revista Eletrônica de Enfermagem, 11.
Direção Geral da Saúde. (2011). Estrutura Concetual da Classificação Internacional sobre Segurança do Doente. Retrieved from Lisboa: https://www.dgs.pt/documentos-e-publicacoes/classificacao-internacional-sobre-seguranca-do-doente-png.aspx
Farokhzadian, J., Dehghan Nayeri, N., & Borhani, F. (2015). Assessment of Clinical Risk Management System in Hospitals: An Approach for Quality Improvement. Global Journal of Health Science, 7(5), 294-303. doi:10.5539/gjhs.v7n5p294
Flin, R. (2004). Leadership for safety: industrial experience. Quality and Safety in Health Care, 13(suppl_2), ii45-ii51. doi:10.1136/qshc.2003.009555
Fortin, M.-F. (2009). Fundamentos e Etapas no Processo de Investigação (Lusodidacta Ed.). Loures.
Grifols. (2016). Gricode. Retrieved from http://www.grifols.com/en/web/poland/diagnostics/-/product/gricode#
Hopkin, P. (2010). Fundamentals of Risk Management: Understanding, Evaluation and implementing effective risk management. Londres: The Institute of Risk Management.
Institute for Patient and Family Centered Care. (2017). Advancing the practice of patient and family centered care in hospitals- How to Get Started. Bethesda, Maryland, Estados Unidos da América: Institute for Patient- and Family-Centered Care
Institute of Medicine. (2000). To Err is Human: Building a Safer Health System. Retrieved from Washington, D.C.: https://www.ncbi.nlm.nih.gov/books/NBK225182/pdf/Bookshelf_NBK225182.pdf
Jha, A. K., Larizgoitia, I., Audera-Lopez, C., Prasopa-Plaizier, N., Waters, H., & Bates, D. W. (2013). The global burden of unsafe medical care: analytic modelling of observational studies. British Medical Journal Quality & Safety, 22(10), 809-815. doi:10.1136/bmjqs-2012-001748
Menezes, S., Priel, M., & Pereira, L. (2011). Autonomia e vulnerabilidade do enfermeiro na prática da Sistematização da Assistência de Enfermagem Revista Escola Enfermagem Universidade São Paulo, 45, 953-958.
Ministério da Saúde. (2011). Plano Nacional de Saude-Tecnologias de Informação e Comunicação. Retrieved from Lisboa:
Morrow, K. J., Gustavson, A. M., & Jones, J. (2016). Speaking up behaviours (safety voices) of healthcare workers: A metasynthesis of qualitative research studies. Int J Nurs Stud, 64, 42-51. doi:10.1016/j.ijnurstu.2016.09.014
National Health Service. (2009). NHS Derby City Primary Care Trust: Supervision Policy Retrieved from Derby, Inglaterra:
National Patient Safety Foundation. (2015). Free from Harm: Accelerating Patient Safety Improvement - Fifteen Years after To Err Is Human. Retrieved from Boston, Estados Unidos da América: https://www.aig.com/content/dam/aig/america-canada/us/documents/brochure/free-from-harm-final-report.pdf
Ramos, S., & Trindade, L. (2011). Gestão de Risco: Segurança do doente em ambiente hospitalar. TecnoHospital. Revista TecnoHospital, 48.
Schenk, E. C., Bryant, R. A., Van Son, C. R., & Odom-Maryon, T. (2018). Perspectives on Patient and Family Engagement With Reduction in Harm: The Forgotten Voice. Journal of Nursing Care Quality, 34(1), 73-79. doi:10.1097/NCQ.0000000000000333
Singla, A. K., Kitch, B. T., Weissman, J. S., & Campbell, E. G. (2006). Patient Safety Culture A Review and Synthesis of the Measurement Tools. Journal of Patient Safety, Volume 2.
Slawomirski, L., Auraaen, A., & Klazinga, N. (2017). The economics of patient safety: Strengthening a value-based approach to reducing patient harm at national level. Retrieved from Paris, França: https://www.oecd.org/els/health-systems/The-economics-of-patient-safety-March-2017.pdf
WHO. (2011). Patient Safety Curriculum Guide: multi-professional edition. Retrieved from Malta, Grécia: https://apps.who.int/iris/bitstream/handle/10665/44641/9789241501958_eng.pdf;jsessionid=ACFE28F8E881436D856D3E7406A268CB?sequence=1
Wong, C. A., & Cummings, G. G. (2007). The relationship between nursing leadership and patient outcomes: a systematic review Journal of Nursing Management, 15, 508–521.
World Health Organization. (2007). Patient Safety Solutions: communication during Patient Hand-overs. Retrieved from Suiça:
World Health Organization. (2013). Patients for Patient Safety: Partnerships for Safer Health Care. Retrieved from Genebra, Suiça: http://www.who.int/patientsafety/patients_for_patient/en/
World Health Organization. (2017). Patient Safety: Making health care safer. Retrieved from Genebra, Suiça: https://apps.who.int/iris/bitstream/handle/10665/255507/WHO-HIS-SDS-2017.11-eng.pdf;jsessionid=C5DC72D62B425787E7D5C4ED17E20B55?sequence=1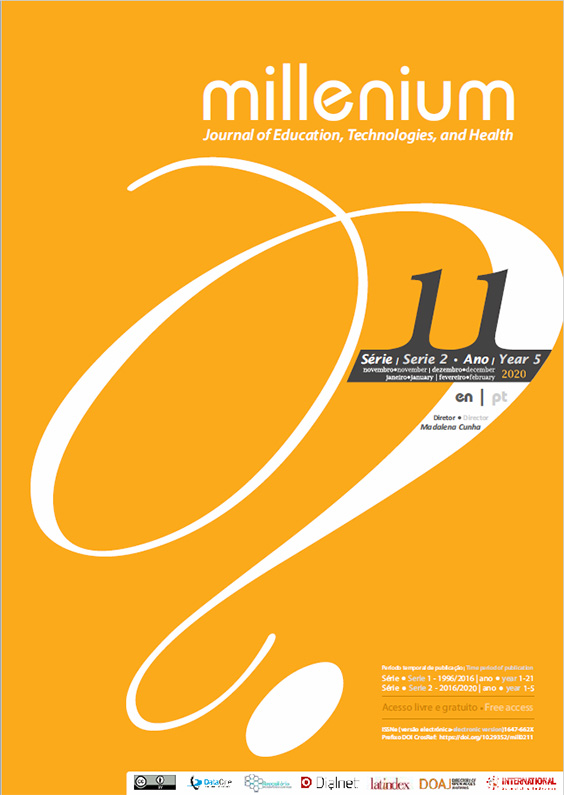 Section
Life and Healthcare Sciences
Copyright (c) 2020 Millenium - Journal of Education, Technologies, and Health
This work is licensed under a Creative Commons Attribution 4.0 International License.
Authors who submit proposals for this journal agree to the following terms:
a) Articles are published under the License Creative Commons, in full open-access, without any cost or fees of any kind to the author or the reader;

b) The authors retain copyright and grant the journal right of first publication, allowing the free sharing of work, provided it is correctly attributed the authorship and initial publication in this journal;

c) The authors are permitted to take on additional contracts separately for non-exclusive distribution of the version of the work published in this journal (eg, post it to an institutional repository or as a book), with an acknowledgment of its initial publication in this journal;
d) Authors are permitted and encouraged to publish and distribute their work online (eg, in institutional repositories or on their website) as it can lead to productive exchanges, as well as increase the impact and citation of published work
Documents required for submission
Article template (Editable format)