Health gains of users assisted by the integrated continuous care team
Nísia Matos

UCC Tarouca, ACES Douro Sul, Lamego, Portugal

Sandra Rodrigues

UCC Tarouca, ACES Douro Sul, Lamego, Portugal

Estela Almeida

UCC Tarouca, ACES Douro Sul, Lamego, Portugal

Carlos Almeida

Instituto Politécnico de Viseu, Escola Superior de Saúde, Viseu, Portugal

Rúben Ribeiro

Instituto Politécnico de Viseu, Escola Superior de Saúde, Viseu, Portugal
Keywords:
users, home care, autonomy
Abstract
Introduction: Self-care and autonomous daily living activities were identified in the community care practices which led to significant health gains. 
Objectives: Analyze the health gains of users assisted by the Tarouca Integrated and Continuous Care Team (ICCT). 
Methods: The quantitative, descriptive and cross-sectional study was developed with 149 users, most of whom (61.5%) are 65 or older, 52.4% are male and were integrated in the Integrated and Continuous Care Team of Tarouca (ICCT). 
Validated scales were used to assess dependency and functionality on admission and discharge to users. Data collection was carried out during the month of May 2019, by consulting the individual files of the users admitted to the unit. 
Results: Most users achieved health gains: 62% in autonomy, functionality and activities of daily living; 72% scored independently in basic life activities; 70.3% maintained functionality; 87.5% achieved gains in balance and gait and 60% had gains in pain control. 
Conclusions: In the elderly, the promotion of autonomy and independence are strongly related to quality of life, hence the importance of its assessment. The results show that there have been gains in health and gains in autonomy in the target population of the intervention of the ICCT of Tarouca. 
References
Azevedo, M. F. F. (2007). Cuidar da mãe e do filho, contributos dos cuidados de enfermagem, nos primeiros dias após o nascimento (Dissertação de mestrado, Universidade do Porto). Acedido em https://repositorio-aberto.up.pt/bitstream/10216/7174/2/cuidar%20da%20me%20e%20do%20filhocontributos%20dos%20cuidados%20de%20enfermagem.pdf
Decreto-Lei n.º 8/2010 (2010, janeiro 28). Cria um conjunto de unidades e equipas de cuidados continuados integrados de saúde mental, destinado às pessoas com doença mental grave de que resulte incapacidade psicossocial e que se encontrem em situação de dependência [Portugal]. Diário da República, 1(19), 257-263. Acedido em https://dre.pt/pesquisa/-/search/616776/details/maximized
Diogo, M. J. D. (2000). O papel da enfermeira na reabilitação do idoso. Revista Latino-Americana de Enfermagem, 8(1), 75-81.
Duarte, J. (2007). Glossário de comunicação pública. Brasília: Casa das Musas.
Hoeman, S. P. (2000). Bases conceptuais da enfermagem de reabilitação. In Enfermagem de reabilitação: Processo e aplicação (2ª ed., cap. 1, pp. 3-22). Lisboa: Lusociência.
Hoeman, S. P. (2000). Enfermagem de reabilitação: Processo e aplicação (2ª ed.). Loures: Lusociência.
Lemos, N., & Medeiros, S. L. (2002). Suporte social ao idoso dependente. In E. V. Freitas, L. Py, A. L. Neri, F. A. X. Cançado, M. K. Gorzoni, & S. M. Rocha, S. M. (Editores.), Tratado de geriatria e gerontologia (pp. 892-897). Rio de Janeiro: Guanabara Koogan.
Ordem dos Enfermeiros (2012). Padrões de qualidade dos cuidados de enfermagem: Enquadramento conceptual, enunciados descritivos. Lisboa: Ordem dos Enfermeiros. Acedido em https://www.ordemenfermeiros.pt/media/8903/divulgar-padroes-de-qualidade-dos-cuidados.pdf
Organização Mundial da Saúde (2015). Relatório mundial de envelhecimento e saúde. Genebra: Organização Mundial da Saúde. Acedido em https://apps.who.int/iris/bitstream/handle/10665/186468/WHO_FWC_ALC_15.01_por.pdf?sequence=6
Portugal, Ministério da Saúde. Direcção-Geral da Saúde, Divisão de Doenças Genéticas, Crónicas e Geriátricas. (2006). Programa nacional para a saúde das pessoas idosas. Lisboa: DGS. Acedido em https://www.dgs.pt/documentos-e-publicacoes/programa-nacional-para-a-saude-das-pessoas-idosas-pdf.aspx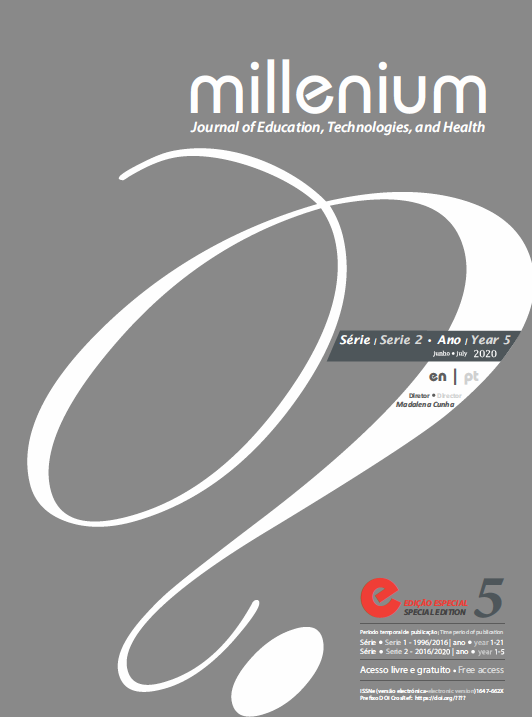 Section
Life and Healthcare Sciences
Copyright (c) 2020 Millenium - Journal of Education, Technologies, and Health
This work is licensed under a Creative Commons Attribution 4.0 International License.
Authors who submit proposals for this journal agree to the following terms:
a) Articles are published under the License Creative Commons, in full open-access, without any cost or fees of any kind to the author or the reader;

b) The authors retain copyright and grant the journal right of first publication, allowing the free sharing of work, provided it is correctly attributed the authorship and initial publication in this journal;

c) The authors are permitted to take on additional contracts separately for non-exclusive distribution of the version of the work published in this journal (eg, post it to an institutional repository or as a book), with an acknowledgment of its initial publication in this journal;
d) Authors are permitted and encouraged to publish and distribute their work online (eg, in institutional repositories or on their website) as it can lead to productive exchanges, as well as increase the impact and citation of published work
Documents required for submission
Article template (Editable format)