Impact of fake news dissemination in covid-19 pandemic time
a scoping review protocol
Keywords:
coronavirus infections, fake news, population
Abstract
Introduction: It is very common for information/newsletters to proliferate that do not always correspond to the truth (commonly called fake news) about the 2019 Coronavirus disease (COVID-19) because it is new and unknown, directly affecting the population.
Objective: To map and synthesize the impact of fake news dissemination in times of COVID-19 pandemic.
Methods: A scoping review will be conducted using the method proposed by the Joanna Briggs Institute. The selection of studies, extraction and synthesis of data will be performed by two independent reviewers.
Results: We expect the inclusion of several studies demonstrating the relationship between fake news dissemination and the COVID-19 pandemic. Their analysis will allow the collection of contributions from representative studies from different geographical areas and through different methodologies for an enriching synthesis.
Conclusion: The conduct of this scoping review will be essential to synthesize the impact of the dissemination of fake news in times of pandemic of COVID-19 and a necessary contribution to identify interventions that minimize it.
Downloads
Download data is not yet available.
References
Bastani, P., & Bahrami, M. A. (2020). COVID-19 Related Misinformation on Social Media: A Qualitative Study from Iran. J Med Internet Res. doi:10.2196/18932
Corsi, G. (2018). Can the public sphere be transparent? On the reality of (dis)information. Sociologia e Politiche Sociali, 21(3), 25-45.
Huang, C., Wang, Y., Li, X., Ren, L., Zhao, J., Hu, Y., . . . Cao, B. (2020). Clinical features of patients infected with 2019 novel coronavirus in Wuhan, China. Lancet, 395(10223), 497-506. doi:10.1016/S0140-6736(20)30183-5
Kouzy, R., Abi Jaoude, J., Kraitem, A., Alam, M., Karam, B., Adib, E., . . . Baddour, K. (2020). Coronavirus Goes Viral: Quantifying the COVID-19 Misinformation Epidemic on Twitter. Cureus, 12(3), e7255. doi:10.7759/cureus.7255
Krittanawong, C., Narasimhan, B., Virk, H. U. H., Narasimhan, H., Hahn, J., Wang, Z., & Tang, W. H. W. (2020). Misinformation Dissemination in Twitter in the COVID-19 Era. The American Journal of Medicine. doi:10.1016/j.amjmed.2020.07.012
Li, H. O.-Y., Bailey, A., Huynh, D., & Chan, J. (2020). YouTube as a source of information on COVID-19: a pandemic of misinformation? BMJ Global Health, 5(5), e002604. doi:10.1136/bmjgh-2020-002604
Lu, H., Stratton, C. W., & Tang, Y. W. (2020). Outbreak of pneumonia of unknown etiology in Wuhan, China: The mystery and the miracle. J Med Virol, 92(4), 401-402. doi:10.1002/jmv.25678
Luhmann, N. (2000). The Reality of Mass Media. Cambridge: Polity Press.
Moher, D., Shamseer, L., Clarke, M., Ghersi, D., Liberati, A., Petticrew, M., . . . Group, P.-P. (2015). Preferred reporting items for systematic review and meta-analysis protocols (PRISMA-P) 2015 statement. Systematic Reviews, 4(1), 1. doi:10.1186/2046-4053-4-1
Moscadelli, A., Albora, G., Biamonte, M. A., Giorgetti, D., Innocenzio, M., Paoli, S., . . . Bonaccorsi, G. (2020). Fake News and Covid-19 in Italy: Results of a Quantitative Observational Study. International journal of environmental research and public health, 17(16), 5850. doi:10.3390/ijerph17165850
Ribeiro, M., & Ortellado, P. (2018). Fake News: What it is and how to deal with it. International Journal on Human Rights, 15(27), 69-81.
Tricco, A. C., Lillie, E., Zarin, W., O'Brien, K. K., Colquhoun, H., Levac, D., . . . Straus, S. E. (2018). PRISMA Extension for Scoping Reviews (PRISMA-ScR): Checklist and Explanation. Ann Intern Med, 169(7), 467-473. doi:10.7326/m18-0850
World Health Organization. (2020). Countering misinformation about COVID-19. Retrieved from https://www.who.int/news-room/feature-stories/detail/countering-misinformation-about-covid-19
World Health Organization. (2020). Managing the COVID-19 infodemic: Promoting healthy behaviours and mitigating the harm from misinformation and disinformation. Retrieved from https://www.who.int/news-room/detail/23-09-2020-managing-the-covid-19-infodemic-promoting-healthy-behaviours-and-mitigating-the-harm-from-misinformation-and-disinformation
World Health Organization. (2020). WHO Director-General's Remarks at the Media Briefing on 2019-nCoV on 11 February. Retrieved from https://www.who.int/dg/speeches/detail/who-director-general-s-remarks-at-the-media-briefing-on-2019-ncov-on-11-february-2020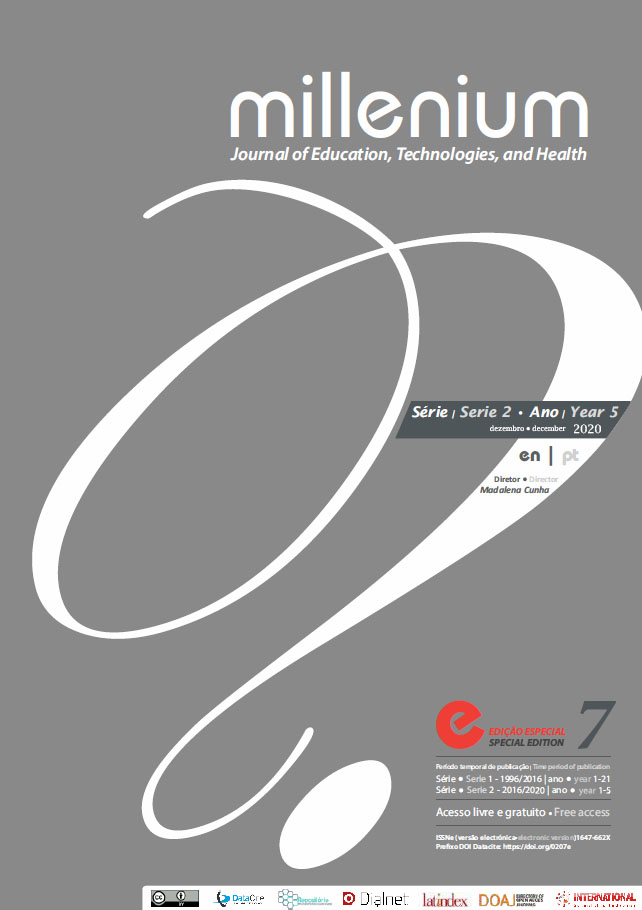 Downloads
How to Cite
Ricardo, J., Cunha, M., & Santos, E. (2020). Impact of fake news dissemination in covid-19 pandemic time: a scoping review protocol . Millenium - Journal of Education, Technologies, and Health, 2(7e), 65–69. https://doi.org/10.29352/mill0207e.07.00365
Section
Education and Social Development Sciences
License
Authors who submit proposals for this journal agree to the following terms:
a) Articles are published under the Licença Creative Commons (CC BY 4.0), in full open-access, without any cost or fees of any kind to the author or the reader;
b) The authors retain copyright and grant the journal right of first publication, allowing the free sharing of work, provided it is correctly attributed the authorship and initial publication in this journal;

c) The authors are permitted to take on additional contracts separately for non-exclusive distribution of the version of the work published in this journal (eg, post it to an institutional repository or as a book), with an acknowledgment of its initial publication in this journal;
d) Authors are permitted and encouraged to publish and distribute their work online (eg, in institutional repositories or on their website) as it can lead to productive exchanges, as well as increase the impact and citation of published work
Documents required for submission
Article template (Editable format)