Mental health of migrants and refugees in the european context: a scoping review protocol
Keywords:
mental health, transients and migrants, refugees
Abstract
Introduction: Migrants or refugees, regardless of their status, face common post-migration challenges that can affect their mental health. Although several studies corroborate this reality, few compare it between European countries, which leads to an ignorance of its effects.
Objective: To map and synthesise negative impacts on the mental health of migrants and refugees after their arrival in the host country.
Methods: A scoping review will be conducted using the method proposed by the Joanna Briggs Institute. The selection of studies, extraction and synthesis of data will be carried out by two independent reviewers.
Results: We expect the inclusion of studies that demonstrate that the migrant suffers a rapid deterioration of his or her general health status soon after establishment in his or her new country due to radical changes in lifestyle. This is likely to be due to common post-migration challenges that may affect their mental health and impose negative impacts.
Conclusion: The carrying out of this scoping review will be essential to synthesize the existence of negative impacts on the mental health of migrants
Downloads
Download data is not yet available.
References
ACNUR. (2016). "Refugiados" e "Migrantes": Perguntas Frequentes. Retrieved from https://www.acnur.org/portugues/2016/03/22/refugiados-e-migrantes-perguntas-frequentes/
Comissão Europeia. (2015). Comunicação da comissão ao parlamento europeu, ao conselho, ao comité económico e social europeu e ao comité das regiões. Retrieved from https://ec.europa.eu/home-affairs/sites/homeaffairs/files/what-we-do/policies/european-agenda-migration/background-information/docs/communication_on_the_european_agenda_on_migration_pt.pdf
Comissão Europeia. (s.d.). Europa sem fronteiras: O Espaço Schengen: Comissão Europeia.
Fennelly, K. (2007). The "healthy migrant" effect. Minn Med, 90(3), 51-53.
Kennedy, S., McDonald, J. T., & Biddle, N. (2006). The Healthy Immigrant Effect and Immigrant Selection: Evidence from Four Countries. Social and Economic Dimensions of an Aging Population Research Papers, 164. doi:10.1007/s12134-014-0340-x
Moher, D., Shamseer, L., Clarke, M., Ghersi, D., Liberati, A., Petticrew, M., . . . Group, P.-P. (2015). Preferred reporting items for systematic review and meta-analysis protocols (PRISMA-P) 2015 statement. Systematic Reviews, 4(1), 1. doi:10.1186/2046-4053-4-1
Moniz, A. M. F. (2018). Healthy immigrant effect em Portugal: estudo sobre os imigrantes extra EU presentes no Inquérito Nacional de Saúde. (Mestrado), Escola Nacional de Saúde Pública, Lisboa.
Oliveira, C. R., Peixoto, J., & Góis, P. (2017). A nova crise dos refugiados na Europa: o modelo de repulsão-atração revisitado e os desafios para as políticas migratórias. Revista Brasileira de Estudos de População, 34, 73-98.
Pussetti, C. (2010). Identidades em crise: imigrantes, emoções e saúde mental em Portugal. Saúde e Sociedade, 19, 94-113.
Tricco, A. C., Lillie, E., Zarin, W., O'Brien, K. K., Colquhoun, H., Levac, D., . . . Straus, S. E. (2018). PRISMA Extension for Scoping Reviews (PRISMA-ScR): Checklist and Explanation. Ann Intern Med, 169(7), 467-473. doi:10.7326/m18-0850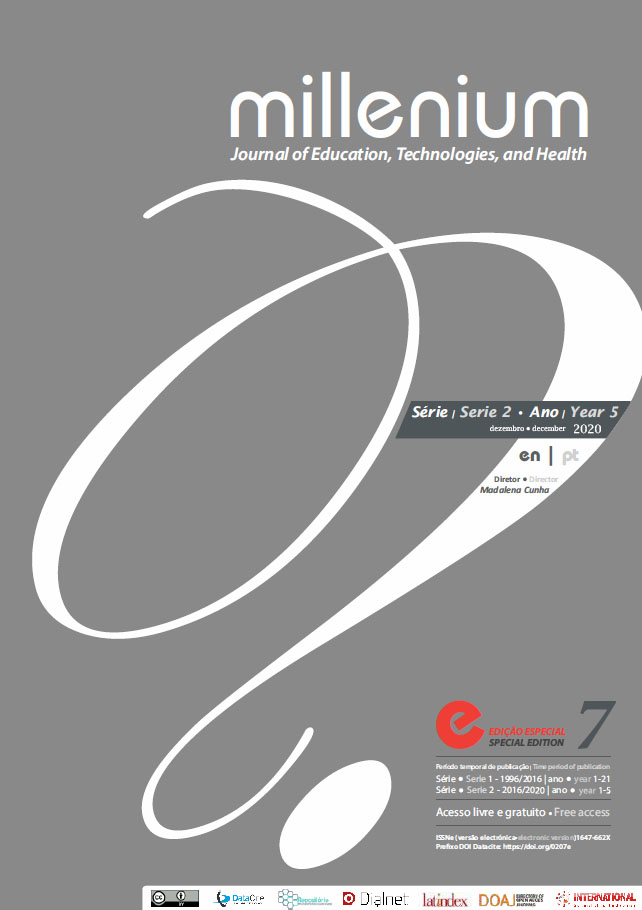 Downloads
How to Cite
Sena, S. de, Santos, E., & Cunha, M. (2020). Mental health of migrants and refugees in the european context: a scoping review protocol . Millenium - Journal of Education, Technologies, and Health, 2(7e), 117–121. https://doi.org/10.29352/mill0207e.13.00368
Section
Engineering, Technology, Management and Tourism
License
Authors who submit proposals for this journal agree to the following terms:
a) Articles are published under the License Creative Commons, in full open-access, without any cost or fees of any kind to the author or the reader;
b) The authors retain copyright and grant the journal right of first publication, allowing the free sharing of work, provided it is correctly attributed the authorship and initial publication in this journal;

c) The authors are permitted to take on additional contracts separately for non-exclusive distribution of the version of the work published in this journal (eg, post it to an institutional repository or as a book), with an acknowledgment of its initial publication in this journal;
d) Authors are permitted and encouraged to publish and distribute their work online (eg, in institutional repositories or on their website) as it can lead to productive exchanges, as well as increase the impact and citation of published work
Documents required for submission
Article template (Editable format)