Clinical supervision
representations of nurses in primary health care
Keywords:
nursing, professional training, staff development, interpersonal relations, quality assurance, health care
Abstract
Introduction: Clinical supervision is a process that involves a professional relationship in which the supervisor facilitates the development of the supervisee, helps them to critically reflect on their practice, behaviors and decisions, provides opportunities for learning, support and professional guidance.
Objetive: To understand the representations of nurses in primary health care about clinical supervision in nursing.
Methods: Qualitative, exploratory study. 42 nurses from three health centres in the northern region of Portugal participated. Data collection through semi-structured interviews and analysis performed according to the principles of the Grounded Theory method using software Nvivo10®.
Results: From the analysis the domain "Clinical supervision as a process" emerged from which three categories were identified: "Professional training and development"; "Interaction and relationship"; and "Assurance of the quality and safety of care". These categories comprised 10 subcategories.
Conclusion: We found that the nurses' representations are in line with the conceptions of clinical supervision expressed in the scientific evidence, namely, that they are paralleled in elements of the educational, restorative and normative functions.
References
Abiddin, N. (2008). Exploring clinical supervision to facilitate the creative process of supervision. The Journal of International Social Research, 1(3), 13-33. ISSN 1307-9581.
Alarcão, I., & Tavares, J. (2018). Supervisão da prática pedagógica: uma perspectiva de desenvolvimento e aprendizagem (2ª ed.). Coimbra: Almedina.
Allan, R., McLuckie, A., & Hoffecker, L. (2017). Effects of clinical supervision of mental health professionals on supervisee knowledge, skills, attitudes and behaviour, and client outcomes: protocol for a systematic review. The Campbell Collaboration, 1-44. https://doi.org/10.1002/CL2.179
Community Health Oxfordshire (2010). Clinical supervision policy. Community Health Oxfordshire, National Health Service, Oxfordshire.
Cutcliffe, J., Sloan, G., & Bashaw, M. (2018). A systematic review of clinical supervision evaluation studies in nursing. International Journal of Mental Health Nursing, 27(5), 1344-1363. doi: 10.1111/inm.12443
Department of Health (1993). A Vision for the Future. Report of the Chief Nursing Officer. The Stationery Office, London. London: The Stationery Office.
Esteves, L. S. F., Cunha, I. C. K. O., Bohomol, E, Reis Santos, M. (2019). Clinical supervision and preceptorship/tutorship: contributions to the Supervised Curricular Internship inNursing Education. Revista Brasileira de Enfermagem, 72(6), 1730-1735. http://dx.doi.org/10.1590/0034-7167-2018-0785
Evans, C., & Macroft, E. (2015). Clinical supervision in a community setting. Nurse Times, 111(22), 16-18. PMID: 26201154.
Francis, A., & Bulman, C. (2019). In what ways might group clinical supervision affect the development of resilience in hospice nurses? International Journal of Palliative Nursing, 25(8), 387-396. doi: 10.12968/ijpn.2019.25.8.387
Health Service Executive (2019) Clinical Supervision for Nurses Working in Mental
Health Services. Dublin, Health Service Executive.
King, C., Edlington, T., & Williams, B. (2020). The "Ideal" Clinical Supervision Environment in Nursing and Allied Health. Journal of Multidisciplinary Healthcare, 13, 187-196. doi: 10.2147/JMDH.S239559
Kuhne, F., Maas, J., Wiesenthal, S., & Weck, F. (2019). Empirical research in clinical supervision: a systematic review and suggestions for future studies. BMC Psychology, 7(54). doi.org/10.1186/s40359-019-0327-7
Markey, K., Murphy, L., O'Donnell, C., Turner, J., & Doody, O. (2020). Clinical supervision: A panacea for missed care. Journal of Nurse Management, 28(8), 2113-2117. doi: 10.1111/jonm.13001
Martin, P., Kumar, S., & Lizarondo, L. (2017). When I say … clinical supervision. Medical Education, 51(9), 890-891. https://doi.org/10.1111/medu.13258
Myall, M., Jones, T., & Lathlean, J. (2008). Mentorship in contemporary practice: the experiences of nursing. Journal of Clinical Nursing, 17(14), 1834-1842. doi: 10.1111/j.1365-2702.2007.02233.x
Pollock, A., Campbell, P., Deery, R., Fleming, M., Rankin, J., Sloan, G., & Cheyn, H. (2017). A systematic review of evidence relating to clinical supervision for nurses, midwives and allied health professional. Journal of Advanced Nursing, 73(8), 1825-1837. doi: 10.1111/jan.13253
Proctor, B. (1986). Supervision: a co-operative exercise in accountability. In M. Marken & M., Payne (eds), (pp. 21-34). National Youth Bureau, Council for Education and Training in Youth and Community Work. Em M. Marken, & M. Payne, Enabling and ensuring. supervision in practice (pp. 21–34). Leicester: National Youth Bureau, Council for Education and Training in Youth and Community Work.
Rogan, E. (2009). Preparation of nurses who precept baccalaureate nursing students: a descriptive study. The Journal of Continuing Education in Nursing, 40(12), 565-570. https://doi.org/10.3928/00220124-20091119-06
Snowdon, D., Leggat, S., & Taylor, N. (2017). Does clinical supervision of healthcare professionals improve effectiveness of care and patient experience? A systematic review. BMC Health Services Research, 17(1), 786-92. https://doi.org/10.1186/s12913-017-2739-5
Strauss, A., & Corbin, J. (2008). Pesquisa qualitativa: técnicas e procedimentos para o desenvolvimento da teoria fundamentada (2ª ed.). Porto Alegre, Brasil: Artmed.
Tavares, J. (2013). Políticas de supervisão clínica em enfermagem em serviços de pediatria. Dissertação de Mestrado, Escola Superior de Enfermagem do Porto, Porto.
Tomlinson, J. (2015). Using clinical supervision to improve the quality and safety of patient are: a response to Berwick and Francis. BMC Medical Education, 15(1), 103-110. doi:10.1186/s12909-0324-3
White, E., & Winstanley, J. (2010). A randomised controlled trial of clinical supervision: selected findings from a novel Australian attempt to establish the evidence base for causal relationships with quality of care and patient outcomes, as an informe contribution to mental health nursing. Journal of Research in Nursing, 15(2), 151-167. doi:10.1177/1744987109357816
White, E. (2017). Clinical Supervision: invisibility on the contemporary nursing and midwifery policy agenda. Journal of Advanced Nursing, 73, 1251-1254. https://doi.org/10.1111/jan.12970
Winstanley, J., & White, E. (2003). Clinical supervision: models, measures and best practice. Nurse Researcher, 10(4), 7-32. doi: 10.7748/NR2003.07.10.4.7.C5904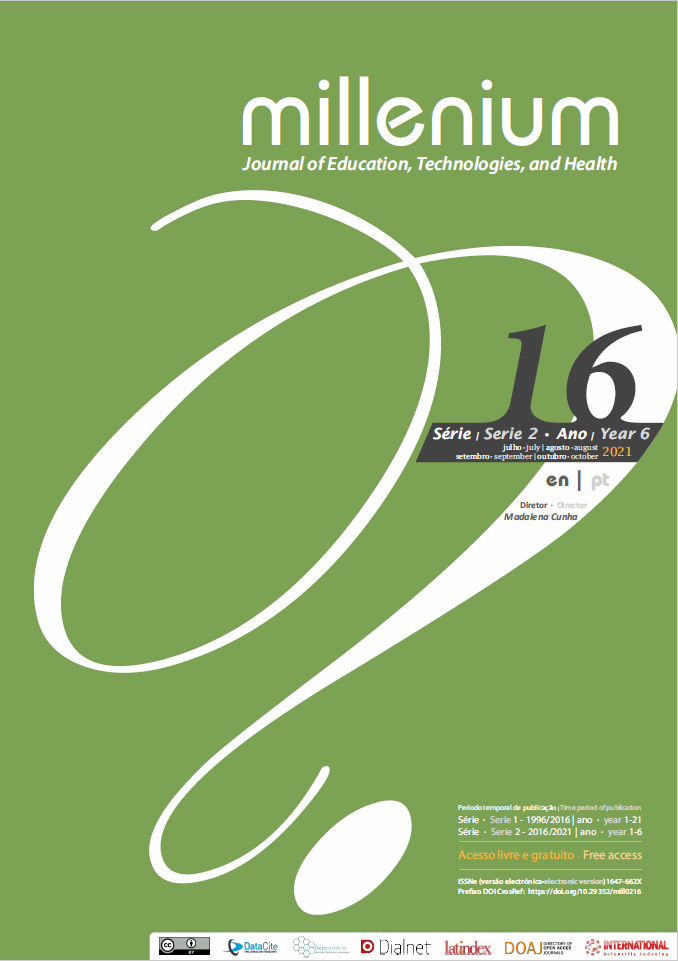 Downloads
Section
Life and Healthcare Sciences
License
This work is licensed under a Creative Commons Attribution 4.0 International License.
Authors who submit proposals for this journal agree to the following terms:
a) Articles are published under the License Creative Commons, in full open-access, without any cost or fees of any kind to the author or the reader;

b) The authors retain copyright and grant the journal right of first publication, allowing the free sharing of work, provided it is correctly attributed the authorship and initial publication in this journal;

c) The authors are permitted to take on additional contracts separately for non-exclusive distribution of the version of the work published in this journal (eg, post it to an institutional repository or as a book), with an acknowledgment of its initial publication in this journal;
d) Authors are permitted and encouraged to publish and distribute their work online (eg, in institutional repositories or on their website) as it can lead to productive exchanges, as well as increase the impact and citation of published work
Documents required for submission
Article template (Editable format)