Quality indicators of professional practice of nurses
the caregiver role
Keywords:
nursing, quality indicators, health care, caregivers
Abstract
Introduction: Quality in health is one of the key requirements that clients demand. To improve their practice nurses use quality indicators as an important strategy for assessment and changes in care.
Objective: To identify the indicators that nurses of Integrated Continuous Care at Home Teams consider adequate to monitor the quality of their professional practice in the ambit of the caregiver.
Methods: Qualitative, descriptive and cross-sectional study. Data collection using a semi-structured interview, recorded in audio, to a focus group of 11 nurses. The information was analyzed using Bardin's content analysis technique.
Results: Identified 32 indicators, related to the acquisition of cognitive and instrumental skills necessary to meet the needs of the dependent person in self-care.
Conclusion: The identified indicators are related to the process and outcomes of the Donabedian's triad and highlights the importance of using a standardized terminology in nursing.
References
Andrade, C. (2009). Transição para prestador de cuidados: sensibilidade aos cuidados de enfermagem. [Transition to caregiver: sensitivity to nursing care]. Pensar Enfermagem, 13(1), 61-71.
Brookman, C., Holyoke, P., Toscan, J., Bender, D., & Tapping, E. (2011). Promising practices and indicators for caregiver education and support programs. Ontario: Saint Elizabeth. Retrieved from http://www.saintelizabeth.com/getmedia/ec3bb66f-6ec9-4f53-b0b8-c3030361d1e7/Promising-Practices-and-Indicators-for-Caregiver-Education-and-Support.pdf.aspx?ext=.pdf.
Cook, J. & Horrocks, S. (2016). Community nursing quality indicators for end-of-life care in England: identification, preparation, and coordination. British Journal of Community Nursing, 21(3), 118-123. https://doi.org/10.12968/bjcn.2016.21.3.118
Decree-Law n. 101/2006. Diário da República I Série-A nº 109. [Decree-Law no. 101/2006]. (2006), p. 3856-3865.
Donabedian, A. (2003). An introduction to quality assurance in health care. Oxford: University Press.
European Comission (2009). European economy nº 2/2009 - The 2009 ageing report: economic and budgetary projections for the EU-27 member states (2008-2060). Luxembourg: Office for Official Publications of the European Communities. DOI: 10.2765/80301.
Evangelou, E., Lambrinou, E., Kouta, K. & Middleton, N. (2018). Identifying validated nursing quality indicators for the intensive care unit: an integrative review. Connect The World of Critical Care Nursing 12(2), 28-39. DOI: 10.1891/1748-6254.12.2.28.
Gardner, G., Gardner, A., & O'Connell, J. (2013). Using the Donabedian framework to examine the quality and safety of nursing service innovation. Journal of Clinical Nursing, 23, 145-155. DOI: 10.1111/jocn.12146.
Healthcare Ministry (2015). Plano Nacional de Saúde: Revisão e Extensão a 2020. [National Health Plan: Revision an Extension to 2020]. Retrieved from http://pns.dgs.pt/pns-revisao-e-extensao-a-2020/
International Council of Nurses (2011). International Classification for Nurses Practice ICNP: 2nd version. Lisbon: Portuguese Nurses Association.
McCance, T., Telford, L., Wilson, J., MacLeod, O., & Dowd, A. (2011). Identifying key performance indicators for nursing and midwifery care using a consensus approach. Journal of Clinical Nursing, 21, 1145-1154. DOI: 10.1111/j.1365-2702.2011.03820.x.
National Statistics Institute (2011). Censos 2011 [Census 2011]. Lisbon: National Statistics Institute, I.P.
Pereira, F., Paiva e Silva, A., Mendonça, D., & Delaney, C. (2010). Towards a Uniform Nursing Minimum Data Set in Portugal. Online Journal of Nursing Informatics, 14(2), 1-19.
Petronilho, F. (2008). Os sistemas de informação em enfermagem e a produção de indicadores de qualidade: uma experiência com um grupo de alunos em ensino clínico: prevenção, diagnóstico e intervenção [The information systems in nursing and the production of quality indicators: an experience with a group of students in clinical education: prevention, diagnosis and intervention]. Revista Sinais Vitais, (77), 11-21.
Portuguese Nurses Association (2012). Regulamento do perfil de competências do enfermeiro de cuidados gerais. [Skills profile regulation of the registered nurse]. Divulgar.
Quivy, R. & Campenhoudt, L. (2019). Manual de investigação em ciências sociais. [Handbook in research for social sciences]. Lisbon: Gradiva.
Santos, R. S., Lima, F. M., Hora, J. C., & Leão, D. B. (2020). Indicadores de qualidade aplicados na assistência de enfermagem em cuidados paliativos: revisão integrativa de literatura. Enfermagem em Foco, 11(2), 191-197. DOI: 10.21675/2357-707X.2020.V11.N2.2652.
Silva, I. Veloso, A. & Keating, J. (2014). Focus group. Considerações teóricas e metodológicas Revista Lusófona de Educação, 26, 175-190.
Silveira, T., Júnior, P., Siman, A., & Amaro, M. (2015). Opinião dos enfermeiros sobre a utilização dos indicadores de qualidade na assistência de enfermagem. [Nurses' opinion on the use of quality indicators in nursing care]. Revista Gaúcha de Enfermagem, 36 (2), 82-86. DOI: 10.1590/1983-1447.2015.02.47702.
Teixeira, A., Alves, B., Augusto, B., Fonseca, C., Nogueira J. A., Almeida, M. J., …Nascimento, R. (2017). Medidas de intervenção junto dos cuidadores informais: Documento enquadrador, perspetiva nacional e internacional [Intervention measures with informal caregivers: Framework document, national and international perspective]. Lisboa, Portugal. Retrieved from
https://app.parlamento.pt/webutils/docs/doc.pdf?path=6148523063446f764c324679626d56304c334e706447567a4c31684a53556c4d5a5763765130394e4c7a4577513152545579394562324e31625756756447397a51574e3061585a705a47466b5a554e7662576c7a633246764c7a597a4f54646c5a6a63784c5449304d7a63744e445a6b5a4330344e444e6a4c57526a4e7a5a695a5749334e5451354e6935775a47593d&fich=6397ef71-2437-46dd-843c-dc76beb75496.pdf&Inline=true
Unit Mission for Integrated Continuous Care (2007). A equipa de cuidados continuados integrados: orientações para a sua constituição nos centros de saúde. [The Home Integrated Continuous Care Teams: guidelines for its incorporation in health centers].
Unit Mission for Integrated Continuous Care (2011). Relatório de monitorização do desenvolvimento e da atividade da Rede Nacional de Cuidados Continuados Integrados (RNCCI): 1st semester of 2012. [Monitoring report of the development of the activity of the National Network of Integrated Continuous Care: 1st half of 2012].
Virdun, C., Luckett, T., Lorenz, K., & Phillips, J. (2018). National quality indicators and policies from 15 countries leading in adult end-of-life care: a systematic environmental scan. BMJ Support Palliat Care, 8(2), 145-154. DOI: 10.1136/bmjspcare-2017-001432.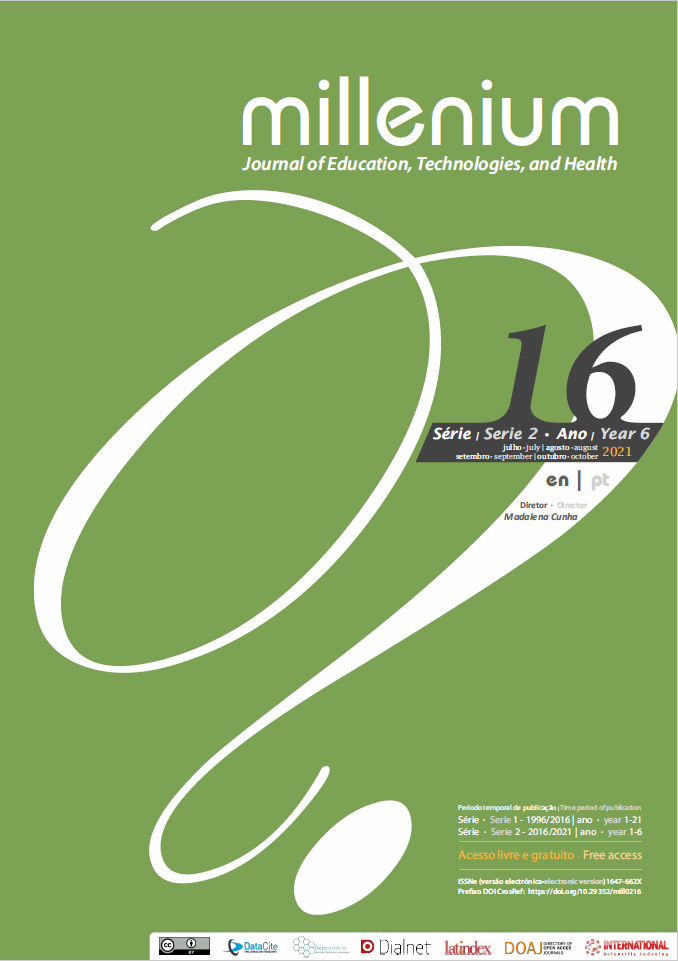 Downloads
How to Cite
Vieira, J., Reis Santos, M., Pires, R., & Pereira, F. (2021). Quality indicators of professional practice of nurses: the caregiver role . Millenium - Journal of Education, Technologies, and Health, 2(16), 41–48. https://doi.org/10.29352/mill0216.24785
Section
Life and Healthcare Sciences
License
This work is licensed under a Creative Commons Attribution 4.0 International License.
Authors who submit proposals for this journal agree to the following terms:
a) Articles are published under the License Creative Commons, in full open-access, without any cost or fees of any kind to the author or the reader;

b) The authors retain copyright and grant the journal right of first publication, allowing the free sharing of work, provided it is correctly attributed the authorship and initial publication in this journal;

c) The authors are permitted to take on additional contracts separately for non-exclusive distribution of the version of the work published in this journal (eg, post it to an institutional repository or as a book), with an acknowledgment of its initial publication in this journal;
d) Authors are permitted and encouraged to publish and distribute their work online (eg, in institutional repositories or on their website) as it can lead to productive exchanges, as well as increase the impact and citation of published work
Documents required for submission
Article template (Editable format)