Adherence to preventive care - contributions to a community's health profile
a descriptive study
Keywords:
health, prevention, vaccination, screenings, community nursing
Abstract
Introduction: Brain-cardiovascular and oncological diseases are responsible for most causes of death in Portugal. Health professionals, through preventive care, work in early detection, contributing to a better quality of life for people.
Objective: To assess the community's adherence to preventive health care.
Methods: quantitative descriptive observational. Sample, 567 subjects ≥ 15 years old, not probabilistic, in a municipality in Northern Portugal. Data collection by the IV National Health Survey of the National Health Institute (Section 7).
Results: mostly female sample (54.9%), 61.6% aged between 25-64 years, family doctor (97.9%) and of these, 67.7% had a health consultation in the last year. In 2019, of the sample 65 years or older, 57.3% were vaccinated against influenza. The adherence rate to blood pressure and cholesterol assessment was 96.1% and 92.9%, respectively, and glycaemia was 85.6%. The highest adherence was found in cervical cytology (82.8%) and the lowest adherence in colonoscopy (55.9%) concerning oncological diseases screening. The reason for performing these screenings was mostly for routine examination.
Conclusion: This study allowed a better understanding of the reality of the population regarding adherence to vaccination and screening, which has reasonable adherence rates, also exposing the intervention of health professionals in this regard. There will be a need to teach/demonstrate the self-collection technique of faeces, especially in populations with less education and advantages of the digital rectal examination, in men.
References
ARS Norte. Perfil local de saúde (2018) – Unidade Local de Saude (ULSAM) Alto Minho. Perfis de Saúde. http://www.arsnorte.min-saude.pt/wp-content/uploads/sites/3/2019/12/PeLS2018_A21_Alto-Minho.pdf
Carvalho, A., & Carvalho, G. (2006). Educação para a saúde: conceitos, práticas e necessidades de formação. Loures: Lusociência. ISBN 972-8930-22-4 .
Direção-Geral da Saúde (2019). Norma nº 006/2019: vacinação contra a gripe: época 2019/2020. https://www.dgs.pt/directrizes-da-dgs/normas-e-circulares-normativas/norma-n-0062019-de-07102019-atualizada-a-14102019.aspx
Direcção Geral da Saúde (2011). Norma 051/2011 Abordagem imagiológica da mama feminina. http://nocs.pt/wp-content/uploads/2015/11/Abordagem-Imagiológica-da-Mama-Feminina.pdf.
Direcção Geral da Saúde (2014). Norma nº 003/2014 - Rastreio oportunístico docCancro do cólon e reto. https://www.nghd.pt/uploads/noc_rccr_act.pdf
Direcção Geral da Saúde (2015). NP066. 2011 - Prescrição de exames laboratoriais para avaliação de dislipidemias no adulto. http://nocs.pt/wp-content/uploads/2015/11/Exames-Laboratoriais-para-Avalia%C3%A7%C3%A3o-de-Dislipidemias1.pdf
Direcção Geral da Saúde (2017). Norma nº 060/2011 - Prescrição e determinação do Antigénio Especifico da Próstata - PSA. https://www.dgs.pt/directrizes-da-dgs/normas-e-circulares-normativas/norma-n-0602011-de-29122011-jpg.aspx?fbclid=IwAR3fY6NCkmpDYdZLLv2er2BDeVcdgx0UH5ubuYI174rF0ulgBuhKuc_bl0I.
Direcção Geral da Saúde (2017). Programa Nacional para as Doenças Oncológicas. https://comum.rcaap.pt/bitstream/10400.26/22531/1/Programa%20Nacional%20para%20as%20Doen%C3%A7as%20Oncol%C3%B3gicas%202017.pdf.
Ferreira, F., & Gonçalves, A. (2015). Sistemas de saúde e o seu funcionamento sistemas de cuidados de saúde no mundo: o caso particular de Portugal; História da saúde e dos serviços de saúde em Portugal. Lisboa: Fundação Calouste Gulbenkian. ISBN 978-972-31-1559-8.
Instituto Nacional de Estatística (2016). Inquérito Nacional de Saúde 2014. Lisboa: Instituto Nacional de Estatística, I. P. ISBN 978-989-25-0356-1.
Instituto Nacional de Estatística (2021). Censos 2021. Plataforma de divulgação dos Censos 2021 – Resultados provisórios. https://censos.ine.pt/xportal/xmain?xlang=pt&xpgid=censos21_dados&xpid=CENSOS21
Ministério da Saúde (2018). Retrato da Saúde, Portugal. ISBN 978-989-99480-1-3
Ordem dos Enfermeiros (2002). Padrão de Qualidade dos Cuidados de Enfermagem - EnquadramentoConceptual Enunciados Descritivos. Lisboa.
Roksund, G. (2011). Cuidados de saúde preventivos. Revista Portuguesa de Clínica Geral, 27(5), 466-468.
Sociedade Portuguesa de Diabetologia (2016). Diabetes: Factos e Números – O Ano de 2015- Relatório Anual do Observatório Nacional da Diabetes. https://www.spd.pt/images/bolsas/dfn2015.pdf
Sociedade Portuguesa de Ginecologia (2014). Consenso sobre infecção por HPV e neoplasia intraepitelial do colo vulva e vagina. Coimbra
Stanhope, M., & Lancanter J. (2011). Enfermagem de saúde pública: cuidados de saúde na comunidade centrados na população. 7.º ed. Lisboa: Lusodidacta. ISBN 978-989-8075-29-1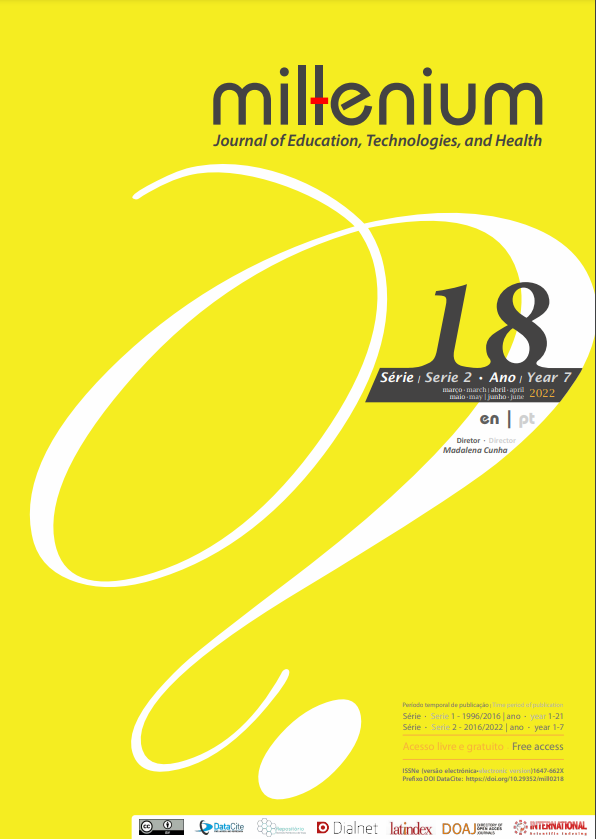 Downloads
How to Cite
Sousa, C., Morim, A. M. ., Alves, D., Silva, J., & Rodrigues, N. (2022). Adherence to preventive care - contributions to a community's health profile: a descriptive study. Millenium - Journal of Education, Technologies, and Health, 2(18), 13–20. https://doi.org/10.29352/mill0218.26193
Section
Life and Healthcare Sciences
License
Copyright (c) 2022 Millenium - Journal of Education, Technologies, and Health
This work is licensed under a Creative Commons Attribution 4.0 International License.
Authors who submit proposals for this journal agree to the following terms:
a) Articles are published under the License Creative Commons, in full open-access, without any cost or fees of any kind to the author or the reader;

b) The authors retain copyright and grant the journal right of first publication, allowing the free sharing of work, provided it is correctly attributed the authorship and initial publication in this journal;

c) The authors are permitted to take on additional contracts separately for non-exclusive distribution of the version of the work published in this journal (eg, post it to an institutional repository or as a book), with an acknowledgment of its initial publication in this journal;
d) Authors are permitted and encouraged to publish and distribute their work online (eg, in institutional repositories or on their website) as it can lead to productive exchanges, as well as increase the impact and citation of published work
Documents required for submission
Article template (Editable format)