Pediatric respiratory rehabilitation project in a home setting: an innovative alternative to no care
Keywords:
Paediatrics; Respiratory Rehabilitation; Teleconsultation; Home Visitation
Abstract
Objective: This study aims to assess the effectiveness of a respiratory rehabilitation project in reducing the prevalence rate of nursing diagnoses in a sample of paediatric individuals with respiratory pathology, thus contributing to their well-being in the context of a pandemic.
Method: A descriptive and exploratory study was conducted with 24 paediatric individuals of both genders, aged between 14 months and 17 years, living on the islands of São Miguel and São Jorge (Azores) with respiratory pathology, but in need of Respiratory Rehabilitation. An innovative project was outlined and implemented, combining Home Visitation and Respiratory Telekinesitherapy.
Results: The sample reveals differences regarding the results obtained with the intervention, compared to those recorded prior to its implementation. With the project, there was a diagnostic resolution rate between 77.7% and 100%, resulting into a 76.5% reduction in the incidence rate of hospital admissions. Children and parents' satisfaction rate with the designed intervention is around 100%.
Conclusion: the designed project improved user's accessibility to Respiratory Rehabilitation therapies who were deprived of this care. Its implementation contributed to reducing respiratory pathology exacerbations and avoidable hospital admissions, contributing to a greater subjective well-being and to costs reduce with hospital admissions.
Downloads
Download data is not yet available.
References
Albuquerque, A. S., & Tróccoli, B. T. (2004). Desenvolvimento de uma escala de bem-estar subjetivo. Psicologia: Teoria e Pesquisa, 20(2), 153–164. https://doi.org/10.1590/S0102-37722004000200008
Bandeira, T., & Castro, L. (2003). Reabilitação Respiratória na Pediatria. Em M. Gomez & R. Sotto-Mayor (Eds.), Tratado de Pneumologia: Vol. II (pp. 1852–1857). Sociedade Portuguesa de Pneumologia.
Cordeiro, M. do C. O., & Menoita, E. C. P. C. (2012). Manual de boas práticas na reabilitação respiratória: Conceitos, princípios e técnicas. Lusociência.
Direção Geral de Saúde. (2009). Orientações Técnicas sobre Reabilitação Respiratória na Doença Pulmonar Obstrutiva Crónica (DPOC) (Circular Informativa 40A/DSPCD). Direção Geral de Saúde.
Direção Geral de Saúde. (2012). Diagnóstico da Fibrose Quística em Idade Pediátrica e no Adulto (Norma N.o 031/2012). Direção Geral de Saúde.
Gronkievwicz, C., & Coover, L. (2011). Reabilitação Respiratória e Pulmonar. Em S. P. Hoeman (Ed.), Enfermagem de Reabilitação – prevenção, intervenção e resultados esperados (4a ed, pp. 319–350). Lusociência.
Lopes, I., Delgado, L., & Ferreira, P. L. (2004). Questionário de conhecimentos sobre a asma (AKQ. Questionário de Conhecimentos sobre a Asma. rimas.uc.pt/instrumentos/5/pdf/4/
Ordem dos Enfermeiros. (2018). Guia Orientador de Boa Prática – Reabilitação Respiratória. Ordem dos Enfermeiros.
Parente, M. D. M. (2014). A criança com asma: O conhecimento dos pais e adolescentes sobre a doença: contributos para a gestão da asma [MasterThesis, Instituto Politécnico de Viana do Castelo]. http://repositorio.ipvc.pt/handle/20.500.11960/1297
Postiaux, G., Dubois, R., Marchand, E., Demay, M., Jacquy, J., & Mangiaracina, M. (2006). Effets de la kinésithérapie respiratoire associant Expiration Lente Prolongée et Toux Provoquée dans la bronchiolite du nourrisson. Kinésithérapie, la Revue, 6(55), 35–41. https://doi.org/10.1016/S1779-0123(06)70197-8
Postiaux, G., Louis, J., Labasse, H. C., Gerroldt, J., Kotik, A.-C., Lemuhot, A., & Patte, C. (2011). Evaluation of an alternative chest physiotherapy method in infants with respiratory syncytial virus bronchiolitis. Respiratory Care, 56(7), 989–994. https://doi.org/10.4187/respcare.00721
Postolache, P., & Cojocaru, D.-C. (2013). Pulmonary rehabilitation—From guidelines to practice. Revista Medico-Chirurgicala a Societatii De Medici Si Naturalisti Din Iasi, 117(2), 380–387.
Prato, M. I. C., Silveira, A. da, Neves, E. T., & Buboltz, F. L. (2014). Doenças respiratórias na infância: Uma revisão integrativa. Rev. Soc. Bras. Enferm. Ped, 14(1), 33-39. https://doi.org/10.31508/1676-3793201400006
Reis, J., Nascimento, L., Ramos, J., Quemelo, P., Filho, D., Neiva, C., & Tonello, M. (2015). Programa de exercícios respiratórios com sessões de curta duração e os efeitos na mecânica ventilatória de crianças com asma. EFDeportes.com, Revista Digital, 20(211). https://www.efdeportes.com/efd211/exercicios-respiratorios-com-sessoes-de-curta-duracao.htm
Silva, M. (2016). Que intervenções do Enfermeiro de Reabilitação capacitam o cuidador informal para a continuidade dos cuidados, ao idoso com AVC, na comunidade? [MasterThesis, Instituto Politécnico de Santarém. Escola Superior de Saúde de Santarém]. https://repositorio.ipsantarem.pt/handle/10400.15/1661
Simões, A., Ferreira, J., Lima, M., Pinheiro, M. do R., Vieira, C., Matos, A., & Oliveira, A. (2000). O bem-estar subjectivo: Estado actual dos conhecimentos. Psicologia, Educação e Cultura, 4(2), 243–279.
Sposito, G., Diogo, M. J. D., Cintra, F. A., Neri, A. L., Guariento, M. E., & Sousa, M. da L. R. de. (2010). Relationships between subjective well-being, mobility, and independence as a function of age bracket and gender among the elderly ENDEREÇO. Acta Fisiátrica, 17(3), 103-108. https://doi.org/10.11606/issn.2317-0190.v17i3a103339
Vilaça, C. M., Barreiros, D. dos S., Galli, F. de A., Borçari, I. T., Andrade, L. F. de, Goulart, M. A., Conceição, C. L., & Carneiro, M. L. M. (2005). O autocuidado de cuidadores informais em domicilio – percepção de acadêmicos de enfermagem. Revista Eletrônica de Enfermagem, 7(2), 221-226. https://doi.org/10.5216/ree.v7i2.878
WHO. World Health Organization. (2022). Coronavirus. https://www.who.int/health-topics/coronavirus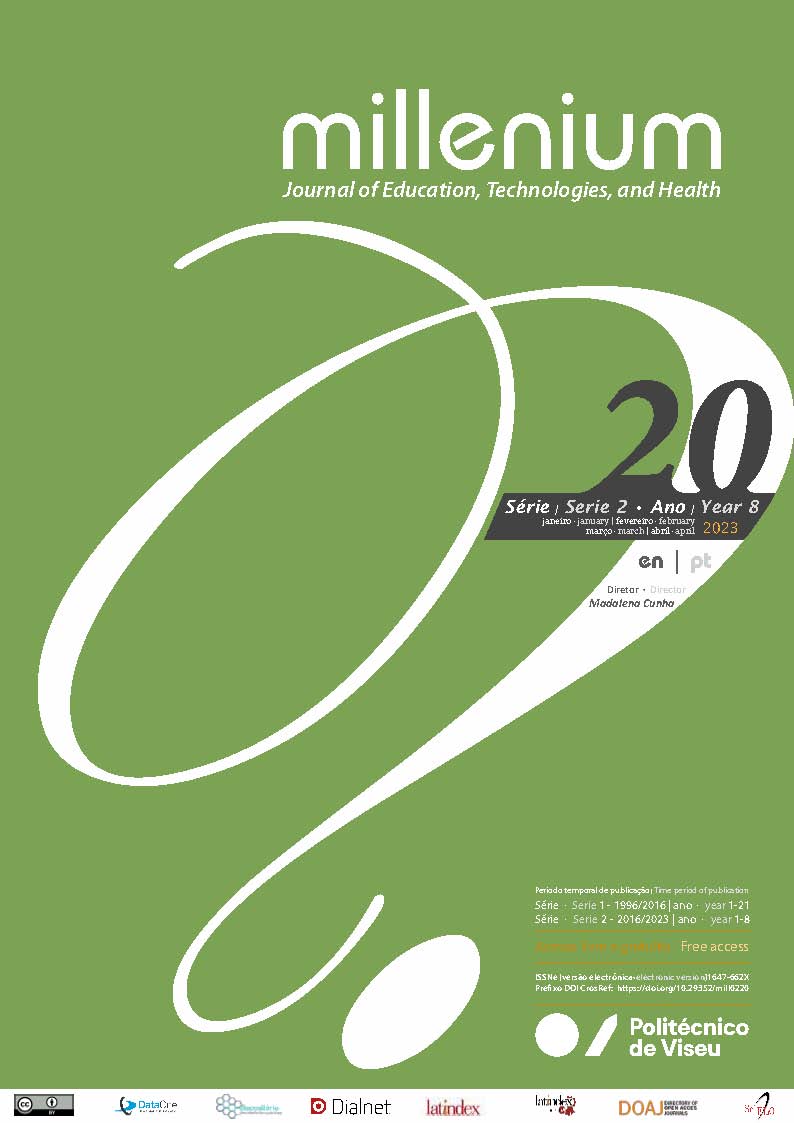 Downloads
How to Cite
Almeida, R., Lima, M. E. ., Rodrigues, L. ., Silva, S. ., & Tavares, M. (2023). Pediatric respiratory rehabilitation project in a home setting: an innovative alternative to no care. Millenium - Journal of Education, Technologies, and Health, 2(20), e27496. https://doi.org/10.29352/mill0220.27496
Section
Life and Healthcare Sciences
License
Copyright (c) 2022 Millenium - Journal of Education, Technologies, and Health
This work is licensed under a Creative Commons Attribution 4.0 International License.
Authors who submit proposals for this journal agree to the following terms:
a) Articles are published under the License Creative Commons, in full open-access, without any cost or fees of any kind to the author or the reader;
b) The authors retain copyright and grant the journal right of first publication, allowing the free sharing of work, provided it is correctly attributed the authorship and initial publication in this journal;

c) The authors are permitted to take on additional contracts separately for non-exclusive distribution of the version of the work published in this journal (eg, post it to an institutional repository or as a book), with an acknowledgment of its initial publication in this journal;
d) Authors are permitted and encouraged to publish and distribute their work online (eg, in institutional repositories or on their website) as it can lead to productive exchanges, as well as increase the impact and citation of published work
Documents required for submission
Article template (Editable format)