Avaliação Comparativa de Queijos Portugueses de Cabra e Ovelha
Keywords:
queijo de cabra, queijo de ovelha, textura, cor, propriedades químicas, análise sensorial
Abstract
Seis queijos portugueses produzidos unicamente com leite de ovelha ou de cabra, adquiridos numa grande superfície, foram avaliados ao nível físico (textura e cor), químico (humidade, aw, cinzas proteína e gordura) e sensorial (perfil de preferência). Ao nível químico, os resultados obtidos revelam alguma variabilidade entre amostras por tipo de queijo, sendo a amostra de queijo de ovelha V a que apresentou valores de proteína e gordura mais elevados, 29,7% e 63,5%, respetivamente. Também foi essa amostra que, ao nível dos parâmetros físicos avaliados, se destacou das restantes, sendo a mais corada, com maior dureza, mastigabilidade, gomosidade, maior firmeza da casca e da pasta. Contudo, ao nível sensorial foi a amostra com menor preferência dos provadores.
References
-Anifantakis, E. (1991). Greek cheeses. Athens, Greece: National Dairy Commition of Greece.
- AOAC (2000). Official methods of analysis.Washington: Association of Official Analytical Chemists.
- Awad, S. (2007). Effect of sodium chloride and pH on the rennet coagulation and gel firmness. LWT - Food Science and Technology, 40, 220–224.
- Boyazoglu, J. & Morand-Fehr, P. (2001). Mediterranean dairy sheep and goat products and their quality: A critical review. Small Ruminant Research, 40, 1–11.
- Buffa, M. N., Trujillo, A. J., Pavia, M. & Guamis, B. (2001). Changes in textural, microstructural, and colour characteristics during ripening of cheeses made from raw, pasteurized or high-pressure-treated goats' milk. International Dairy Journal, 11, 927–934.
- Dagnachew, B. S. & Ådnøy, T. Additive and dominance effects of casein haplotypes on milk composition and quality in Norwegian dairy goats. Small Ruminant Research. (em impressão). Abstract disponível em: http://www.researchgate.net/publication/264425480_Additive_and_dominance_effects_of_casein_haplotypes_on_milk_composition_and_quality_in_Norwegian_dairy_goats. DOI: 10.1016/j.smallrumres.2014.07.020
- Dahl, S., Tavaria, F. K. & Malcata, F. X. (2000). Relationships between flavour and microbiological profiles in Serra da Estrela cheese throughout ripening. International Dairy Journal - INT DAIRY J 10, 255–262.
- Delgado, F. J., González-Crespo, J., Cava, R. & Ramírez, R. (2012). Changes in microbiology, proteolysis, texture and sensory characteristics of raw goat milk cheeses treated by high-pressure at different stages of maturation. LWT - Food Science and Technology, 48, 268–275.
Dufossé, L., Galaup, P., Carlet, E., Flamin, C. & Valla, A. (2005). Spectrocolorimetry in the CIE L*a*b* color space as useful tool for monitoring the ripening process and the quality of PDO red-smear soft cheeses. Food Research International, 38, 919–924.
- Fox, P. F., McSweeney, P. L. H., Cogan, T. M. & Guinee, T. P. (2000). Fundamentals of Cheese Science. Amterdam, Netherlands: Springer.
- Fuquay, J., Fox, P. & McSweeney, P. (2011). Encyclopedia of Dairy Sciences. United kingdom: Elsevier Academic Press.
- Galán, E., Prados, F., Pino, A., Tejada, L. & Fernández-Salguero, J. (2008). Influence of different amounts of vegetable coagulant from cardoon Cynara cardunculus and calf rennet on the proteolysis and sensory characteristics of cheeses made with sheep milk. International Dairy Journal, 18, 93–98.
- Guinee, T.P. (2004). Salt in Cheese: Physical, Chemicaland Biological Aspects. In Cheese: Chemistry, Physics and Microbiology. United Kingdom: Elsevier. Pp. 207–209.
- Gunasekaran, S. & Ak, M.M. (2002). Cheese Rheology and Texture. New York: CRC Press.
- Haenlein, G. F. W. (1998). The value of goat and sheep to sustain mountain farmers. International Journal of Animal Science, 13, 187–194.
- Horne, D. S. (2006). Casein micelle structure: Models and muddles. Current Opinion in Colloid & Interface Science, 11, 148–153.
- Martins, A. P. L. & Vasconcelos, M. M. (1993). Alguns aspectos da qualidade do leite e fabrico de queijos regionais. Via Láceta 2, 73–79.
- Martins, A. P. L. & Vasconcelos, M. M. (2003). A qualidade do queijo fabricado com leite cru. Efeito dos principais factores tecnológicos. Pastagens E Forragens, 24/25, 15–33.
- McSweeny, P. (2007). Cheese Problems Solved. Boca Raton; Cambridge, England: CRC Press.
- Medeiros, E. J. L. de, Queiroga, R. de C. R. do E., Medeiros, A. N. de, Bomfim, M. A. D., Batista, A. S. M., Félex, S. S. dos S. & Madruga, M. S. (2013). Sensory profile and physicochemical parameters of cheese from dairy goats fed vegetable oils in the semiarid region of Brazil. Small Ruminant Research, 113, 211–218.
- Mestawet, T. A., Girma, A., Ådnøy, T., Devold, T.G., Narvhus, J. A. & Vegarud, G.E. (2012). Milk production, composition and variation at different lactation stages of four goat breeds in Ethiopia. Small Ruminant Research, 105, 176–181.
- Narimatsu, A., Dornellas, J. R. F., Spadoti, L. M., Pizaia, P. D. & Roig, S. M. (2003). Avaliação da proteólise e do derretimento do queijo prato obtido por ultrafiltração. Ciência e Tecnologia Alimentar, 23, 177–182.
- NP 2105 (1983). Queijos. Determinação do Teor de Matéria Gorda. Técnica de Van Gulik. Lisboa: Instituto dos Mercados Agrícolas e da Indústria Agro Alimentar.
- Park, K.J. & António, G. C. (2006). Análises de Materiais Biológicos. Campinas: Universidade Estadual de Campinas.
- Park, Y.W. & Haenlein, G.F.W. (2008). Handbook of Milk of Non-Bovine Mammals. s.l.: John Wiley & Sons.
- Pinho, O., Mendes, E., Alves, M. M. & Ferreira, I. M. P. L. V. O. (2004). Chemical, Physical, and Sensorial Characteristics of "Terrincho" Ewe Cheese: Changes During Ripening and Intravarietal Comparison. Journal of Dairy Science, 87, 249–257.
- Poveda, J. M., Cabezas, L. & McSweeney, P. L. H. (2004). Free amino acid content of Manchego cheese manufactured with different starter cultures and changes throughout ripening. Food Chemistry, 84, 213–218.
- Raynal-Ljutovac, K., Lagriffoul, G., Paccard, P., Guillet, I. & Chilliard, Y. (2008). Composition of goat and sheep milk products: An update. Small Ruminant Research, 79, 57–72.
- Sandra, S., Alexander, M. & Dalgleish, D. G. (2007). The rennet coagulation mechanism of skim milk as observed by transmission diffusing wave spectroscopy. Journal of Colloid and Interface Science, 308, 364–373.
- Talpur, F. N., Bhanger, M. I. & Memon, N. N. (2009). Milk fatty acid composition of indigenous goat and ewe breeds from Sindh, Pakistan. Journal of Food Composition and Analysis, 22, 59–64.
- Tejada, L., Gómez, R. & Fernández-Salguero, J. (2007). Sensory Characteristics of Ewe Milk Cheese Made with Three Types of Coagulant: Calf Rennet, Powdered Vegetable Coagulant and Crude Aqueous Extract from Cynara Cardunculus. Journal of Food Quality, 30, 91–103.
- Tenreiro, M. (2014). Estudo das propriedades físico-químicas do queijo Serra da Estrela. Dissertação de Mestrado em Qualidade e Tecnologia Alimentar. Viseu: Escola Superior Agrária de Viseu.
Vioque, M., Gómez, R., Sánchez, E., Mata, C., Tejada, L. & Fernández-Salguero, J. (2000). Chemical and Microbiological Characteristics of Ewes' Milk Cheese Manufactured with Extracts from Flowers of Cynara cardunculus and Cynara humilis as Coagulants. J. Agric. Food Chem., 48, 451–456.
- Wadhwani, R. & McMahon, D. J. (2012). Color of low-fat cheese influences flavor perception and consumer liking. Journal of Dairy Science, 95, 2336–2346.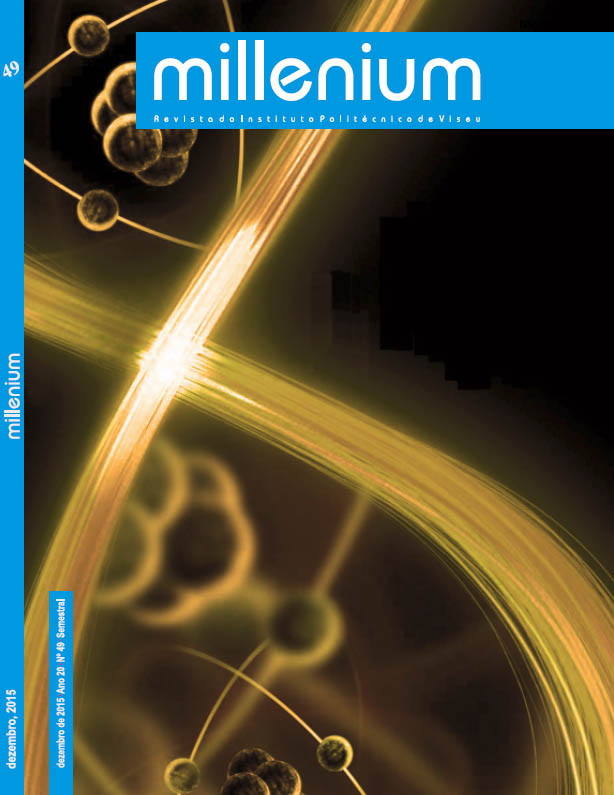 Downloads
License
Authors who submit proposals for this journal agree to the following terms:
a) Articles are published under the License Creative Commons, in full open-access, without any cost or fees of any kind to the author or the reader;

b) The authors retain copyright and grant the journal right of first publication, allowing the free sharing of work, provided it is correctly attributed the authorship and initial publication in this journal;

c) The authors are permitted to take on additional contracts separately for non-exclusive distribution of the version of the work published in this journal (eg, post it to an institutional repository or as a book), with an acknowledgment of its initial publication in this journal;
d) Authors are permitted and encouraged to publish and distribute their work online (eg, in institutional repositories or on their website) as it can lead to productive exchanges, as well as increase the impact and citation of published work
Documents required for submission
Article template (Editable format)