Projeto de uma Unidade de Produção de Chamuças Doces com Recheio de Maçã e Mel
Keywords:
projeto, indústria, chamuças, compota, maçã, mel
Abstract
O presente trabalho visa apresentar, de forma simples,
um estudo de natureza académica efetuado com vista à
tentativa de implementação de uma unidade industrial de
produção de chamuças doces. O trabalho foi realizado no
âmbito da unidade curricular de Equipamentos e Instalações e
Industriais do curso de Engenharia Alimentar da Escola
Superior Agrária de Viseu.
Os objetivos do trabalho incluem a descrição do processo
produtivo e cálculos de projeto, nomeadamente no que
respeita a balanços mássicos; a caracterização da empresa e
recursos humanos; breves considerações sobre o mercado alvo
e uma resumida análise SWOT; projeto da linha de produção,
que inclui layout e equipamentos; considerações relativas aos 
efluentes gerados no processo; e, por fim, uma análise ligeira
de viabilidade económica.
Downloads
Download data is not yet available.
References
- Amiot, M. J.; Aubert, S.; Gonnet, M. & Tacchini, M. (1989). Honey phenolic compounds: a preliminary study on their
identification and quantitation by families. Apidologie, 20: 115-125.
- Arthey, D. & Ashurst, P. R. (1997). Procesado de frutas. Acríbia: Zaragoza.
- Costa AIA, Jongen WMF. (2006). New insights into consumer-led food product development. Trends in Food Science
& Technology, 17: 457-465.
- Decreto-Lei n.º 152/97, de 19 de junho. Diário da República, I Série A, n.º 139, de 19 de junho de 1997. Disponível
em: <http://dre.pt/pdf1s/1997/06/139A00/29592967.pdf>.
- Feliciano, R. P.; Antunes, C.; Ramos, A.; Serra, A. T.; Figueira, M. E.; Duarte, C. M. M.; Carvalho, A. & Bronze, M.
R. (2010). Characterization of traditional and exotic apple varieties from Portugal. Part 1 – Nutritional, phytochemical
and sensory evaluation. Journal of Functional Foods, 2: 35-45.
- Guiné, R.; Peres, G. & Ferreira, D. (2010). Análise SWOT à produção da pera passa de Viseu. Millenium, 38: 97-106.
Disponível em: <http://www.ipv.pt/millenium/Millenium38/8.pdf>.
- Guiné, R. P. F. (2012). Sweet samosas: a new food product in the Portuguese market. Academic Research
International, 2(3): 70-81.
- Kotler, P. (1988). Marketing Management: Analysis, Planning, Implementation and Control. Prentice-Hall: New Jersey.
Siró, I.; Kápolna, E.; Kápolna, B. & Lugasi, A. (2008). Functional food. Product development, marketing and
consumer acceptance - A review. Appetite, 51: 456-467.
- Steptoe, A.; Pollard, T. M. & Wardle, J. (1995). Development of a measure of the motives underlying the selection of
food: the food choice questionnaire. Appetite, 25: 267-284.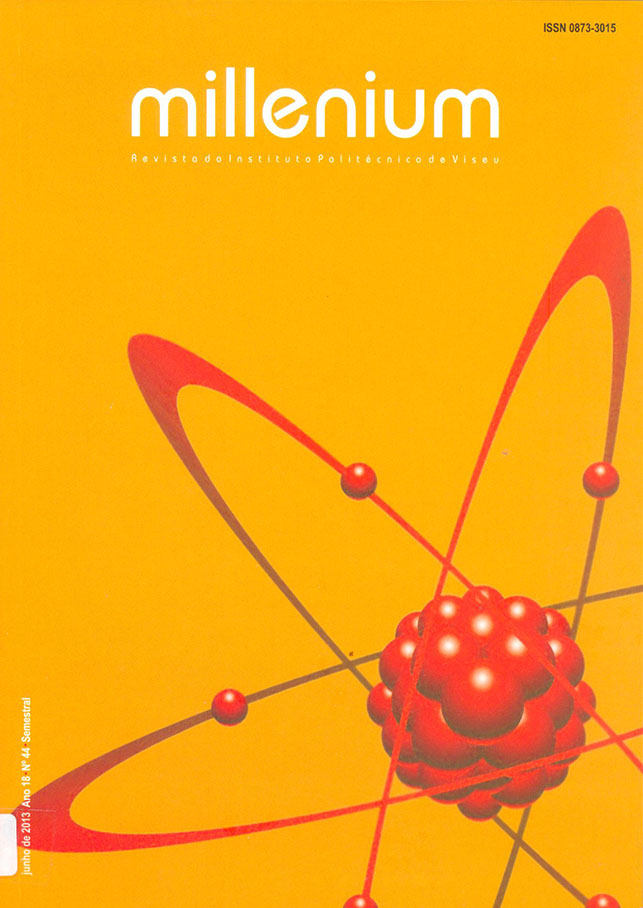 Downloads
How to Cite
Guiné, R. (2016). Projeto de uma Unidade de Produção de Chamuças Doces com Recheio de Maçã e Mel. Millenium - Journal of Education, Technologies, and Health, (44), 197‐213. Retrieved from https://revistas.rcaap.pt/millenium/article/view/8175
License
Authors who submit proposals for this journal agree to the following terms:
a) Articles are published under the License Creative Commons, in full open-access, without any cost or fees of any kind to the author or the reader;

b) The authors retain copyright and grant the journal right of first publication, allowing the free sharing of work, provided it is correctly attributed the authorship and initial publication in this journal;

c) The authors are permitted to take on additional contracts separately for non-exclusive distribution of the version of the work published in this journal (eg, post it to an institutional repository or as a book), with an acknowledgment of its initial publication in this journal;
d) Authors are permitted and encouraged to publish and distribute their work online (eg, in institutional repositories or on their website) as it can lead to productive exchanges, as well as increase the impact and citation of published work
Documents required for submission
Article template (Editable format)