O Calendário Atual. História, algoritmos e observações
Keywords:
civilização, tempo, calendário, algoritmo
Abstract
A ordenação do tempo tem uma importância crucial
na vida das pessoas e das nações, determinando os ritmos da
ação individual e as relações entre povos e culturas. O
calendário do velho Continente, hoje adotado por todos os
países do Planeta no âmbito das relações económicas e
políticas, conheceu múltiplas vicissitudes ao longo do seu
percurso histórico. Para uma compreensão básica da nossa
matriz cultural é indispensável o conhecimento dos aspetos
mais determinantes desse instrumento fundamental de
regulação da atividade humana.
Este artigo pretende contribuir para essa
compreensão, proporcionando uma breve síntese dos
principais antecedentes históricos que marcaram o percurso do
atual calendário e disponibilizando um conjunto de
ferramentas e resultados derivados do algoritmo de Gauss para
determinação da data da Páscoa, cuja variabilidade se
repercute na data de outras celebrações. Analisa-se ainda,
graficamente, a variação do período diurno ao longo do ano.
Downloads
Download data is not yet available.
References
• Borges, R. C. M. Cálculo do Nascer e pôr do sol. Disponível em:
<http://www.inf.ufrgs.br/~cabral/Nascer_Por_Sol.html>. Consulta: 06/02/2012.
• Casaca, J. M. (2009). História breve do calendário. Lisboa: LNEC.
• Catecismo da Igreja Católica (1993). (1ª Edição). Coimbra: Gráfica de Coimbra.
• Forsythe, W. C.; Rykiel, E. J. Jr.; Stahl, R. S.; Wu, H. & Schoolfield, R. M. (1995). A model comparison for
daylength as a function of latitude and day of year. Ecological Modelling 80 (87-95). Disponível em:
http://www.journals.elsevier.com/ecological-modelling/. Consulta: 9/02/2012.
• Harrison, L. C. (1960) Sun, Earth, Time, and Man. Chicago, IL: Rand McNally & Co.
• Marques, M. N. Origem e evolução do nosso calendário. Disponível em:
. Consulta: 23/01/2012.
• Ribeiro, W. A. Jr. A contagem do tempo. Portal Graecia Antiqua, São Carlos. Disponível em:
. Consulta: 23/01/2012.
• Richards, E. (1998). Mapping Time: The Calendar and its History. Oxford University Press.
• Sproul, A. B. (2007). Derivation of the solar geometric relationships using vetor analysis. Renewable Energy,
: 1187-1205. Disponível em: . Consulta: 26/02/2012.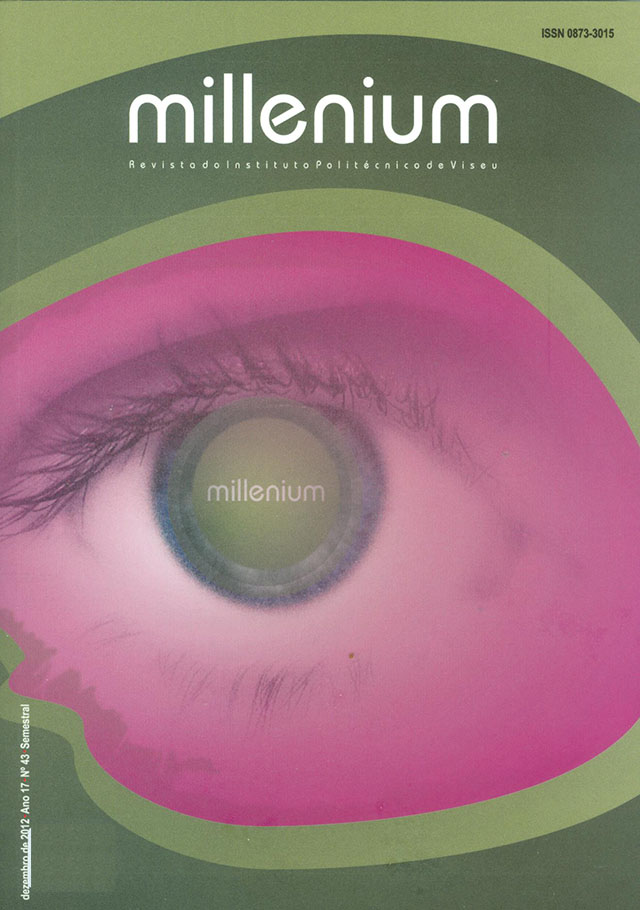 Downloads
How to Cite
Lopes, M. do C. (2016). O Calendário Atual. História, algoritmos e observações. Millenium - Journal of Education, Technologies, and Health, (43), 107–125. Retrieved from https://revistas.rcaap.pt/millenium/article/view/8183
License
Authors who submit proposals for this journal agree to the following terms:
a) Articles are published under the Licença Creative Commons (CC BY 4.0), in full open-access, without any cost or fees of any kind to the author or the reader;
b) The authors retain copyright and grant the journal right of first publication, allowing the free sharing of work, provided it is correctly attributed the authorship and initial publication in this journal;

c) The authors are permitted to take on additional contracts separately for non-exclusive distribution of the version of the work published in this journal (eg, post it to an institutional repository or as a book), with an acknowledgment of its initial publication in this journal;
d) Authors are permitted and encouraged to publish and distribute their work online (eg, in institutional repositories or on their website) as it can lead to productive exchanges, as well as increase the impact and citation of published work
Documents required for submission
Article template (Editable format)