Predição de biomassa arbustiva lenhosa empregando dados de inventário e o índice de diferença normalizada extraído em imagens landsat 5 tm
Helder Viana

Domingos Lopes

José Aranha
Abstract
Com o intuito de estudar se o Índice de Vegetação de Diferença Normalizada
(NDVI), gerado a partir de imagens de satélite de média resolução, pode ser utilizado na
quantificação de biomassa vegetal aérea de plantas arbustivas lenhosas, regeneradas após
a ocorrência de incêndios florestais, foram instaladas 18 parcelas de amostragem (10m2)
em locais ardidos entre os anos de 2000 e 2005 na região de Viseu. A metodologia
utilizada baseou-se no ajustamento de modelos de regressão entre a quantidade de
biomassa (t.ha-1) pesada em campo pelo método destrutivo, em cada parcela, e os valores
da resposta espectral referentes ao NDVI, calculados e extraídos de imagens Landsat
Thematic Mapper (TM). Os resultados obtidos mostram que a quantidade de biomassa
vegetal apresenta uma correlação positiva com os valores de NDVI. A estimativa de
biomassa lenhosa aérea forneceu resultados significativos, tendo permitido ajustar uma
equação que descreve a quantidade de biomassa (t.ha-1) em função do comportamento
espectral da vegetação.
References
• ARANHA, J. and Viana, H., 2008. Assessing Shrub Biomass By Means Of Field Work and Geostatistics Processes. A Case Study in North
Portugal. Proceedings of the Bioenergy: Challenges and Opportunities. International Conference and Exhibition on Bioenergy. Universidade do Minho, Guimarães, Portugal. April 6th – 9th 2008.
• BOTELHO, H., Vega, J.A., Fernandes, P., Rego, F., 1994. Prescribed fire behavior and fine fuel consumption in Northern Portugal and Galiza maritime pine stands. In Proc. 2nd Int. Conf. on Forest Fire Research, Viegas, D.X. (Ed.), Coimbra, pp. 343-353.
• CHAVEZ, P. S. JR., 1989. Radiometric Calibration of Landsat Thematic Mapper Multispectral Images. Photogrammetric Engineering And Remote Sensing. Vol. 55, N.9. Pp. 1285-1294.
• CHIRICI, Gherardo; Barbati, Anna and Maselli, Fabio, 2007. Modelling of Italian forest net primary productivity by the integration of remotely sensed and GIS data. Forest Ecology and Management 246, 285–295.
• DELPHIS F. and Levia Jr, 2008. A generalized allometric equation to predict foliar dry weight on the basis of trunk diameter for eastern white pine (Pinus strobus L.). Forest Ecology and Management, Volume 255, Issues 5-6, 5, 1789-1792.
• DGRF, 2007. Resultados do Inventário Florestal Nacional 2005/06. Planeamento e Estatística. Direcção Geral dos Recursos Florestais.
Ministério da Agricultura do Desenvolvimento Rural e das Pescas. Lisboa.
• FERNANDES, P., Loureiro, C., Botelho, H., Ferreira, A., Fernandes, M., 2002. Avaliação indirecta da carga de combustível em pinhal
bravo. Silva Lusitana 10(1) : 73–90.
• FERNANDES, P.M., Rego, F.C., 1998. Equations for estimating fuel load in shrub communities dominated by Chamaespartium
tridentatum and Erica umbellata. In Proc. 3rd International Conf. on Forest Fire Research & 14th Fire and Forest Meteorology Conf., D.X.
Viegas (Ed.), Luso, Vol. II, pp. 2553-2564.
• FLOMBAUM, P. and Sala, O.E, 2007. A non-destructive and rapid method to estimate biomass and aboveground net primary production in
arid environments. Journal of Arid Environments, Volume 69 (2), 352-358.
• FOROUGHBAKHCH, Rahim; Reyes, Gregorio; Alvarado-Vázquez, Marco A.; Hernández-Piñero, Jorge and Rocha-Estrada, Alejandra, 2005. Use of quantitative methods to determine leaf biomass on 15 woody shrub species in northeastern Mexico. Forest Ecology and Management, Volume 216, Issues 1-3, 12, 359-366.
• HUETE, A. R., Liu, H. Q., Batchily, K. and Leeuwen, W. Van, 1997. A Comparison of Vegetation Indices over a Global Set of TM Images
for MODIS-EOS. Remote Sensing Of Environment. Vol. 59. Pp. 440-451.
• HUETE, A.R. and Jackson, R.D., 1987. Suitability of spectral indices for evaluating vegetation characteristics on arid rangelands. Remote
Sensing of Environment, 23, 213-232.
• LILLESAND, T.M.; Kiefer, R.W.; Chipman, J.W., 2004. Remote Sensing and image Interpretation. Fifth Edition, John Wiley and Sons Inc., New York, 764p.
• MENG, Qingmin; Cieszewski, Chris J.; Madden, Marguerite and Borders, Bruce, 2007. A linear mixed-effects model of biomass and volume of trees using Landsat ETM+ images. Forest Ecology and Management 244, 93–101.
• MUUKKONEN, P.; Heiskanen, J., 2007. Biomass estimation over a large area based on standwise forest inventory data and ASTER and
MODIS satellite data: A possibility to verify carbon inventories. Remote Sensing of Environment, 107, 617-624.
• NEEFF, Till, 2005. Spatial modeling of primary and secondary forest growth in Amazonia. Forest Ecology and Management 219 149–168.
• PEICHL, Matthias and Arain, M. Altaf, 2006. Above and belowground ecosystem biomass and carbon pools in an age-sequence of
temperate pine plantation forests. Agricultural and Forest Meteorology, Volume 140, Issues 1-4, Pages 51-63.
• REGO, F.C., Pereira J.P., Fernandes, P.M., Almeida, A.F., 1994. Biomass and aerial structure characteristics of some mediterranean shrub species. 2nd International Conference on Forest Fire Research 1B, 377-384.
• SUGANUMA, Hideki; Abe, Yukuo; Taniguchi, Masahiko; Tanouchi, Hiroyuki; Utsugi, Hajime; Kojima, Toshinori and Yamada, Koichi,
Stand biomass estimation method by canopy coverage for application to remote sensing in an arid area of Western Australia. Forest
Ecology and Management, Volume 222, Issues 1-3, 75-87.
• VIANA, H.; Cardoso, A.; Correia, R; Lopes, D.; Aranha, J., 2009b. Estabelecimento de modelos alométricos para predição da biomassa
aérea de Eucalyptus globulus. Actas do 6º Congresso Florestal Nacional. 6-9 Outubro 2009.
• VIANA, H.; Dias, S.; Marques, C.; Cruz, M..; Lopes, D.; Aranha, J., 2009c. Estabelecimento de modelos alométricos para predição da
biomassa aérea da Pinus Pinaster. Actas do 6º Congresso Florestal Nacional. 6-9 Outubro 2009.
• VIANA, H.; Fernandes, P.; Rocha, R.; Lopes, Domingos Aranha, J., 2009a. Alometria, dinâmicas da biomassa e do carbono fixado em
algumas espécies arbustivas de Portugal. Acta do 6º Congresso Florestal Nacional. 6-9 Outubro 2009.
• WANG, Quan; Adikua, Samuel; Tenhunena, John and Granierb, André, 2005. On the relationship of NDVI with leaf area index in a
deciduous forest site. Remote Sensing of Environment 94, 244–255.
• WULDER, Michael A.; White, Joanne C.; Fournier, Richard A.; Luther, Joan E. And Magnussen, Steen, 2008. Spatially Explicit Large
Area Biomass Estimation: Three Approaches Using Forest Inventory and Remotely Sensed Imagery in a GIS. Sensors, 8, 529-560.
• ZHENG, G.; Chen, J.M.; Tian, Q.J.; Ju, W.M. and Xia, X.Q., 2007. Combining remote sensing imagery and forest age inventory for
biomass mapping. Journal of Environmental Management 85, 616–623.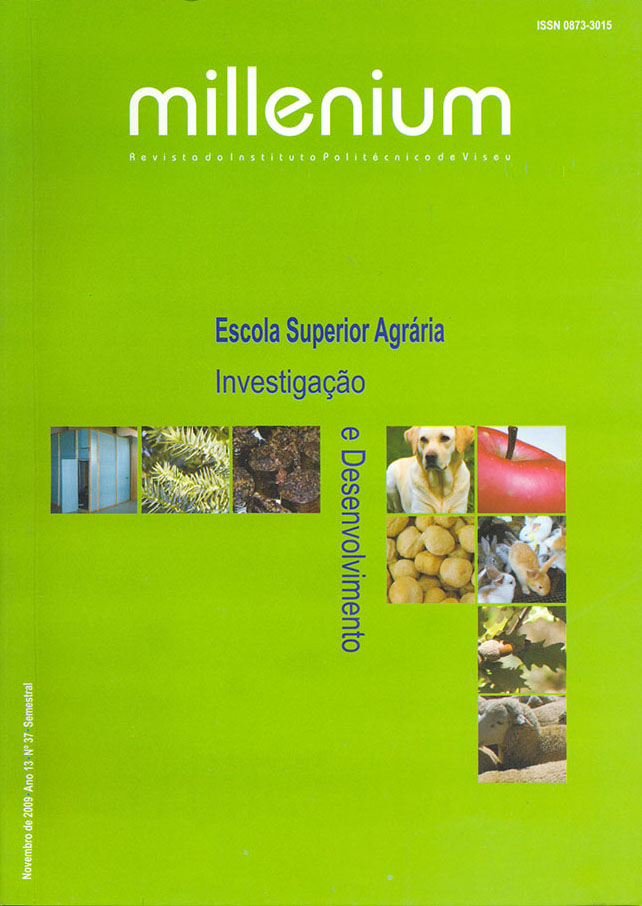 Authors who submit proposals for this journal agree to the following terms:
a) Articles are published under the License Creative Commons, in full open-access, without any cost or fees of any kind to the author or the reader;

b) The authors retain copyright and grant the journal right of first publication, allowing the free sharing of work, provided it is correctly attributed the authorship and initial publication in this journal;

c) The authors are permitted to take on additional contracts separately for non-exclusive distribution of the version of the work published in this journal (eg, post it to an institutional repository or as a book), with an acknowledgment of its initial publication in this journal;
d) Authors are permitted and encouraged to publish and distribute their work online (eg, in institutional repositories or on their website) as it can lead to productive exchanges, as well as increase the impact and citation of published work
Documents required for submission
Article template (Editable format)