Acção da personalidade na saúde: contributos para a qualidade de vida
Keywords:
Personalidade, Padrão Comportamental tipo A, coronariopatia
Abstract
A incidência das doenças coronárias1 tem aumentado progressivamente nas últimas décadas, nomeadamente nos países ocidentais, bem como as suas nefastas consequências em termos de morbilidade e mortalidade.
Este aumento deve-se em grande parte ao facto dos indivíduos aderirem ao que se descreve como uma vida melhor. As pessoas tornam-se obesas e sedentárias, o avanço tecnico-científico submete-as ao stress e à urgência continuada.
Em consonância com este facto, Mota Cardoso (1998) refere que talvez "não seja por acaso que, no início deste século de cidade global e de triunfo das luzes, as doenças cardiovasculares sejam a maior causa de mortalidade dos que tiveram acesso aos seus benefícios". 
Assim sendo, as lesões coronárias representam o maior problema de Saúde Pública dos países industrializados. Por outro lado, estas revestem-se de uma importância particular pela perda que representa em anos de vida activa para o indivíduo, família, colectividade e economia.
Neste artigo teceremos algumas considerações sobre a influência que a personalidade pode ter no aparecimento das doenças cardiovasculares. Assim,
começaremos pela definição de personalidade, sua importância e o papel que a personalidade desempenha no comportamento do indivíduo, tendo em conta a
interacção dos diferentes factores. Concluiremos esta análise, destacando alguns estudos efectuados nesta área.
References
ALLPORT, Gordon - Personalidade, padrões e desenvolvimento. S. Paulo. Editora Ender, 1966.
CASE et al. - Multicentre Post-Infarction research Group: Typo A behaviour and survival after acute myocardial infarction. New England Journal Medicine, (312) 1985, p. 737 - 741.
DIAS, António Madureira - Regresso ao trabalho após coronariopatia isquémica: subsídios para a identificação de alguns factores. Dissertação de Mestrado. Faculdade de medicina de Coimbra. Coimbra. 2003.
EYSENCK H. J. - The structure of human personality. 3ª ed. London: Methuen, 1976.
ENCICLOPÉDIA LUSO-BRASILEIRA DA CULTURA. 14 ed. Lisboa. Editorial
Verbo. 1991.
FONTAINE, A. M. Expectativas de sucesso e realização escolar em função do contexto social. Cadernos de Consulta Psicológica. Vol 3. 1987, p. 27 - 44.
FONTAINE, Ovide; ÉTIENNE, Anne-Marie. BROUETTE, B. - Pattern
comportamental de type A, stress et maladie coronarienne. Brève revue de la littérature. Revue Médicale de Liége. Vol. 24. 1987. p. 962 - 975.
FONTAINE, Ovide; KULBERTUS, H.; ÉTIENNE, Anne-Marie (1998). Stress e cardiologia. Lisboa. Climepsi.
GEADA, Manuel - Mecanismos de defesa de Coping e níveis de Saúde em adultos. Análise Psicológica Vol 2-3 (XIV) 1996, p. 191 - 201.
GLASS, D. - Stress, behavior patterns and coronary disease. American Science. (65). 1977, p. 179 - 186.
I.N.E. - Instituto Nacional de Estatística - Estatísticas da Saúde. 2000, p. 27 – 29.
LARSON, J. A. - New Perspectives on type A behavior: a psychiatric point of view. Journal Psychiatry in Medicine. (23), 1993. p. 1495 - 1502.
MAGNUSSON, D.; TORESTAD, B. - A holistic view of personality: a model revisited. Annual Review of Psychology. (44). 1993, p. 427 - 452.
MOTA CARDOSO, Rui; COELHO, Rui A. - Doentes coronários: grupoterapia e Psicodrama. Psiquiatria Clínica. 1 (2), 1980, p. 121 - 125.
MURPHY, K.; DAVIDSHOFER, C. - Psychological testing: principles and
applications. 4ª ed. Nova Jérsia. Prentice-Hall International, Inc. 1998.
RIBEIRO, J. L. P. - Investigação e avaliação em Psicologia da Saúde. Lisboa. Climpsi. 1999.
RIEGEL, Barbara; GOCKA, Ian - Gender differences in adjustment to acute myocardial infarction. Heart & Lung. San Diego. Calif. 24 (6). 1995, p. 457 – 466.
SHANFIELD, S. B. - Return to work after an acute myocardial infarction. American review. Heart Lung, (19), 1990, p. 109 - 117.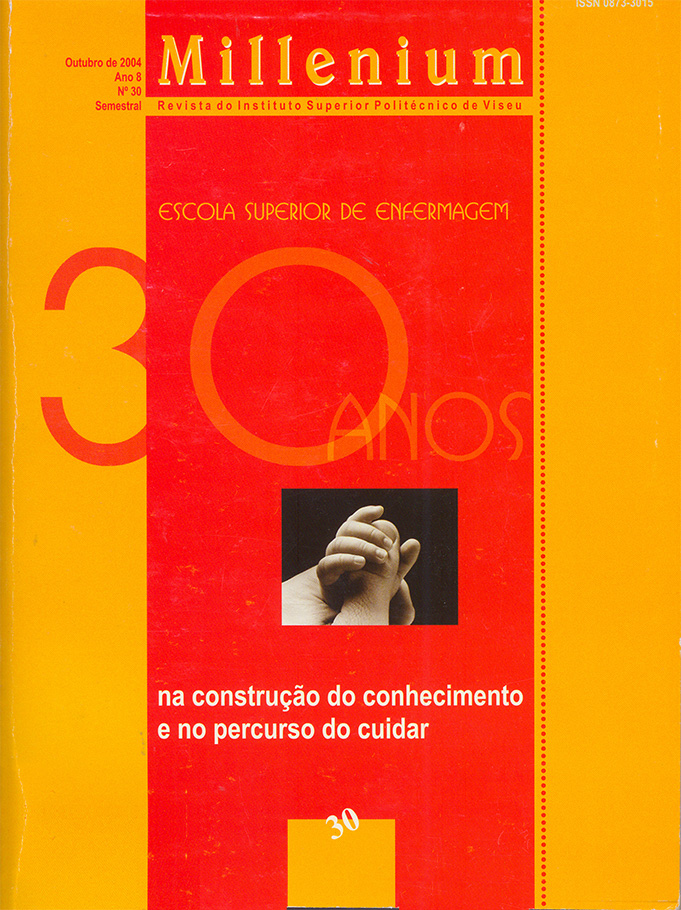 Downloads
How to Cite
Martins, M. da C. A. (2016). Acção da personalidade na saúde: contributos para a qualidade de vida. Millenium - Journal of Education, Technologies, and Health, (30), 191–201. Retrieved from https://revistas.rcaap.pt/millenium/article/view/8445
License
Authors who submit proposals for this journal agree to the following terms:
a) Articles are published under the License Creative Commons, in full open-access, without any cost or fees of any kind to the author or the reader;

b) The authors retain copyright and grant the journal right of first publication, allowing the free sharing of work, provided it is correctly attributed the authorship and initial publication in this journal;

c) The authors are permitted to take on additional contracts separately for non-exclusive distribution of the version of the work published in this journal (eg, post it to an institutional repository or as a book), with an acknowledgment of its initial publication in this journal;
d) Authors are permitted and encouraged to publish and distribute their work online (eg, in institutional repositories or on their website) as it can lead to productive exchanges, as well as increase the impact and citation of published work
Documents required for submission
Article template (Editable format)