Acção da personalidade na saúde: contributos para a qualidade de vida
Keywords:
Personalidade, Emoções, Saúde e Qualidade de Vida
Abstract
Eysenk (1950) desenvolveu um modelo estrutural da personalidade, com base em procedimentos estatísticos e no conceito de traço, segundo o qual a pessoa pode ser classificada de acordo com as duas dimensões seguintes: a dimensão neuroticismo/estabilidade e a dimensão extroversão/introversão. Estas dimensões são vulgarmente referidas pelas suas primeiras designações: neuroticismo e extroversão, respectivamente.
O autor definiu também os termos "Tipo" e "traço" como: "Tipo é um grupo de
traços correlacionados e Traço é um grupo de actos correlacionados do comportamento ou tendência para a acção".
A partir destes aspectos, Eysenk definiu personalidade como " a organização mais ou menos estável e persistente do carácter, temperamento, intelecto e físico do indivíduo, que permite o seu ajustamento único ao ambiente que o rodeia" (Eysenk, 1970).
Downloads
Download data is not yet available.
References
ARGYLE, M. ; MARTIN, M. ; CROSSLAND, J. - Happiness as fontion of personality and social encounters. In J.P.Forgas ; J.M. Innes (ed.) - Recents advances in social psychology : an international perspective. North Holland : Elsevier, 1989.
AZEVEDO, M.H.P. - Efeitos psicológicos do trabalho por turnos em mulheres. Coimbra, 1980. Tese doutoramento apresentada à Universidade de Coimbra.
COSTA, P.T. Jr. ; Mc CRAE, R. R. - Neuroticism, somatic complains, and disease : is the break worse than the bite? Journal of personality. 55 (1987) 299-316.
COSTA, P.T. Jr. ; McCRAE, R.R. - Influence of extraversion and neuroticism on subjective well-being : happy and unhappy people. Journal of personality and social psychology. 38:4 (1980) 668-678.
EYSENK, H.J. - Les Dimensionnes de la Personnalité. Paris : Presses Universitaires de France, 1950.
EYSENK, H.J. - The Structure of Human Personality. London : Methuen, 1970.
EYSENK, H.J. - Personality, Stress Arousal and Cognitive Processes in Stress Transactions. In R. W. J. Neufeld (ed.) - Advances in the Investigation of Psychological Stress. New York : Wiley. (1989) 133 – 160.
EYSENK, H.J. ; EYSENK, S.B. - Manual for the Eysenk Personality Inventory. London : University Press, 1964.
JONES, W.H. - The psychology of loneliness. Some personality issues in the study of social support. In I.G. Sarason e B.R. Sarason (eds.) - Social support : Theory, research and application. Dordrecht : Nijhoff, 1985.
LUQUE, O. ; ZURRIAGA, R. - Formación en Psicología Social para non psicólogos. Valencia : N.A. U. llibress, 1995.
THORNE, A. - The press of personality : a study of conversation between introverts and extraverts. Journal of Personality and Social Psychology. 53 (1987) 718-726.
VAZ SERRA, A., PONCINO, E. ; FIDALGO FREITAS, J. - Resultado da aplicação do Eysenk Personality Inventory a uma amostra da população Portuguesa. Psiquiatria Clínica. 1:2 (1980) 127-132.
WILSON, G.D. - Personalidade. In H.J.ESENK ; G.D. Wilson (eds.) - Manual de psicologia humana. Coimbra : Almedina, 1976. (Trabalho original publicado em 1997)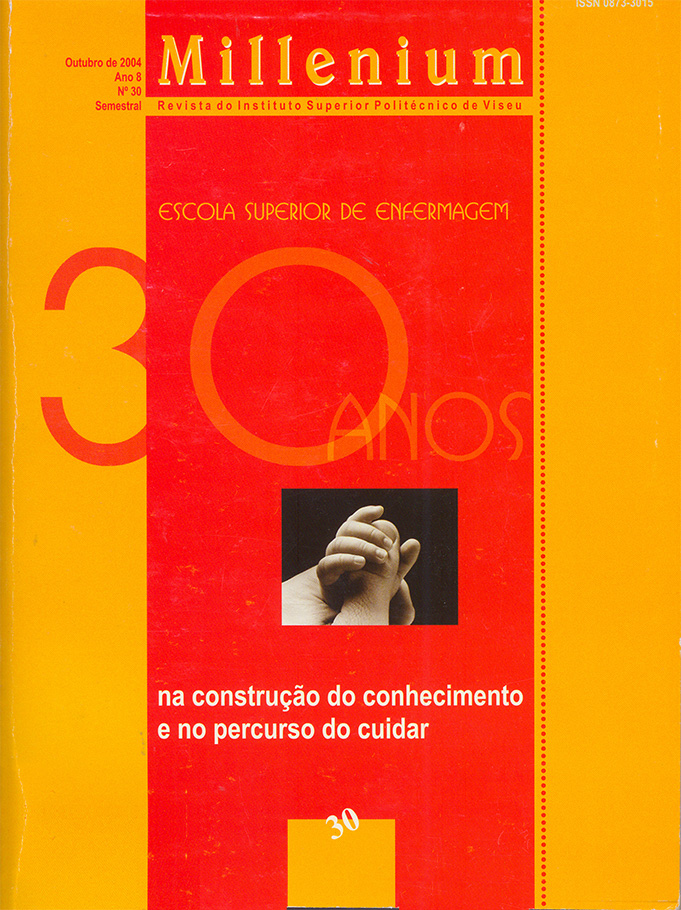 Downloads
How to Cite
Martins, M. da C. A. (2016). Acção da personalidade na saúde: contributos para a qualidade de vida. Millenium - Journal of Education, Technologies, and Health, (30), 202–208. Retrieved from https://revistas.rcaap.pt/millenium/article/view/8446
License
Authors who submit proposals for this journal agree to the following terms:
a) Articles are published under the Licença Creative Commons (CC BY 4.0), in full open-access, without any cost or fees of any kind to the author or the reader;
b) The authors retain copyright and grant the journal right of first publication, allowing the free sharing of work, provided it is correctly attributed the authorship and initial publication in this journal;

c) The authors are permitted to take on additional contracts separately for non-exclusive distribution of the version of the work published in this journal (eg, post it to an institutional repository or as a book), with an acknowledgment of its initial publication in this journal;
d) Authors are permitted and encouraged to publish and distribute their work online (eg, in institutional repositories or on their website) as it can lead to productive exchanges, as well as increase the impact and citation of published work
Documents required for submission
Article template (Editable format)