Exploring Advertising and Product Design Sexual Implications: A Sociocultural Approach
Abstract
This paper explores design thought and application on various fields of its domain, under the prism of the human sexuality. However the two main areas of our concern are the fields of advertising and product design which, according to the author, represent the most significant parts on which the concept of human sexuality is thoroughly applied and still remains effective. Designing under this instinctive human value, one can easily trace the importance of concepts such as charm and pleasure, which can overlap and possibly 'beat to death' the concepts of usability and quality of use, in many ways. The starting point of this allegory in handling and promoting new products, most of which are not directly connected with the sense of sexuality, are the advertisements. On the other hand, one will be able to find out the myth of gender and its contradictions in a certain group of products which have direct sexuality references and most of them are designed for a limited, however faithful and increasingly concerned consumer group. Thirdly, the author aims to focus on the 'discovery' of socially marginalized consumer groups, such as the homosexual community, by some inventive entrepreneurs and designers, for the formation of a 'new market' which seems to thrive in terms of profit. As this, meteoric rise, market is directly connected with analogous social changes globally, one will be able to understand its development, but also the exploitation of homosexual behaviour, via the ideological points of both sides: designers and consumers.
References
• Arvanitis, A. (2014). "Γκέι, ισότητα και μοντέρνα διάκριση (Gay, equality and modern discrimination)". Retrieved
from <http://booksjournal.gr/slideshow/item/661>. [23/03/2016].
- Clark, D. (1993). The Lesbian and Gay Studies Reader. London: Routledge.
• Clark, V. & Peel, E. (2007). Out in Psychology: lesbian, gay, bisexual, trans and queer perspectives. London: John
• D' Augelli, R. A. (2002). Lesbian and Gay Psychology: new perspectives. Oxford: Blackwell Publishers Ltd.
• Daye, D. (2008). "Does Sex in Advertising Work?". Retrieved from .
/06/2015].
• Devor, H. (1989). Gender Blending: confronting the limits of duality. New York: Indiana University Press.
• Douglas, M. & Isherwood, B. (1979). The World of Goods. New York: Basic Books Ed.
• Forty, A. (1987). Objects of Desire, Design and Society (1750-1980). London: Thames and Hudson Ltd.
• Fowles, J. (1996). Advertising and Popular Culture. London: Sage Publications Ltd.
• Horrocks, R. (1997). An introduction to the study of sexuality. London: MacMillan Press Ltd.
• Jordan, P. (2000). Designing Pleasurable Products: an introduction to the new human factors, London: Taylor &
Francis Ltd.
• Leiss W., Kline, S. & Jhally, S. (1997). Social Communication in Advertising: Persons, Products & Images of
Well-being. London: Routledge.
• Lury, C. (1996). Consumer Culture. Bodmin, Cornwal: Polity Press in association with Blackwell Publishers Ltd.
• Nystrom, H. (1988). Creativity and Innovation: Towards a European Network. New York: Kluwer Academic
Publishers.
• Ridgeway, C. (1992). Gender Interaction and Inequality. New York: Springer-Verlag.
• Sischy, I. (2008). "Vanity Fair Calvin Klein". Retrieved from .
/06/2015].
• Tsoumas, J. (2015). Women in Greek print ads in the 1960s. Vienna: Caesarpress Academic Publishing.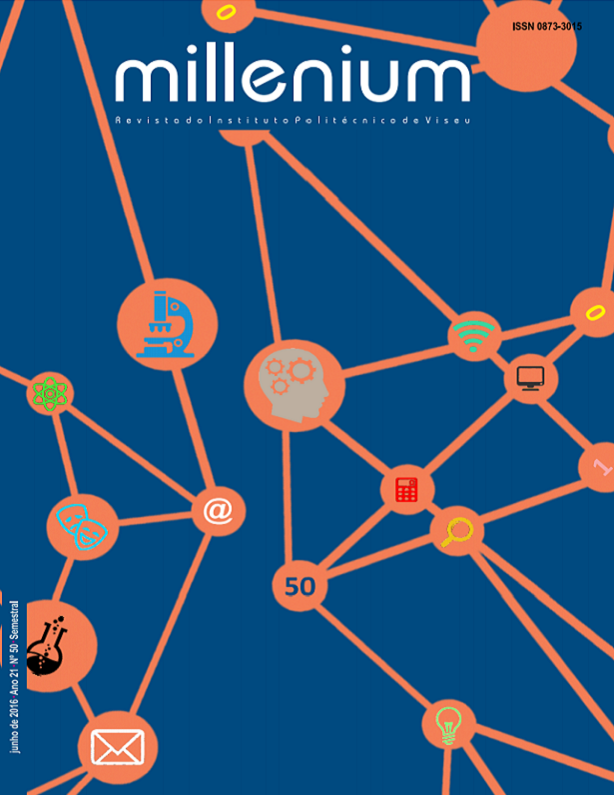 Authors who submit proposals for this journal agree to the following terms:
a) Articles are published under the License Creative Commons, in full open-access, without any cost or fees of any kind to the author or the reader;

b) The authors retain copyright and grant the journal right of first publication, allowing the free sharing of work, provided it is correctly attributed the authorship and initial publication in this journal;

c) The authors are permitted to take on additional contracts separately for non-exclusive distribution of the version of the work published in this journal (eg, post it to an institutional repository or as a book), with an acknowledgment of its initial publication in this journal;
d) Authors are permitted and encouraged to publish and distribute their work online (eg, in institutional repositories or on their website) as it can lead to productive exchanges, as well as increase the impact and citation of published work
Documents required for submission
Article template (Editable format)