Humanization of care patients in hemodialysis programm
Cristina Maria Guedes Ferreira Moura

Escola Superior de Enfermagem Dr. José Timóteo Montalvão Machado

Helena Penaforte

Escola Superior de Enfermagem Dr. José Timóteo Montalvão Machado

Catarina Ribeiro

Centro Hospitalar do Porto - Centro Materno Infantil

Catarina Sequeira

Escola Superior de Enfermagem Dr. José Timóteo Montalvão Machado

Maria Saraiva

Escola Superior de Enfermagem de Lisboa

Manuela Martins

Escola Superior de Enfermagem do Porto
Keywords:
Privacy, Health Care, Nursing
Abstract
Introduction: The design on the privacy in hemodialysis stresses that the person is a being in the world that has various dimensions, interacts with the environment and experiences unique experiences that mark their individuality.
Objective: To identify the focus of attention on the practices of care for patients in regular hemodialysis program, guaranteeing respect for their individuality and privacy.
Methods: resorted to the qualitative approach, following the precepts of fenomenografia, using semi-structured interviews with only one open question: Patients in Hemodialysis regular program have a medical, nursing and operational assistants to ensure respect for their individuality and privacy? Twelve health professionals were interviewed to perform functions in hemodialysis units, whose analysis and interpretation of the data presented as a focus the description of the qualitatively different meanings in variation dimensions.
Results: Health care professionals reveal the preservation of the privacy of care in hemodialysis, in the care practices, translated by dimensions, physical space, body exposure, humanization of care and communication.
Conclusions: In the perceived dimensions, on the preservation of privacy during procedures on hemodialysis, healthcare professionals value the focus of attention which by their nature and sequence invoke concerns over the implementation of the procedures. Respect for individuality and privacy are considered a basic human need to be promoted and their preservation is an important care to guarantee respect for patients on regular hemodialysis.
References
Akerlind GS, Bowden J, Green P. Learning to do phenomenography: a reflective discussion. In: Bowden, JA, Green P. Doing developmental phenomenography. Melbourne: RMIT University Press; 2005: p. 74-102.
Baggio MA, Pomatti DM, Bettinelli LA, Erdmann AL. Privacidade em unidades de terapia intensiva: direitos do paciente e implicações para a enfermagem. Rev Bras Enferm. 2011;64(1): 25-30.
Camilo P, Morais A, Fontes A, Bastos L, Ferreira A. Privacidade: condição ou critério para cuidar. Nursing. 1999;11(129): 30-6.
Carvalho MMM. A enfermagem e o humanismo. Lisboa: Lusociência; 1996.
Collière MF. Cuidar... a primeira arte da vida. 2ª ed. Loures: Lusociência; 2003.
Corbani NMS, Brêtas ACP, Matheus MCC. Humanização do cuidado de enfermagem: o que é isso?. Rev Bras Enferm. 2009;62(3): 349-354.
Ferreira, SMA, Gozzo TO, Panobianco MS, Santos MO. Barreiras na inclusão da sexualidade no cuidado de enfermagem de mulheres com câncer ginecológico e mamário: perspectiva das profissionais. Rev. Latino-Am. Enfermagem [Internet]. 2015; 23(1): 82-89.
Fortin MF, Côté, J, Filion, F. Fundamentos e etapas do processo de investigação. Loures: Lusociência; 2009.
França JRFS, Costa SFG, Lopes MEL, Nóbrega MML, França ISX. Importância da comunicação nos cuidados paliativos em oncologia pediátrica: enfoque na Teoria Humanística de Enfermagem. Rev. Latino-Am. Enfermagem [Internet].2013;21(3): 1-7.
Gasparino MC, Guirardello EB. Sentimento de invasão do espaço territorial e pessoal do paciente. Revista Brasileira de Enfermagem. 2006;59(5): 652-655.
Leino-Kilpi H, Välimäki M, Dassen T, Gasull M, Lemonidou C, Schopp A, et al. Perceptions of autonomy, privacy and informed consent in the care of elderly people in five european countries: general overview. Nursing Ethics. 2003;10(1): 19-27.
Marin MJS, Storniolo LV, Moravcik MY. A humanização do cuidado na ótica das equipes da estratégia de saúde da família de um município do interior paulista, Brasil. Revista Latino-Americana de Enfermagem. 2010;18(4): 2-7.
Ministério da Saúde (BR). Secretaria de Atenção à Saúde. Núcleo Técnico da Política Nacional de Humanização. Humaniza SUS: documento base para gestores e trabalhadores do SUS. Brasília (DF): Ministério da Saúde; 2006.
Morais GSN, Costa SFG, Fontes WD, Carneiro AD. Comunicação como instrumento básico no cuidar humanizado em enfermagem ao paciente hospitalizado. Acta Paul Enferm. 2009;22(3): 323-327.
Moura C. Cuidados de enfermagem à pessoa com insuficiência renal crónica terminal: Da percepção do paciente à concepção dos enfermeiros. Dissertação de mestrado, Universidade do Porto, Instituto de Ciências Biomédicas de Abel Salazar, Porto; 2006.
Organização das Nações Unidas. Declaração Universal dos Direitos Humanos. 1984.
Pietrovski V, Dall'Agnol CM. Situações significativas no espaço-contexto da hemodiálise: o que dizem os usuários de um serviço?. Rev Bras Enferm. 2006:59(5): 630-635.
Pupulim JSL, Sawada NO. Nursing care and the invasion of patients' privacy: an ethical and moral issue. Rev. Latino-Am. Enfermagem. 2002;10(3): 433-438.
Ribeiro LM. Humanização do espaço arquitetônico em unidade de hemodiálise. Monografia apresentada ao Curso de Especialização em Arquitetura da Faculdade de Arquitetura da Universidade Federal da Bahia, Brasil; 2008.
Simões M, Rodrigues M, Salgueiro N. O significado da filosofia da humanitude no contexto dos cuidados de enfermagem à pessoa dependente e vulnerável. Revista Referência. 2008;7(2ª Série): 97-105.
Soares NV, Dall´Agnol CM. Privacidade dos pacientes: uma questão ética para a gerência do cuidado em enfermagem. Acta Paul Enferm, 2011;24(5): 683-688.
Soares NV. A privacidade dos pacientes e as ações dos enfermeiros no contexto da internação hospitalar. Tese de doutoramento, Universidade Federal do Rio Grande do Sul, Porto Alegre, Brasil; 2010.
Watson J. Enfermagem: ciência humana e cuidar uma teoria de enfermagem. Loures: Lusociência; 2002.
Watson J. Nursing: the philosophy and science of caring. Colorado: Associated University Press Boulder; 1985.
Woogara J. Patients' rights to privacy and dignity in the NHS. Nursing Standard. 2004;19: 33-37.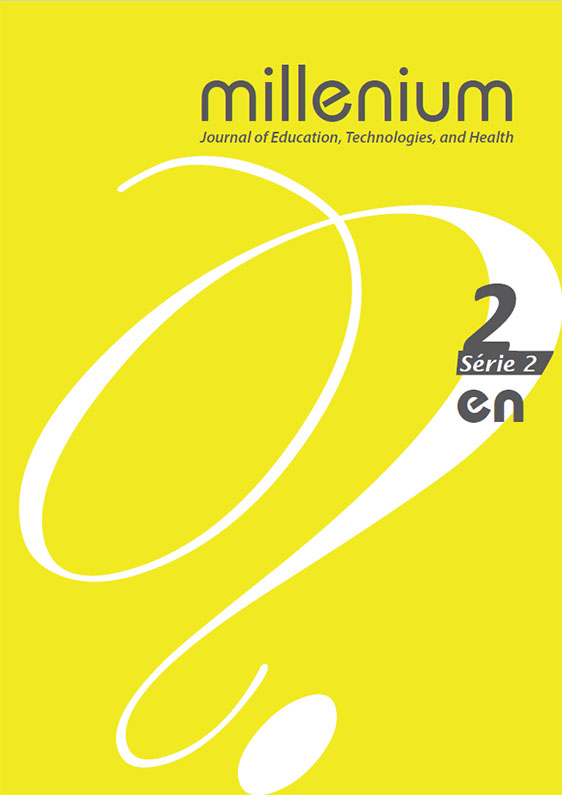 Section
Engineering, Technology, Management and Tourism
Copyright (c) 2017 Millenium - Journal of Education, Technologies, and Health
This work is licensed under a Creative Commons Attribution 4.0 International License.
Authors who submit proposals for this journal agree to the following terms:
a) Articles are published under the License Creative Commons, in full open-access, without any cost or fees of any kind to the author or the reader;

b) The authors retain copyright and grant the journal right of first publication, allowing the free sharing of work, provided it is correctly attributed the authorship and initial publication in this journal;

c) The authors are permitted to take on additional contracts separately for non-exclusive distribution of the version of the work published in this journal (eg, post it to an institutional repository or as a book), with an acknowledgment of its initial publication in this journal;
d) Authors are permitted and encouraged to publish and distribute their work online (eg, in institutional repositories or on their website) as it can lead to productive exchanges, as well as increase the impact and citation of published work
Documents required for submission
Article template (Editable format)