School in the 21st Century
The Past Engaged in this Present
Keywords:
adolescence, school violence, teacher education, dialogical pedagogy
Abstract
This article presents the case-study of a public school, located in a socially vulnerable area of the urban periphery. Partly like a prison, this school was defensive in relation to its students and community. Teacher absenteeism led classes to be scarcely supervised, without activities, as well as prohibited to use cell phones. Indiscipline and violence of/in/against school were very frequent, generating teachers' mental and physical illnesses. However, some charismatic teachers acted differently from the philosophical and the methodological perspectives. They established affective relations with their students, as professionals. Despite illnesses, other teachers used to keep their routines. This case study shows that archaic values, not directed to dialogue, prevented the adoption of simple solutions that would solve most of the violent processes at school.
Downloads
Download data is not yet available.
References
Almeida, S. F. C., Amparo, D. M., Brasil, K. C. T., & Marty, F. (2010). Adolescência, violência e escola: repercussões na saúde psíquica do professor. In D. M. Amparo, S. F. C. Almeida, K. C. T. Brasil & F. Marty (Eds.), Adolescência e violência: Teorias e práticas nos campos clínico, educacional e jurídico (pp. 163-187). Brasília: Liber Livro; Universidade de Brasília.
Bardin, L. (2011). Análise de conteúdo. Lisboa: Edições 70.
Bauman, Z. (2001). Modernidade líquida. Rio de Janeiro: Jorge Zahar.
Bourdieu, P., & Passeron, J-C. (1964). Les héritiers : Les étudiants et la culture. Paris: Minuit.
Braslavsky, C. (2002). A educação secundária: Mudança ou imutabilidade? Brasília: Unesco.
BRASIL (2006). Lei Nº 11.274, de 6 de Fevereiro de 2006. Altera a redação dos arts. 29, 30, 32 e 87 da Lei nº 9.394, de 20 de dezembro de 1996.
Brunsson, N. (2007). The consequences of decision-making. Oxford: Oxford University Press.
Castells, M. (1999). A sociedade em rede. (1 volume). São Paulo: Paz e Terra.
Charlot, B. (2013). Da relação com o saber: Elementos para uma teoria. São Paulo: Cortez.
Coleman, J. S. (1981). The adolescent society: The social life of teenagers and its impact on education. Westport, Connecticut: Praeger.
Dubet, F. (2013). El declive de la institución: Profesiones, sujetos e individuos en la modernidad. Barcelona: Gedisa.
Durkheim, É., & Halbwachs, M. (1938). L'évolution pédagogique en France. Paris: F. Alcan.
Freire, P. (2011). Pedagogia do oprimido. (50ª Edição). São Paulo: Paz e Terra.
Gatti, B. A. (2014). Formação inicial de professores para a educação básica: Pesquisas e políticas educacionais. Estudos em Avaliação Educacional, 25, 24-54.
Gomes, C. A., & Pereira, M. M. (2009). A formação do professor em face das violências das/nas escolas. Cadernos de Pesquisa, 39(136), 201-224.
Hernández Sampieri, R., Collado Fernández, C., & Baptista Pilar, L. (2013). Metodologia da pesquisa. (5ª Edição). São Paulo: Penso.
Lira, A., & Gomes, C. (2018). Violence in schools: What are the lessons for teacher education? Ensaio: Avaliação de políticas públicas em Educação, 26(100), 759-779.
Martins, G. A. (2008). Estudo de caso: uma estratégia de pesquisa. (2ª Edição). São Paulo: Atlas.
Patton, M. Q. (c. 2002). Qualitative research & evaluation methods. Thousand Oaks, Califórnia: Sage.
Quezada, M. T. P., Gomes, C. A., & Lima, D. A. (2012). Violencia que habla: narrativas de malos tratos entre alumnos. Rayuela, Revista Iberoamericana sobre Niñez y Juventud en Lucha por sus Derechos, 3, 133-144.
Stake, R. E. (2007). A arte da investigação com estudos de caso. Lisboa: Fundação Calouste Gulbenkian.
Tardif, M., & Lessard, C. (comps.) (2011). O ofício de professor: História, perspectivas e desafios internacionais. Petrópolis: Vozes.
Touraine, A. (c. 1992). Crítica da modernidade. Lisboa: Piaget.
Trigwell, K., Prosser, M., & Ginns, P. (2005). Phenomenographic pedagogy and a revised Approaches to Teaching Inventory. Higher Education Research and development, 24(4), 349-360.
Vasconcelos, I. C. O. (2017). Aprender a conviver, sem violência: o que dá certo e não dá certo? Ensaio: Avaliação e Políticas Públicas em Educação, Rio de Janeiro, 25(97), 897-917. doi: https://doi.org/10.1590/s0104- 40362017002501180
Waller, W. ([1932] 1961). The sociology of teaching. New York: Russell.
Weber, M. (2004). Economia e sociedade: Fundamentos da sociologia compreensiva. Brasília: Universidade de Brasília; São Paulo: Imprensa Oficial do Estado de São Paulo.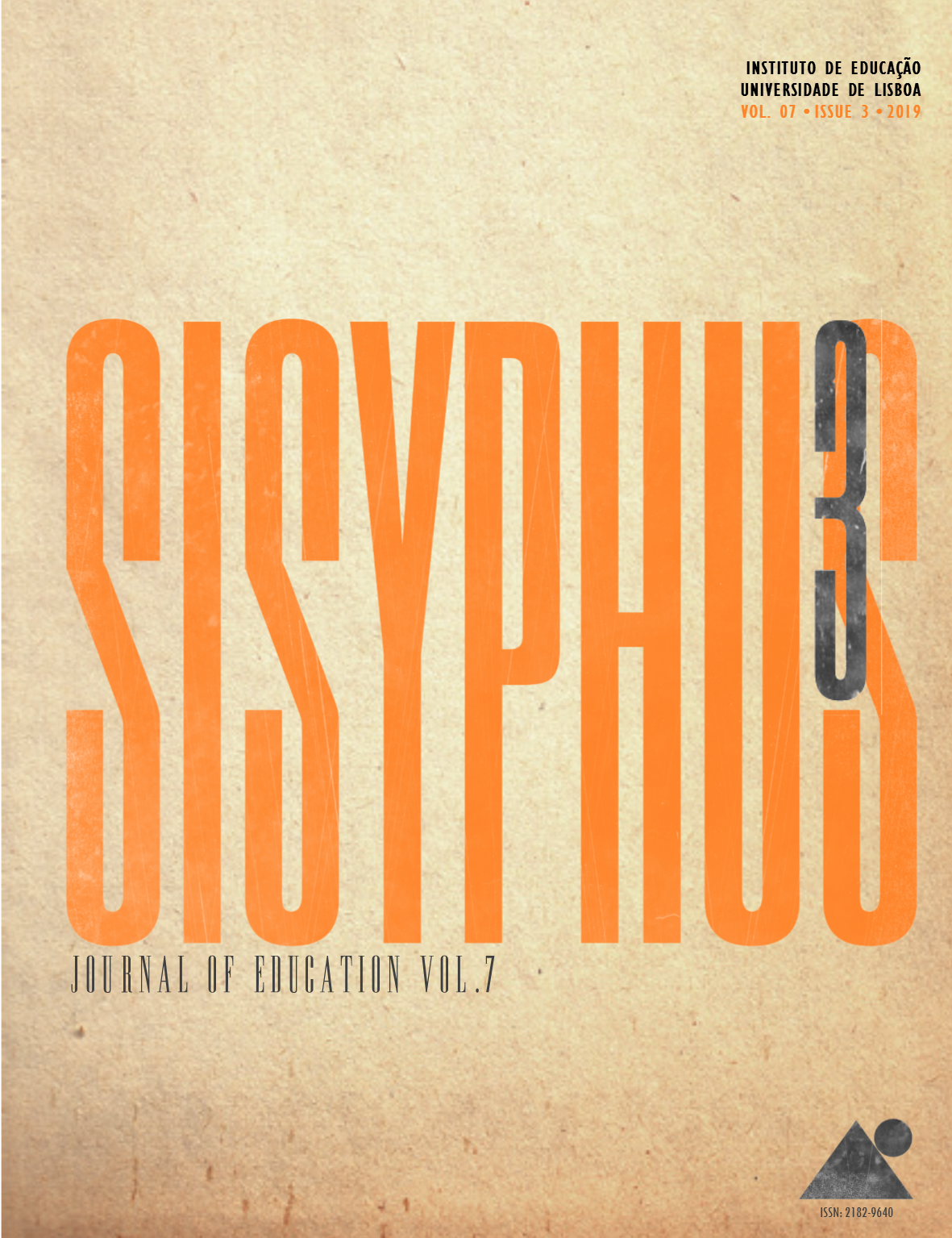 Downloads
License
Copyright (c) belongs to Sisyphus - Journal of Education. However, we encourage issued articles to be published elsewhere, provided that Sisyphus authorization is asked for and that authors integrate our original source citation and a link to our website.
Author Self-Archiving Policy
Author(s) are permitted to self-archive the final published version in institutional or thematic repositories, and in their personal or institutional websites.
DORA Signer
The Instituto de Educação da Universidade de Lisboa, Sisyphus' Publisher, is a San Francisco Declaration on Research Assessment signer.