Atitudes da população Portuguesa em relação à fibra alimentar
Raquel Guiné

Manuela Ferreira

Paula Correia

João Duarte
Palavras-chave:
alimentos ricos em fibra, fibra dietética, fontes de fibra, hábitos de consumo, pesquisa, rotulagem
Resumo
Introdução: A fibra dietética (FD) tem feito parte da dieta humana desde há milénios, embora os seus benefícios tenham sido reconhecidos, principalmente, nas últimas décadas.
Objetivos: Porque a FD é um componente importante de uma dieta saudável, o objetivo deste trabalho foi avaliar os hábitos de consumo dos Portugueses, bem como o seu conhecimento sobre os alimentos ricos em fibras e as suas atitudes em relação à rotulagem dos alimentos.
Métodos: Foi realizado um estudo descritivo transversal usando uma amostra não-probabilística de 382 participantes.
Resultados: Os resultados mostraram que a ingestão de alimentos ricos em fibras, como frutas, vegetais e cereais, foi muito menor do que a ingestão recomendada. Os resultados também indicaram que a maioria das pessoas não presta a atenção desejada à rotulagem de alimentos ou à informação nutricional.
Conclusões: O nível geral de conhecimento sobre FD foi considerado insatisfatório, e, portanto, é necessário mais educação nutricional e desenvolver esforços para informar as pessoas acerca da importância da FD como parte da sua dieta diária.
Referências
Ajila, C.M., Rao, U.J.S.P., 2013. Mango peel dietary fibre: Composition and associated bound phenolics. Journal of Functional Foods 5, 444–450. doi:10.1016/j.jff.2012.11.017
Aune, D., Chan, D.S.M., Lau, R., Vieira, R., Greenwood, D.C., Kampman, E., Norat, T., 2011. Dietary fibre, whole grains, and risk
of colorectal cancer: systematic review and dose-response meta-analysis of prospective studies. British Medical Journal 343, d6617–d6617. doi:10.1136/bmj.d6617
Brownlee, I.A., 2011. The physiological roles of dietary fibre. Food Hydrocolloids, Dietary Fibre and Bioactive Polysaccharides 25, 238–250. doi:10.1016/j.foodhyd.2009.11.013
Debusca, A., Tahergorabi, R., Beamer, S.K., Partington, S., Jaczynski, J., 2013. Interactions of dietary fibre and omega-3-rich oil with protein in surimi gels developed with salt substitute. Food Chemistry 141, 201–208. doi:10.1016/j.foodchem.2013.02.111
Giacco, R., Costabile, G., Della Pepa, G., Anniballi, G., Griffo, E., Mangione, A., Cipriano, P., Viscovo, D., Clemente, G., Landberg, R., Pacini, G., Rivellese, A.A., Riccardi, G., 2014. A whole-grain cereal-based diet lowers postprandial plasma insulin and triglyceride levels in individuals with metabolic syndrome. Nutrition, Metabolism and Cardiovascular Diseases 24, 837–844. doi:10.1016/j.numecd.2014.01.007
Godinho, C.A., Alvarez, M.-J., Lima, M.L., 2016. Emphasizing the losses or the gains: Comparing situational and individual moderators of framed messages to promote fruit and vegetable intake. Appetite 96, 416–425. doi:10.1016/j.appet.2015.10.001
Guiné, R., Martinho, C., Barroca, M.J., Viseu, C., 2014. Knowledge and attitudes regarding dietary fibres: a consumer survey in Portuguese population. Journal of Basic and Applied Research International 1, 1–2.
Kendall, C.W.C., Esfahani, A., Jenkins, D.J.A., 2010. The link between dietary fibre and human health. Food Hydrocolloids 24, 42–48. doi:10.1016/j.foodhyd.2009.08.002
Kim, H.-S., Oh, C., No, J.-K., 2016. Can nutrition label recognition or usage affect nutrition intake according to age? Nutrition 32, 56–60. doi:10.1016/j.nut.2015.07.004
Macagnan, F.T., Santos, L.R. dos, Roberto, B.S., de Moura, F.A., Bizzani, M., da Silva, L.P., 2015. Biological properties of apple pomace, orange bagasse and passion fruit peel as alternative sources of dietary fibre. Bioactive Carbohydrates and Dietary Fibre 6, 1–6. doi:10.1016/j.bcdf.2015.04.001
Martinho, C., Correia, A., Goncalves, F., Abrantes, J., Carvalho, R., Guine, R., 2013. Study About the Knowledge and Attitudes of the Portuguese Population About Food Fibres. Current Nutrition & Food Science 9, 180–188. doi:10.2174/1573401311309030002
McSpadden, K.E., Patrick, H., Oh, A.Y., Yaroch, A.L., Dwyer, L.A., Nebeling, L.C., 2016. The association between motivation and fruit and vegetable intake: The moderating role of social support. Appetite 96, 87–94. doi:10.1016/j.appet.2015.08.031
Molist, F., van Oostrum, M., Pérez, J.F., Mateos, G.G., Nyachoti, C.M., van der Aar, P.J., 2014. Relevance of functional properties of dietary fibre in diets for weanling pigs. Animal Feed Science and Technology 189, 1–10. doi:10.1016/j.anifeedsci.2013.12.013
O'Shea, N., Arendt, E.K., Gallagher, E., 2012. Dietary fibre and phytochemical characteristics of fruit and vegetable by-products and their recent applications as novel ingredients in food products. Innovative Food Science & Emerging Technologies 16, 1–10. doi:10.1016/j.ifset.2012.06.002
Phillips, G.O., 2013. Dietary fibre: A chemical category or a health ingredient? Bioactive Carbohydrates and Dietary Fibre 1, 3–9. doi:10.1016/j.bcdf.2012.12.001
Rimpeekool, W., Seubsman, S., Banwell, C., Kirk, M., Yiengprugsawan, V., Sleigh, A., 2015. Food and nutrition labelling in Thailand: a long march from subsistence producers to international traders. Food Policy 56, 59–66. doi:10.1016/j.foodpol.2015.07.011
Ruffell, M.J., 2016. Nutrition and Health Claims for Food: Regulatory Controls, Consumer Perception, and Nutrition Labeling, in: Caballero, B., Finglas, P.M., Toldrá, F. (Eds.), Encyclopedia of Food and Health. Academic Press, Oxford, pp. 93–97.
Russo, M., Bonaccorsi, I., Torre, G., Sarò, M., Dugo, P., Mondello, L., 2014. Underestimated sources of flavonoids, limonoids and dietary fibre: Availability in lemon's by-products. Journal of Functional Foods 9, 18–26. doi:10.1016/j.jff.2014.04.004
Sáyago-Ayerdi, S.G., Mateos, R., Ortiz-Basurto, R.I., Largo, C., Serrano, J., Granado-Serrano, A.B., Sarriá, B., Bravo, L., Tabernero, M., 2014. Effects of consuming diets containing Agave tequilana dietary fibre and jamaica calyces on body weight gain and redox status in hypercholesterolemic rats. Food Chemistry 148, 54–59. doi:10.1016/j.foodchem.2013.10.004
USDHHS, 2010. Dietary guidelines for Americans. U.S. Department of Health and Human Services, USA. USDHHS/USDA: U.S. Department of Health and Human Services and U.S. Department of Agriculture. 2015 – 2020 Dietary Guidelines for Americans. 8th Edition. December 2015. Retrieved from http://health.gov/dietaryguidelines/2015/ guidelines/
Van der Kamp, J.W., Lupton, J., 2013. 1 - Definitions, regulations and health claims associated with dietary fibre and wholegrain foods, in: Poutanen, J.A.D. (Ed.), Fibre-Rich and Wholegrain Foods, Woodhead Publishing Series in Food Science, Technology and Nutrition. Woodhead Publishing, pp. 3–24.
Viebke, C., Al-Assaf, S., Phillips, G.O., 2014. Food hydrocolloids and health claims. Bioactive Carbohydrates and Dietary Fibre 4, 101–114. doi:10.1016/j.bcdf.2014.06.006
Wu, D., Guan, Y., Lv, S., Wang, H., Li, J., 2015. No Evidence of Increased Risk of Stroke with Consumption of Refined Grains: A Meta-analysis of Prospective Cohort Studies. Journal of Stroke and Cerebrovascular Diseases 24, 2738–2746. doi:10.1016/j.jstrokecerebrovasdis.2015.08.004
Ye, E.Q., Chacko, S.A., Chou, E.L., Kugizaki, M., Liu, S., 2012. Greater whole-grain intake is associated with lower risk of type 2 diabetes, cardiovascular disease, and weight gain. Journal of Nutrition 142, 1304–1313. doi:10.3945/jn.111.155325
Zhu, F., Du, B., Zheng, L., Li, J., 2015. Advance on the bioactivity and potential applications of dietary fibre from grape pomace. Food Chemistry, ISPMF 2015: International Symposium on Phytochemicals in Medicine and Food (Shanghai, China, June 26th –29th, 2015) 186, 207–212. doi:10.1016/j.foodchem.2014.07.057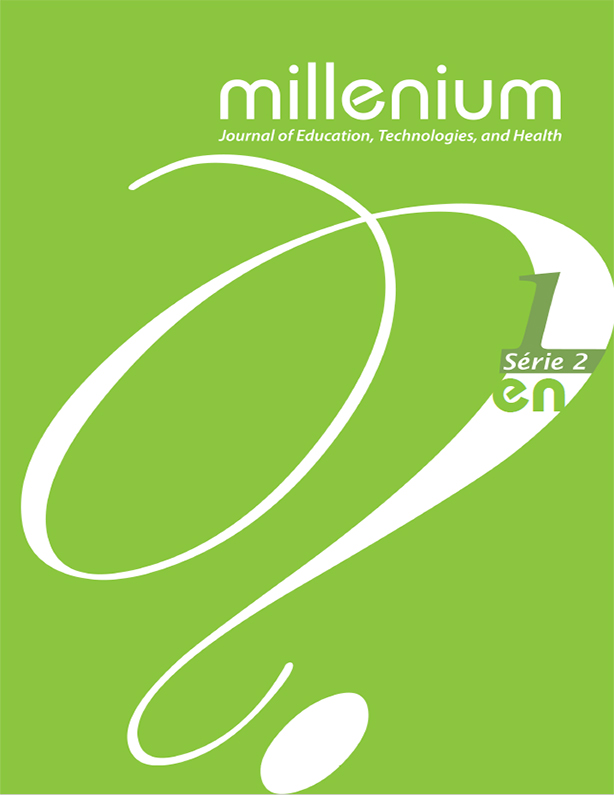 Secção
Ciências da vida e da saúde
Direitos de Autor (c) 2016 Millenium - Journal of Education, Technologies, and Health
Este trabalho está licenciado com uma Licença
Creative Commons - Atribuição 4.0 Internacional
.
Os autores que submetem propostas para esta revista concordam com os seguintes termos:
a) Os artigos são publicados segundo a licença Licença Creative Commons, conformando regime open-access, sem qualquer custo para o autor ou para o leitor;

b) Os autores conservam os direitos de autor e concedem à revista o direito de primeira publicação, permitindo-se a partilha livre do trabalho, desde que seja corretamente atribuída a autoria e publicação inicial nesta revista.

c) Os autores têm autorização para assumir contratos adicionais separadamente, para distribuição não-exclusiva da versão do trabalho publicada nesta revista (ex.: publicar em repositório institucional ou como capítulo de livro), com reconhecimento de autoria e publicação inicial nesta revista.
d) Os autores têm permissão e são estimulados a publicar e distribuir o seu trabalho online (ex.: em repositórios institucionais ou na sua página pessoal) já que isso pode gerar alterações produtivas, bem como aumentar o impacto e a citação do trabalho publicado
Documentos necessários à submissão
Template do artigo (formato editável)