Health determinants among a sample of Portuguese children
Keywords:
children, lifestyles, socio-demographic aspects, sedentary activity
Abstract
Introduction: The current lifestyles suggest risk behaviors that are the basis of a country's health profile.
Objectives: The objective of this study was the assessment of health determinants and its association with socio-demographic variables among a sample of Portuguese children from 3 to 10 years old.
Methods: A cross-sectional study was designed with a total of 1617 children from public schools, from the two main school groups of Tondela and Vouzela, Portugal. The final study sample was built with a total of 1365 children aged between 3 and 10 years old. Data collection was accomplished by the distribution of a self-administered questionnaire to the parents and caregivers of the children.
Results: It was found that the older children had a lower adherence to healthy eating habits and a higher prevalence of physical activity. The boys had higher levels of physical activity and higher prevalence of sedentary behaviors, in comparison with girls. The residence area of the children was associated with a higher prevalence of fastfood consumption and sedentary behaviors.
Conclusions: It becomes noticeable the need to make an intervention on the most vulnerable social groups to obtain more effective health equality. Health promotion strategies should be seriously considered in communities in order to improve healthy lifestyles among Portuguese children and their families.
Downloads
Download data is not yet available.
References
Administração Regional de Saúde do Algarve. (2016). Programa de combate à obesidade infantil na região do Algarve [Internet]. Retrevied from: <http://www.arsalgarve.min -saude.pt/portal/sites/default/files//images/centrodocs/nutricao/programa_combate_obesidade_infantil.pdf.>
Direcção-Geral de Saúde. (2004). Programa nacional de intervenção integrada sobre determinantes da saúde relacionados com os estilos de vida. . [Internet]. Retrieved from: <https://www.dgs.pt/documentos-e-publicacoes/estilos-de-vidasaudaveis.aspx.>
Direção-Geral da Saúde. (2005). Programa Nacional de Combate à Obesidade. [Internet]. Retrieved from: <http://1nj5ms2lli5hdggbe3mm7ms5.wpengine.netdna-cdn.com/files/2015/08/Programa-Nacional-de-Combate-%C3%A0-Obesidade.pdf.>
Direcção-Geral de Saúde. (2015). Alimentação saudável em números 2015: Programa nac ional para a promoção da alimentação saúdável [Internet]. Retrieved from: <https://www.sns.gov.pt/wp-content/uploads/2016/03/Relat%C3%B3rio-PortugalAlimenta%C3%A7%C3%A3o-Saud%C3%A1vel-em-N%C3%BAmeros-2015.pdf.>
Mantziki, K., Vassilopoulos, A., Radulian, G., Borys, J. M., du Plessis, H., Gregório, M. J., Seidell, J. C. (2014). Promoting health equity in European children: Design and methodology of the prospective EPHE, epode for the promotion of health equity: Evaluation study. BMC Public Health, 14, 303.
Ng, M., Fleming, T., Robinson, M., Thomson, B., Graetz, N., & Margono, C. (2014). Global, regional, and national prevalence of overweight and obesity in children and adults during 1980-2013: A systematic analysis for the global burden of disease study 2013. Lancet, 384(9945), 766-81.
Rito, A., Paixão, E., Carvalho, M. A., & Ramos, C. (2008). Childhood obesity surveillance initiative: COSI Portugal 2008. [Internet]. Retrieved from: <http://www.insa.pt/sites/INSA/Portugues/Publicacoes/Outros/Documents/AlimentacaoNutricao/Relatorio_COSI.pdf.>
Sousa, J. (2011). Obesidade infanto-juvenil em Portugal: Associação com os hábitos alimentares, atividade física e comportamentos sedentáros dos adolescentes escolarizados de Portugal Continental. Lisboa: Colibri.
TNS Opinion & Social. (2014). Special Eurobarometer 412: Sport and physical activity. [Internet]. Retrieved from: http://ec.europa.eu/health/nutrition_physical_activity/docs/ebs_412_en.pdf.>
World Health Organization. (2002). The european health report 2002. [Internet]. Retrieved from: <http://www.euro.who.int/__data/assets/pdf_file/0007/98296/E76907.pdf.>
World Health Organization. (2014). Noncommunicable diseases: country profiles 2014. . [Internet]. Retrieved from: <http://apps.who.int/iris/bitstream/10665/128038/1/9789241507509_eng.pdf?ua=1.>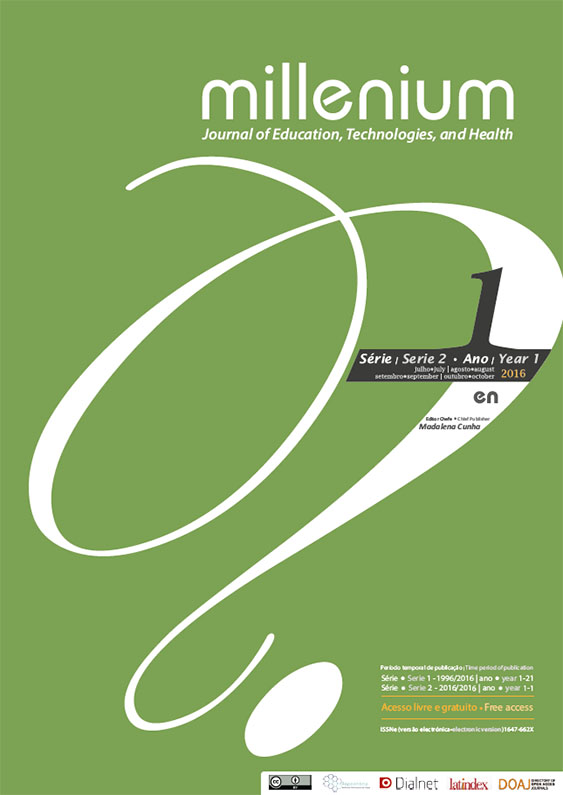 Downloads
How to Cite
Veiga, N., Pereira, C., Loureiro, R., Amaral, M. O., Coelho, I., & Pereira, J. (2016). Health determinants among a sample of Portuguese children. Millenium - Journal of Education, Technologies, and Health, (1), 77–84. https://doi.org/10.29352/mill0201.06.00100
Section
Life and Healthcare Sciences
License
Authors who submit proposals for this journal agree to the following terms:
a) Articles are published under the Licença Creative Commons (CC BY 4.0), in full open-access, without any cost or fees of any kind to the author or the reader;
b) The authors retain copyright and grant the journal right of first publication, allowing the free sharing of work, provided it is correctly attributed the authorship and initial publication in this journal;

c) The authors are permitted to take on additional contracts separately for non-exclusive distribution of the version of the work published in this journal (eg, post it to an institutional repository or as a book), with an acknowledgment of its initial publication in this journal;
d) Authors are permitted and encouraged to publish and distribute their work online (eg, in institutional repositories or on their website) as it can lead to productive exchanges, as well as increase the impact and citation of published work
Documents required for submission
Article template (Editable format)